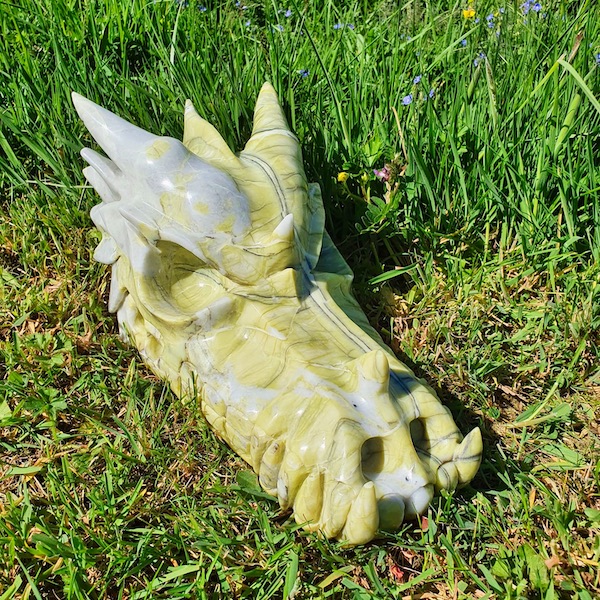 Saturday 30th January
9:00pm – 10:00pm GMT
£10 (£12 for UK including vat)

(There is no video or recording of this distant healing session)
Alphedia Arara's beautiful Scottish Serpentine, 10.5 inch, dragon skull Anka is offering this weeks crystal skull healing.
Anka carries the energies of unconditional love and the abundance codes.
She is a profound healing dragon skull.
In this hours transmission Anka will be working on your multi dimensional self.
She will be working on deep integration of your physical, mental, emotional, and spiritual bodies into the Mother Earth Wisdom Codes.
She will work with you to assist you in reclaiming your inner wisdom from the Earth, help unlock codes, and story lines that your soul is ready to access to assist you and others on your healing journey at this time.
She will also be working on healing anything that is out of balance within your physical body as you are still moving through the crystallisation process and integration process into the New Earth Template.
Anka will then be assisting us also with a Dragon Heart purification which will assist you in opening and unlocking heart codes that are ready now to be birthed through you onto the Earth.
This healing is an opportunity to bring you into alignment but also to support Mother Earth with your Earth healing wisdom and knowledge.
It will help you to feel energised and uplifted as we build up to the Imbolc astrological point on the 3rd of February.
Channelled Message from Anka:
"Greetings, greetings, greetings, it is with honour and joy that I come forward.
I am able to see that many of you are feeling the call of the dragons at this time, feeling the call of the land and remembering that you are key code carriers.
Many of you are in requirement for some healing and balancing within your matrixes and I look forward to offering you this.
I am going to be working with my energy field to dissolve away any pains, painful thoughts and memories that are surfacing and anything that is keeping you off the path of inner trust and truth.
Know that I am going to be working with thousands of other dragons in a mass Global Ascension Upgrade through this healing experience.
I look forward to the opportunity to work this way with you.
At the start of the session I will bring into your consciousness the most important vibration for you to find within on your own souls path at this time.
Be it joy, self love, honouring, peace, compassion, whatever it is your soul is struggling inwardly to hold the vibration of we will work on healing this too.
As always it is an honour and a blessing to do this sacred work, namaste."
---
As always Alphedia Arara will be holding the space to connect in each and every one of you who wishes to part of this transmission to the consciousness of Anka.
There will be no live recording or video of this, as this is a real time receiving transmission.
If you book at least an hour prior to this transmission your name will be placed under Anka and called in by Alphedia Arara at the start of this transmission.
It is advised that you drink plenty of water after this transmission.
If you are active during it and unable to meditate, then take time when you are able to meditate to connect with Anka and ask to integrate all the healing work that has been done on you and it will be so.
You may wish to print out a photograph of Anka and place this under your pillow/chair whilst you meditate or carry it with you if you are going about your daily business at this time.
---
Anka Dragon Skull Healing Transmission: Mother Earth Wisdom Codes
Saturday 30th January 9-10pm GMT
UK: £12 (inc Vat), Rest of World £10
Please book at least one hour prior to the transmission for Alphedia to place your name under Anka.
There will be no audio, video or recording of this real time transmission.
It is happening in the multidimensional universal form of consciousness.
Book Anka Crystal Skull Healing
---
Testimonials from Previous Group Healings
"Very powerful, direct energy to my back and to my heart then it radiated all over me. So loving and soothing. Helped erase mind worries. Then I radiated energy to peace in world. Thank you! love to all." – Ardmano Group Healing
"It's awakened my own spiritual path again!! Been more focused xx 🙏 I love the skull healings think they are great." – Sherling Group Healing
"Thank you and Rafundus so much for this wonderful, profound healing! 🐉✨🌟Incredible, honestly. " – Rafundus Group Healing