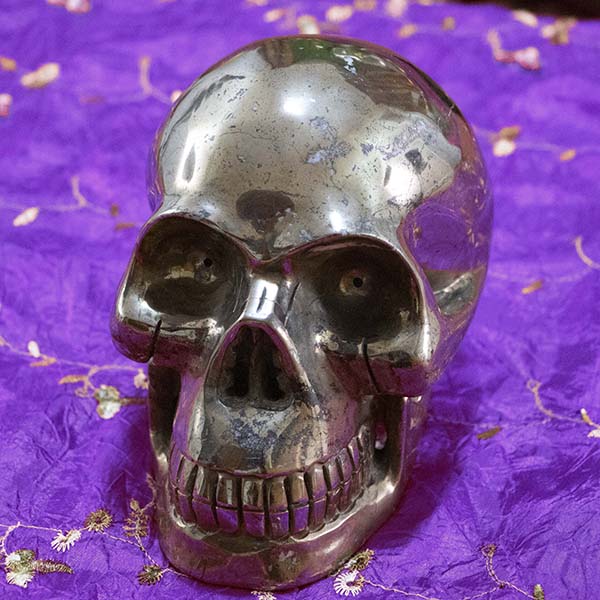 Friday 8th January 2021
9:00pm – 10:00pm GMT
£10 (£12 for UK including vat)

(There is no video or recording of this distant healing session)
Alphedia Arara's stunning Iron Pyrite, 7kg, crystal skull Arcan is offering for the month of January to run a weekly series of healings to support us in deepening our unification process, to assist us in moving fully into the Fifth Dimension and into the Oneness with all.
Arcan is  embodies the Christed Light Code frequencies and brings through the codes in order to assist us with our alignment with the Golden Christed Light within.
He is made of Golden Iron Pyrite a crystal that is associated with aiding integrating high frequency light into the physical body as well as assisting with creating abundance in one's life, supporting one in overcoming fears and being creative in taking action going forward.
In this next transmission Arcan is going to be working on activating within our holographic matrixes the Christed Golden Light codes.
This golden light activation will work to support you moving out of any denser energies which you are consciously or unconsciously holding within your matrix.
It will help to align you with your true nature, which is the essence of pure Divine Love, and will support you in a full alignment and reconnection with the Christ Consciousness Grid around the Earth.
The Christ Consciousness Grid is not related to any religious order, it is the pure consciousness of the Christed Light Divine Codes of Love.
As we move fully into this New Earth template we are being guided into our hearts once again.
This will prepare you for the next New Moon which we are building up to in Capricorn and support you being able to hold the higher frequency light with greater ease.
Arcan will also run part of the healing to integrate you physically into the new Aquarian energy frequencies of the New Age.
Channelled Message from Arcan:
"Greetings, greetings, greetings, I am Arcan. I am delighted to come forward to offer you this healing session.
Many of you are ready to make the inner changes, to make the commitment to being fully embodied on planet earth and to rise up to your highest divine soul potential.
I will be scanning your energy system to find any blockages within your chakras and to work on whatever is the next layer coming up for you in this ascension path to self healing and soul growth.
This is a powerful transmission which will work on rebalancing you, integrating and aligning you with the current energy frequency of Gaia.
You will also be stabilised within the Christed Light Grid and I will be assisting you with the return to the unification within which means working on any aspect that is out of balance with the return to wholeness.
I will work on any medical health issues also manifesting in physical form for you, all disease is imbalance within the matrix and the energy of this time is all about balancing within this month in particular.
It will be an honour and joy to bring through this transmission,
Namaste."
---
Book Healing with Arcan
---
Testimonials
"Arcan did you proud, Alphedia. Was so powerful I wondered if I had ever handled high energy before. I was very quickly out of it. When I came to I felt almost ill. But such solidness and strength has been afforded me. I don't profess to really know. Just feel very fortunate to have had him work with me I look very much forward to working with him throughout the year. THANK YOU, ARCAN ❤" – Kate
"It was so good! Grateful. How wonderful that there will be more from him!" – Coleen

---
As always Alphedia Arara will be holding the space to connect in each and every one of you who wishes to part of this live transmission to the consciousness of Arcan
There will be no live recording or video of this as this is a receiving transmission.
If you book at least an hour prior to this transmission your name will be placed under Arcan and connected in by Alphedia Arara at the start of this transmission.
It is advised that you drink plenty of water after this transmission.
If you are active during it and unable to meditate, then take time when you are able to meditate to connect with Arcan and ask to integrate all the healing work that has been done on you and it will be so.
You may wish to print out a photograph of Arcan and place this under your pillow/chair whilst you meditate or carry it with you if you are going about your daily business at this time.
---