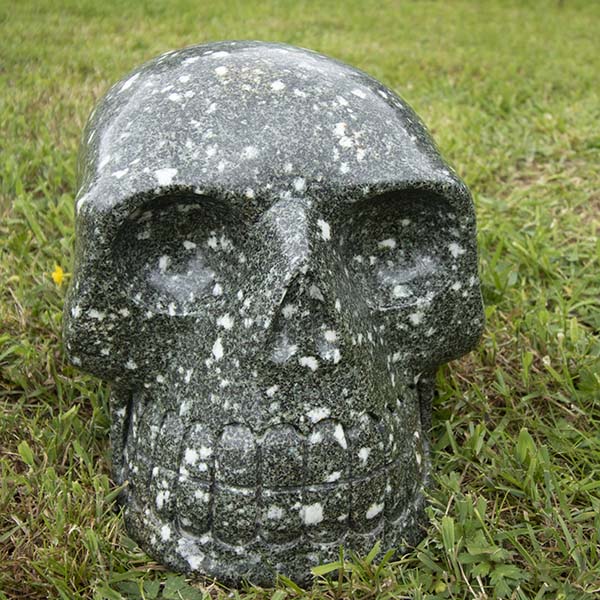 Saturday 5th September 2020
09:00pm – 10.00pm BST
EU: £12 (inc Vat), Rest of World: £10
(There is no video or recording of this distant healing session)
Ardmano, a 28kg Preseli Bluestone Galactic Crystal Skull, has come forward to offer a group healing.
This is to support us through September's energy shifts, to help us maximise the healing portal that is offered to us prior to the Equinox later this month.
In this crystal skull healing Ardmano will be working with you through your multi dimensional self, allowing your soul to receive guidance as well as deep healing from trauma and ego pain.
Ardmano will be working to dismantle the ego framework within your holographic matrix, allowing you to speed up the processing of any karma and wounding or trauma your soul has been holding on to.
This allows the emotional body to be brought into balance and to assist you with the structure your soul is seeking to create, to navigate the energies of this Ninth Month of the year.
As always Alphedia Arara will call in to the Sacred space the names of everyone to receive the healing and she will work with Ardmano to hold the space for you to receive this deep one hour long healing.
For the first twenty minutes Ardmano will be running a karmic balancing program on you, he will be working to assist you in recognising any karma your soul is playing out with others and yourself for processing at this time.
For the next twenty minutes you will be working on cellular rejuvenation and refinement. This will aid you in moving into the higher trajectories of your soul.
For the last twenty minutes of the healing Ardmano will be working on removal of fear and other limitations that may be keeping your ego template still in place.
This healing focus will be on ego dismantlement.
You will receive this healing through your multi dimensional self. It is advisable to be able to lie down and rest while the healing is taking place.
There will be no live video or recording of this transmission as you receive it energetically through your multi dimensional higher self aspect.
Crystal skull transmissions for healing are incredibly popular, booking at least an hour prior to the healing starting is recommended to allow time for you to be called into the sacred healing space.
Channelled Message from Ardmano:
"Greetings dear ones, it is with honour and joy that I, Ardmano, come forth.
I am delighted to have this opportunity to work with you all in group format once again.
I am looking forward to working with you to strengthen, heal and free you all, to be able to move through the next stages of spiritual evolution on Earth with greater ease.
I will be working in tandem with not only your higher self but the whole of your monadic group.
This will be a monadic healing also, but it will be the next stage of the ego dismantlement.
You are all at different stages in this process in returning to wholeness and I am excited to be able to support you on this journey,
Namaste."
---
If you book at least an hour prior to this transmission your name will be placed under Ardmano and called in by Alphedia at the start of this transmission.
It is advised that you drink plenty of water after this transmission and if you are active during it and unable to meditate, then take time when you are able to meditate to connect with Ardmano and ask to integrate all the healing work he has done on you and it will be so.
You may wish to print out a photograph of Ardmano and place this under your pillow/chair whilst you meditate or carry it with you if you are going about your daily business at this time.
Alphedia Arara will hold the space with Ardmano for this hour's healing transmission.
---
Ardmano Crystal Skull Transmission Remote Healing
Saturday 5th September 9pm BST
EU: £12 (inc Vat), Rest of World £10
Please book at least one hour prior to the transmission for Alphedia to place your name under Ardmano.
There will be no audio, video or recording of this transmission as it is happening in the multidimensional universal form of consciousness.
View Upcoming Workshops