Alphedia Arara was excited to be be a guest speaker at The Spiritual Guardians & Allies Telesummit, which took place between the 31st Oct- 11th Nov 2016.
Alphedia Arara facilitated your connection with the Dragon Spiritual Guardian, in a revealing interview entitled Channeling the Dragon Wisdom.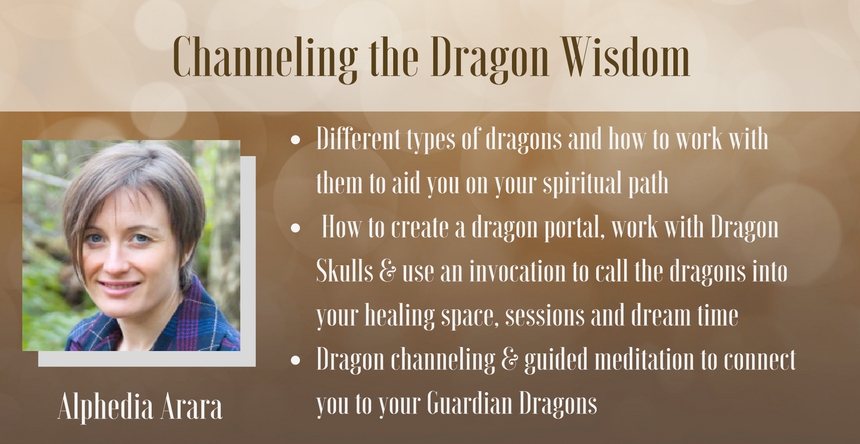 This telesummit was a multi-speaker event that showed you how to partner with your Spiritual Guardians.  There were over 20 wonderful teachers who showed you how to create a Guardian-supported lifestyle, helping you move through challenges and live the life you were born to live.
Channeling the Dragon Wisdom
.
Alphedia will introduce you to the different types of dragons and how to work with them to aid you on your spiritual path. She will bring forward a live dragon channeling and also channel a guided meditation to connect you to your Guardian Dragons.
You will learn how to create a dragon portal and work with Dragon Skulls.  You will be given an invocation to say to call the dragons into your healing space, sessions and dream time.
Alphedia is an entertaining facilitator and has many fun Dragon experience stories to share. For more information on dragons please visit www.dragonwisdomschool.org or join her Dragon Wisdom School Facebook group https://www.facebook.com/groups/scottishdragonwisdomschool/
Alphedia's interview was broadcast on Tuesday the 8th of November at 11pm (GMT). To hear Alphedia's interview click here.

The event ran October 31 through November 11, with two 1-hour calls every weekday.