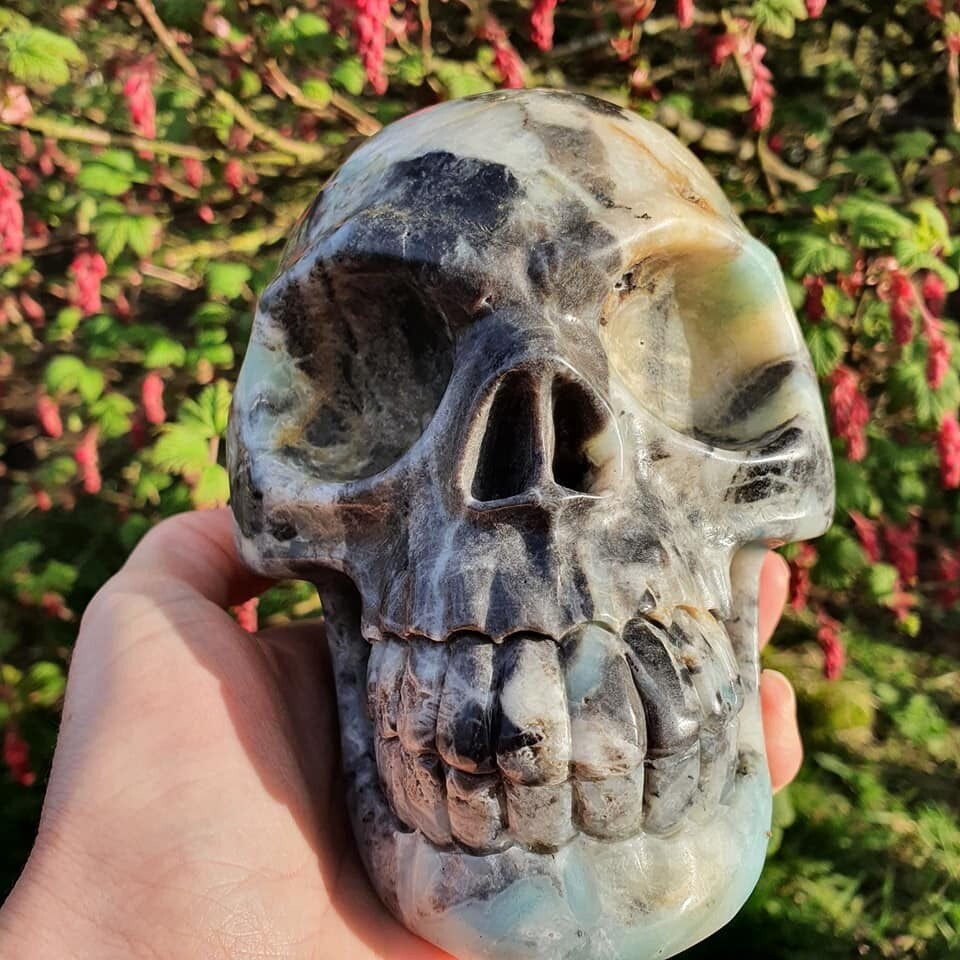 Amazonite and Black Tourmaline Crystal Skull
SKU SK184
Product Details
This powerful crystal skull carries the master codes of Oneness. It is here to assist with star gate portal opening and preparing to bring the love codes into the land and the body. Known as Astara this skull is wise and will be great at aiding with problem solving and shifting stuck emotions that are holding you back from your highest time line potential. Astara is hear to aid with the movement physically into the 5th dimension shifting the blocks that are stopping one getting there in all areas of life. Astara is happy to work with groups and to assist with personal healings as well as working with her Guardian Keeper.



Crystal Properties
Amazonite is a water element stone of harmony, both within the self and among people. It is a stone of truth and a peacemaker, helping you to communicate your true thoughts and feelings.It is an extremely soothing stone, calming the brain and nervous system. It helps to balance the masculine and feminine energies and alleviate worry and fear. It is great for blocking emfs and microwaves. Good for heart healing and manifesting universal love into action.
Black Tourmaline is the ideal crystal for psychic protection. It aids with keeping ones oric field clear of imbalance and negative attachments. It is a bit like an etheric vacuum cleaner for the environment. It has the ability to transmute and purify negative energy and it has powerful grounding properties. Works on the root chakra, it helps one disengage from impulsive behaviours and releases chronic worry and anxiety. Excellent for purifying the body of toxins and can clear heavy metals and environment pollutants from the body. It is a good crystal to hold if one has had a shock or even after deep meditation experience where the soul has made many shifts. It has quite a warm energy and is excellent for grids for room protection.

Dimensions
Length: 14.5 cm

Height: 8.5 cm
Depth: 11 cm

weight: 1.894 kg
Includes MP3 channelled guided meditation by Alphedia to connect to your new Crystal Skull.

Save this product for later