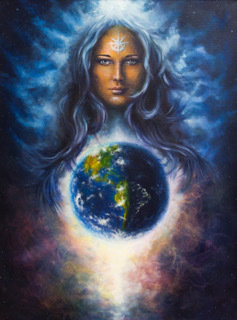 Mother Gaia Equinox Workshop
SKU 22/09/2016
Product Details
Give thanks for all you have in your life and it will aid those who are in places of darkness, emotionally, physically, mentally or spiritually, to be able to find the joy and the gratitude. Once you find it, you can harness it and utilise it to bring more into your life.
To celebrate this Celtic Sabbat, Alphedia Arara connects you with the Goddess Mother Gaia.
Mabon is the celebration of the harvest, the hard work has been completed and now it is time for rest and to enjoy the fruits of your labours.
It is a time to be thankful and to show gratitude. It is a time to see the blessings that occur around you daily. The official equinox in 2016 happened at 15:21 BST which was a time of balance.
The hours of darkness equal the hours of light on Earth. She is moving into her rest period - a period of consolidation and healing.
This is an uplifting workshop, where Alphedia Arara channels live Gaia, Mother Earth.
You go on a group ascension sphere attunement to connect you more deeply to Gaia and you receive a transmission of deep love from her.
You connect with your elemental guides and find out which elementals' energy is most beneficial for you to work with in this sabbat cycle.
You then go on a powerful healing meditation to connect you to these energies of harvest, of abundance and of fecundity.
Journeying deeply into gratitude opens doors up for you to receive more and Mother Gaia wishes for you to have a bountiful life, wishes for you to experience that vibration of abundance, whilst establishing a deeper connection to her.
Save this product for later