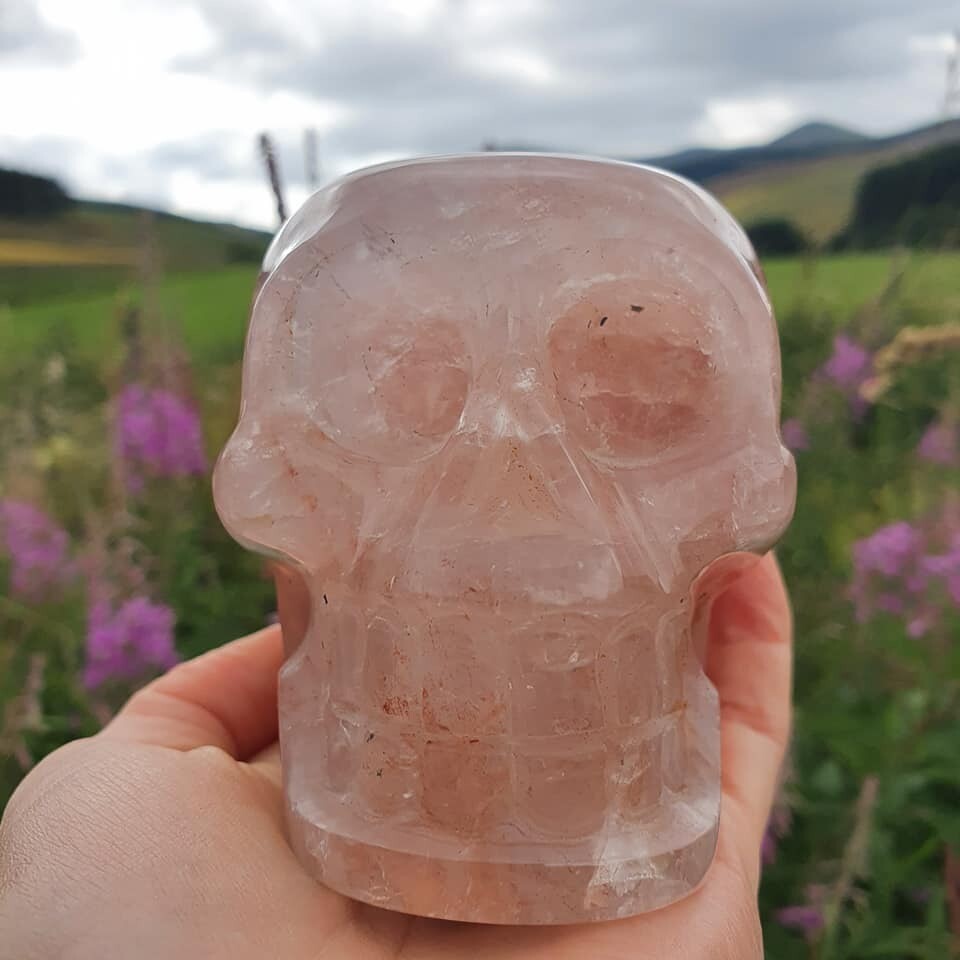 Pink Hematoid Crystal Skull
SKU SK237
Product Details


Crystal Properties
Hematoid Quartz contains the amplification properties of Quartz with the balance and stability of Hematite. It is a highly energetic piece that can assist in removing negativity, transforming and transmuting this energy. The combination of Quartz and Hematite balances the body, mind and spirit. It brings a unique clarity and understanding to the emotions, assisting with raising Self Worth and Self Esteem.
Hematoid Quartz enhances focus and concentration and would be especially helpful for those with short attention spans or who have trouble completing tasks. Use Hematoid Quartz for grounding and balancing when feeling scattered. It can also be used to calm anxiety and panic attacks.
Physically, Hematoid Quartz can be used to balance the chakras, boost the immune system, and cleanse toxins.
Dimensions
Length: 8.5cm

Width: 6cm
Height: 7.5cm
Weight: 679g
Elemental Beings has been sourcing stunning individual crystals and crystal skulls for over ten years. Our crystals are all individually selected and ethically sourced through our geologist who travels the world and works with the top carvers to create our often bespoke skulls. The crystals are lovingly cleansed and activated on the Berlinius line (the UK's longest leyline) in Merlindale, the Scottish Borders. After they have attuned and collected the energy, many are channelled by Alphedia Arara on their mission and purpose. The Star Beings crystal skulls all share their energy star source so you know whose consciousness you are connecting with. The Dragon skull are all bespoke orders and Alphedia sources the crystals the Dragons want for them to be sent to the carver. If you are looking to order a large bespoke crystal skull please get in touch as over 6 inch size we do not keep in stock. We lovingly pack your crystals and include a channelled guided mp3 meditation to help you connect with your new crystal which is attached to your receipt of purchase. Thank you for choosing an Elemental Beings crystal!
If you wish to keep the information about this crystal please take note before you order.

Includes MP3 guided meditation to connect to your Crystal Skull.

Save this product for later