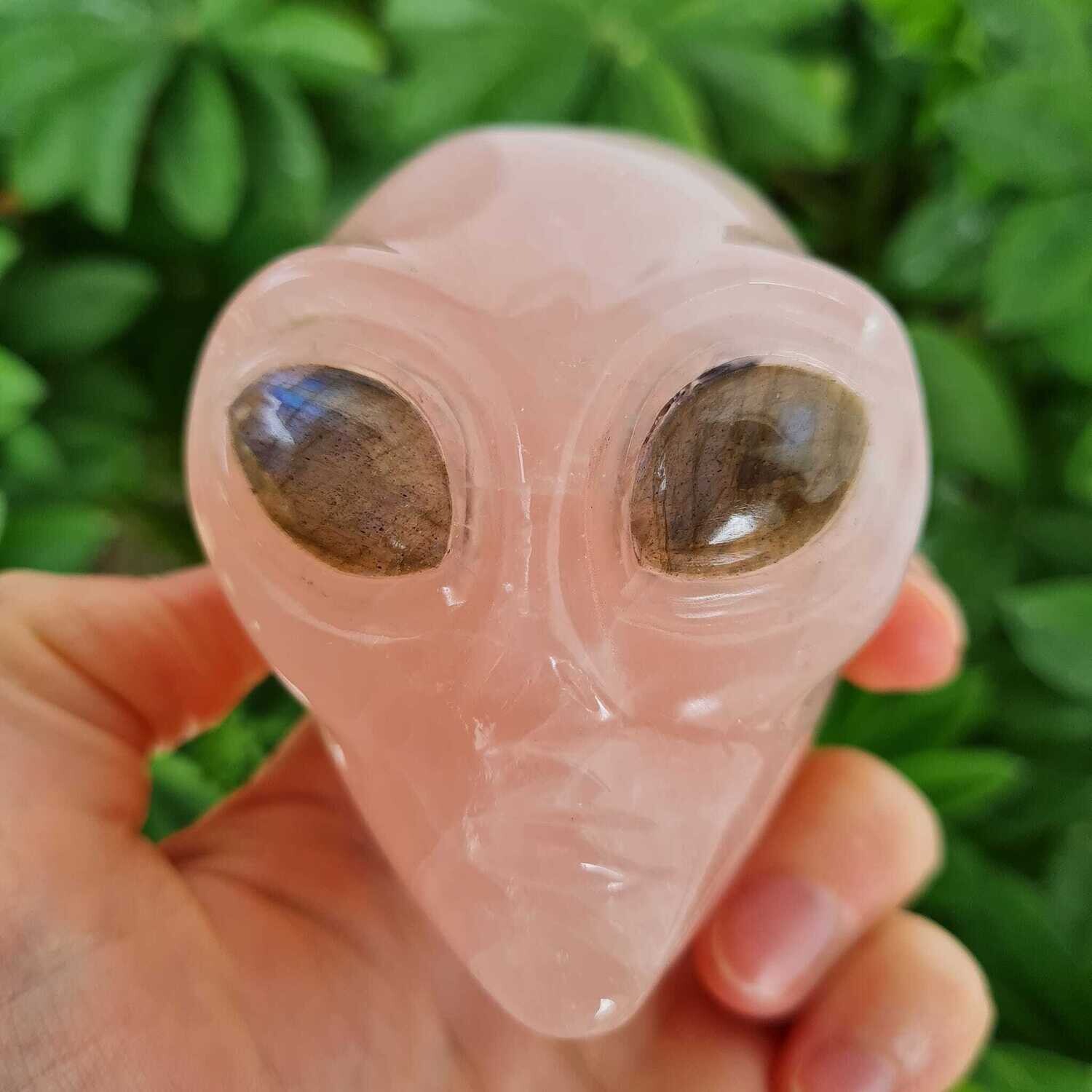 Venus Heart Activator Rose Quartz Star Being
SKU SB1463
Product Details
Meet Gretana from Venus. She is a powerful venus heart healer. Ready to remind you of your lifetimes learning in the Venus love energy. She is bringing in new wisdom to seed into the heart consciousness of humanity. Ready to support you in letting go of the past and moving forward with grace and ease and with inner wisdom.
This stunning Grade A Rose Quartz Star Being Skull with Labradorite Eyes is a Venus Heart Activator, connects with the Consciousness of Venus. The planet of love and ecstasy.
Crystal Properties
Rose Quartz is a stone of love, it is a powerful emotional healer which aids in uniting the heart of its user with the Divine Love energies. This crystal brings a sense of peace, calming the mind and reducing stress, worry and fear. It is a powerful spiritual ally as it bathes the body, mind and spirit in a love healing energy. Rose Quartz is also an excellent crystal to use for manifestation of wealth as it brings the love frequency in which opens up the portals of abundance.

Dimensions

Length: 6cm

Width: 5.5cm
Height: 6.5cm
Weight: 337g
If you wish to keep the information about this crystal please make a copy before you order.

Elemental Beings has been sourcing stunning individual crystals and crystal skulls for over ten years. Our crystals are all individually selected and ethically sourced through our geologist who travels the world and works with the top carvers to create our often bespoke skulls. The crystals are lovingly cleansed and activated on the Berlinius line (the UK's longest leyline) in Merlindale, the Scottish Borders. After they have attuned and collected the energy, many are channelled by Alphedia Arara on their mission and purpose. The Star Beings crystal skulls all share their energy star source so you know whose consciousness you are connecting with. The Dragon skull are all bespoke orders and Alphedia sources the crystals the Dragons want for them to be sent to the carver. If you are looking to order a large bespoke crystal skull please get in touch as over 6 inch size we do not keep in stock. We lovingly pack your crystals and include a channelled guided mp3 meditation to help you connect with your new crystal which is attached to your receipt of purchase. Thank you for choosing an Elemental Beings crystal!
Includes MP3 guided meditation to connect to your Crystal Skull channelled by Alphedia.

Save this product for later