Alphedia Arara held a Crystal Skull gathering at her yurt on Saturday 30th July at 12 noon.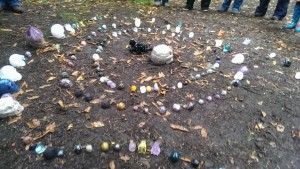 This crystal skull gathering  focussed on world peace and removal of negative energy stored within human consciousness at this time.  The crystal skulls asked for people all around the world to take part in this gathering, whether they were on their own or with groups of friends with their crystal skulls, to help calm the destructive energies that are playing out through mass shootings and terrorism at the time.
The crystal skull conclave hold the divine blueprint for Mother Gaia. They wished to create an overlay of light throughout the whole of Planet Earth.  This allowed a shift in human consciousness to occur. 
In order to take part in this world healing all you required to do was to be a guardian of a crystal skull. If you were not a guardian of a crystal skull then Alphedia Arara emailed a picture of one of her crystal skulls to sit and meditate with over this time period. 
The meditation and the overlay took 15 minutes. 
Crystal skulls were placed on an altar, or outside in nature.  At 12 noon participants were to chant three times the ancient Lemurian chant 'Lem Lem Lem' and allow their crystal skull to activate.  They asked their crystal skull to work on clearing the discordant energies within the human consciousness that is present at the time. And could see, feel and witness their skull working.  Placing the skull on the ground, or on an alter or a grid was beneficial.  Sitting within their skulls auric field.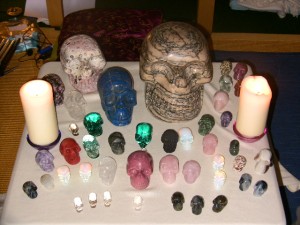 Those who were gathering together as a group were guided as to what formation to place their crystal skulls in.  The unity of the group energy focusing on holding the space for this work increases its energy ten fold.
Once they feel that this energy has been worked upon they intuitively knew when to ask the skulls to download an over lighting energy of peace and love throughout wherever they were in the world. 
This was a free gathering and all crystal skulls were welcome.