The guardians of crystals are called Crystal Beings.  They are found more often in large crystals rather than the tumble stone ones.  Crystals are formed deep within the earth's crust and give out energetic vibrations making them suitable for transmuting negative energies,  clearing energy blockages within the body and also soothing the auric field (energy field around a human, animal, plant, tree etc).  Crystal Beings have squeeky voices and are very keen an willing to work with humans I have found.  Their main mission is to look after the crystals even when they have been removed from their natural homes. It is common I have found to come across traumatised Crystal Beings and it is good to send love to a new crystal and to its place of origin that is have been mined from.  Crystals are rare and should be treated as so the Crystal Beings explained to me.  Be very grateful for any crystals that come into your life.
How to work with Crystals to open Sixth Sense
Crystals are excellent tools for aiding communication and meditation practice.  As crystals give out high vibrations they raise your own by just wearing or carrying them.  Each crystal is made of different chemical compositions heated to different temperatures allowing for the beautiful vast area of colours and textures.  The beginners crystals I use to help me open my sixth sense to communicate with Elementals and Angels are: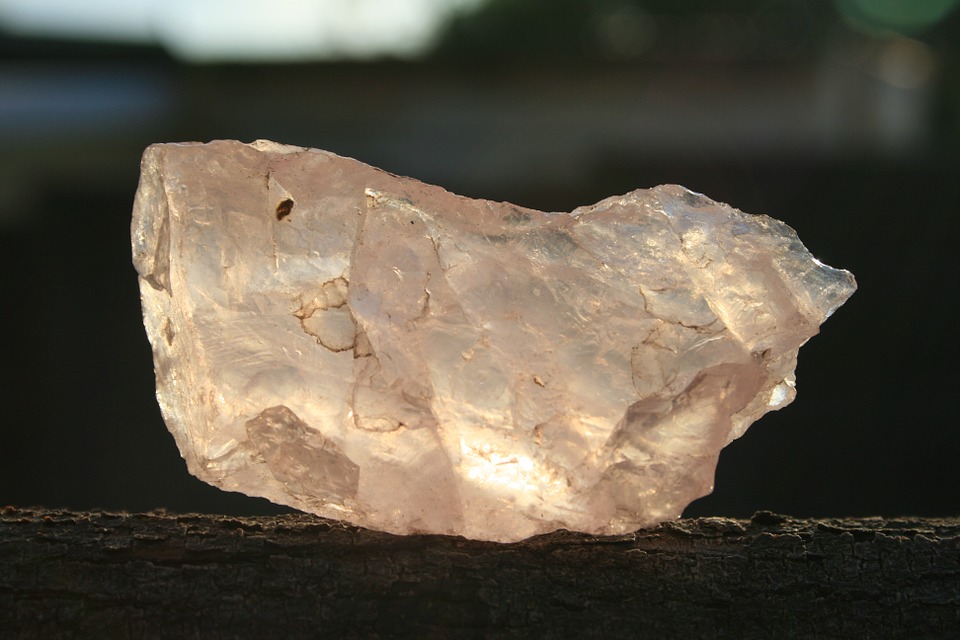 Rose Quartz – Rose Quartz is a beautiful pink crystal.  It correlates to the higher heart chakra and is known as the stone of love.  Rose quartz is the crystal to work with to open up your clairsentience (ability to feel beings in other realms and receive messages through feelings).  It is a good one to work with for Guardian Angel communication since they are beings of love and light but also for the Elemental realm who communicate with us through our heart chakras primarily.  For healing it is a good love attractor, emotional soother, stress reliever and keeps the family in harmony.  I have found this crystal beneficial for people going through cancer treatment and also dementia.  As the stone of love it is good for healing people who feel unloved and showing them how to show and receive love.
Use: wear, carry, place in bath, drink elixier, sleep with under bed or pillow, place on angel or fairy alter.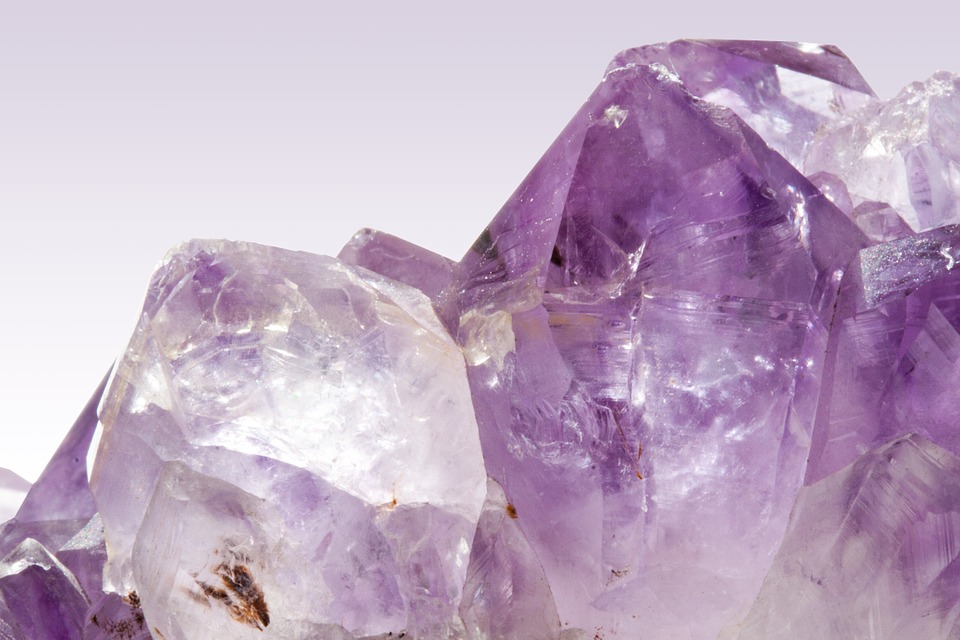 Amethyst – Amethyst is also a type of quartz which powerful purple colour. Known as the stone of spiritual wealth, this crystal correlates to the third eye chakra so work with it to open up and enhance your clairvoyance known as second sight.   This will allow you to see the beings in the other realms and receive messages through visions and visual signs.  The Elementals attracted to this crystal are the Flower Fairies who appreciate having a vase of flowers placed in an Amethyst circle.  For healing it is believed to ward off ill health and to protect against injury.  It is highly beneficial I have found for insomnia particularly when placed under a pillow.
Use: wear, carry, place in bath, drink elixier, sleep under bed or pillow, place on angel or fairy alter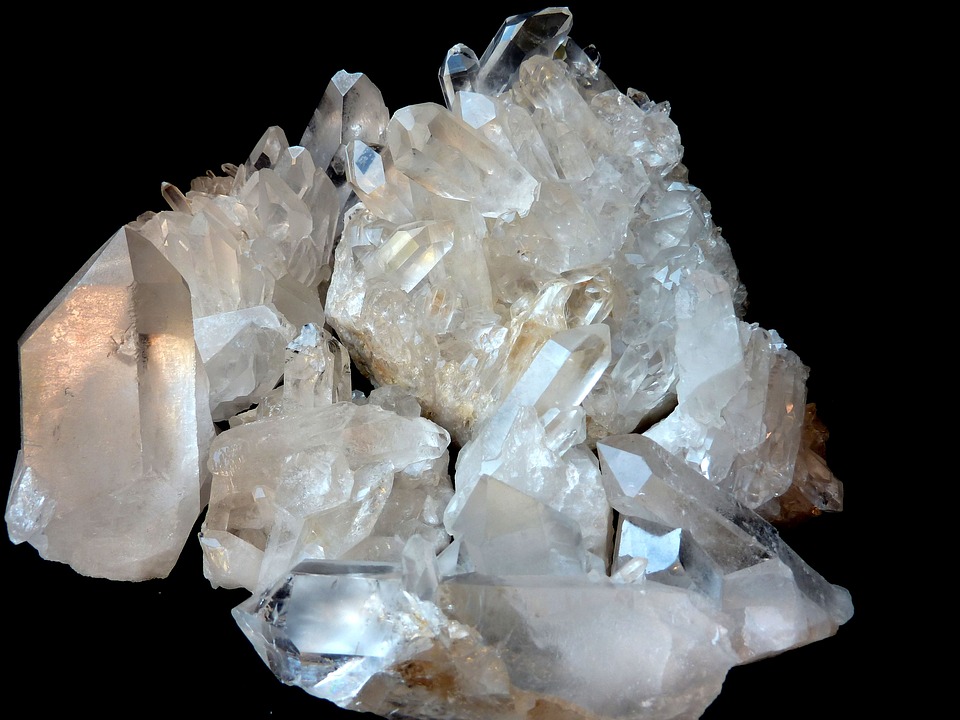 Clear Quartz – Clear Quartz is a crystal clear colour.  Known as the amplifier crystal this is also one of the most programmable crystals you can work with.  This crystal correlates to all the chakras and the sixth sense of clairaudience (hearing spiritual beings).  Clear quartz is an excellent crystal for all spiritual work  – angel/elemental communication, dream recall, past life recall, meditation practice.  For healing it helps with nervous system, headaches, hair and nail growth.
Uses: Wear, carry, place in bath or on area of pain, sleep with, hold during meditation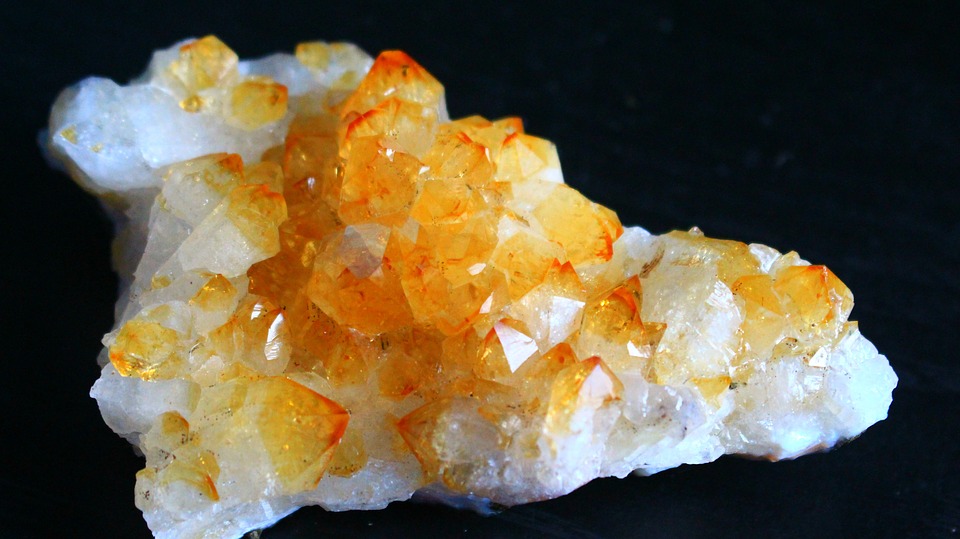 Natural Citrine – Natural Citrine is a sandy yellow colour and rare crystal. It is different from Citrine which is a burnt orange, yellow colour and much more common. This is actually amethyst artificially heated in a laboratory. This crystal correlates to the root, sacral and solar plexus chakras.  Natural Citrine is an auric cleanser and will remove blocks that may be stopping you connecting with your guides, angels and elementals.  Natural Citrine is known a the stone of wealth and is a money attractor. It is also a balancing stone good for menstrual and menopausal problems in women. It enhances stamina and energy by supporting the endocrine system.  Good for CFS and Post Viral syndrome although to get the most out of it do not wear all the time. It also connects you to the Fire element and the Salamanders (fire guardians)
Uses: Wear, place in bath, carry in purse, waft around aura to clear and cleanse.  Hold during meditations particularly when staring at candle light.
Crystals for Communicating with Elementals: 
Green Aventurine
Amazonite
Red Carnelian
Green Moss Agate
See our Crystal Webshop to find the perfect crystal for you