Alphedia Arara is delighted to be be a guest speaker at the Sacred Earth Telesummit, which takes place between the 4th – 15th February 2019.
Alphedia will be talking about Being An Earth Healer, explaining how you can deepen your connection to Mother Earth, and support the Elementals in healing the land. She will also be channeling a guided meditation about your role as an Earth healer.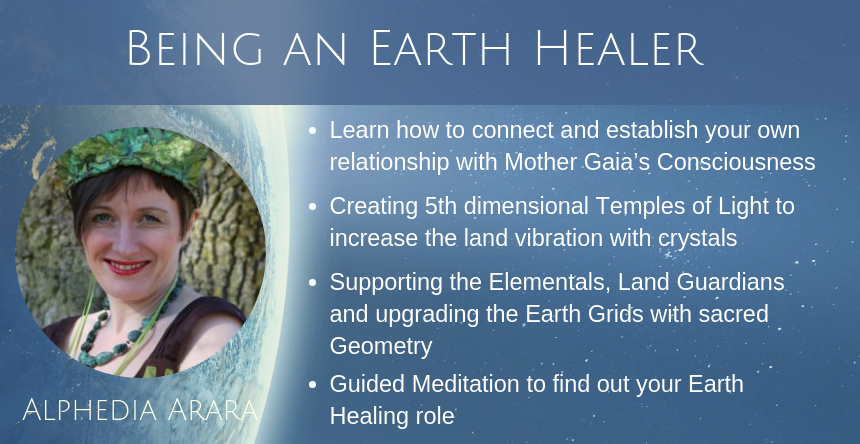 This event is FREE and will show you how to:
Create a nourishing connection to the Spirit of the Earth
Take your place among the Beings of Nature
Express the beauty of your own gifts
20 teachers are taking part in two one-hour calls every weekday. There's no cost to attend, and even if you can't attend the talks live, you'll get access to each replay for 48 hours.
Each call will be like a mini-class, complete with guided meditations!
Alphedia's friend Kim Wilborn will be interviewing her, along with several other powerful teachers who will show you how to create a personal relationship with the living Being that is the Earth.
Alphedia's talk will be taking place at 9pm GMT 12th Feb
You'll be able to listen to live calls online, by phone, or on your mobile device, and you'll also get access to free 48-hour replays. (Low-priced recordings are also available to make it even easier to listen at your convenience!)
Together we're creating beautiful sacred space where we can partner with the Spirit of the Earth and the Beings of Nature in powerful new ways!