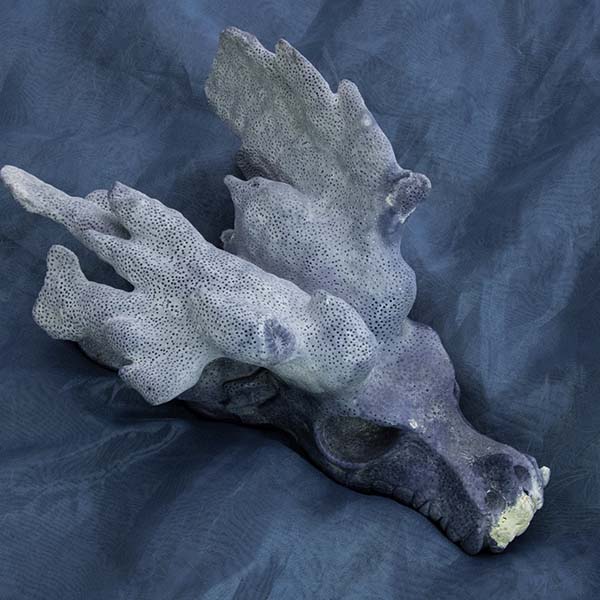 Sunday 7th February 2021

8:00pm – 9:00pm GMT
£10 (£12 for UK including vat)

(There is no video or recording of this distant healing session)
This week Alphedia Arara's beautiful blue coral Lemurian dragon skull, Eshana, is offering us an hours healing to awaken the Lemurian codes within us.
Even if your soul was not present during the Lemurian epoch on Earth as part of the human matrix DNA we all are carriers of the ancient Lemurian wisdom.
Lemuria was a time of great heart consciousness.
People communicated with each other telepathically through the heart and by awakening the Lemurian wisdom within your heart at this time you will be able to navigate the month ahead with greater ease.
Eshana will be working on for the first twenty minutes the activation of the Lemurian wisdom within yourself.
The next twenty minutes she will be working on shifting out core wounding within your heart. This will be unique to each of you, for all of humanity is carrying separation wounding in the heart at this stage.
The last twenty minutes will be a Lemurian Dragon healing for you personally through Eshana for whatever your soul is requiring to support you moving forward at this time.
Know that her beautiful watery coral energy will transport you into a place of awakened bliss.
This will be a very nurturing and soothing healing which will aid you on your journey to full remembrance and acceptance of who you as a soul are.
Channelled Message from Eshana:
"Greetings, greetings, greetings, I am Eshana.
I am delighted to have this opportunity once again to offer you all healing.
We, Lemurian dragons, are particularly adept at the transformation of pain within the heart and all of humanity is carrying pain within their heart.
Even those who have become master souls are still working on clearing the pain of the collective heart of humanity.
I will be running a series of workshops and healings on this topic throughout 2021 and it is a great blessing to be of service this way.
Allow yourself this opportunity to fully surrender all that is not joy.
You are ready to step forward with courage for this deep heart healing moment.
Namaste."
---
As always Alphedia Arara will be holding the space to connect in each and every one of you who wishes to part of this transmission to the consciousness of Eshana.
There will be no live recording or video of this, as this is a real time receiving transmission.
If you book at least an hour prior to this transmission your name will be placed under Eshana and called in by Alphedia Arara at the start of this transmission.
It is advised that you drink plenty of water after this transmission.
If you are active during it and unable to meditate, then take time when you are able to meditate to connect with Eshana and ask to integrate all the healing work that has been done on you and it will be so.
You may wish to print out a photograph of Eshana and place this under your pillow/chair whilst you meditate or carry it with you if you are going about your daily business at this time.
---
Eshana Dragon Skull Healing Transmission: Activating the Lemurian Wisdom Codes
Sunday 7th February 8 – 9pm GMT
UK: £12 (inc Vat), Rest of World £10
Please book at least one hour prior to the transmission for Alphedia to place your name under Eshana.
There will be no audio, video or recording of this real time transmission.
It is happening in the multidimensional universal form of consciousness.
Book Eshana Dragon Skull Healing
---
Testimonials from Previous Group Healings
"Very powerful, direct energy to my back and to my heart then it radiated all over me. So loving and soothing. Helped erase mind worries. Then I radiated energy to peace in world. Thank you! love to all." – Ardmano Group Healing
"It's awakened my own spiritual path again!! Been more focused xx 🙏 I love the skull healings think they are great." – Sherling Group Healing
"Thank you and Rafundus so much for this wonderful, profound healing! 🐉✨🌟Incredible, honestly. " – Rafundus Group Healing