Fairy Magick Solstice Workshop
Winter Solstice 21st December 2010 2-4pm £20 Biggar, Scotland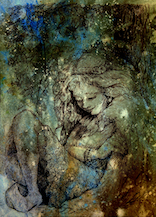 The Winter Solstice is the shortest day of the year. It is the day that the Fairies and Elementals hold a Fairy party and dance in fairy circles to create vortexes of energy.  On this day it is possible to see fairies with your physical eyes.  In this workshop participants learnt about creating a Fairy circle by calling in the Elements and Elementals.
They went on a guided meditation to connect to the elements and find the one that they required to work with at this time in their life. They learnt how to cast a circle, make blessings and wishes, call in the Fairy King and Queen of their choice and send healing to mother earth and the Elementals.
They then went Fairy spotting and celebrated with a feast..  Alphedia also answered any fairy questions by doing a live channelling while in the circle which was be cast outside. Each participant was given a fairy crystal of clear quartz.
East Lindsaylands Lodge, Biggar, South Lanarakshire, ML12 6NR, Scotland