The Crystal Skull Conclave is a consciousness that resides within crystal skulls. This consciousness is willing to work with humanity again at this time in the Earth's evolution and many are now drawn to be the guardians of crystal skulls. In June 2010 Alphedia became the guardian of Sherling a Crystal Skull made of Merlinite. Sherling is a speaking skull and channels through Alphedia often messages about planetary changes.Sherling is a Grand Master of the Crystal Skull Conclave – who is here now to assist us with the passage through the turbulent times on Planet Earth as we pass through the ascension process and dealing with man's disruptive and destructive influence on his environment.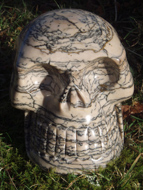 Sherling
Alphedia is now the guardian of many crystal skulls that channel important information through her and she has run numerous workshops which are now available to purchase and download.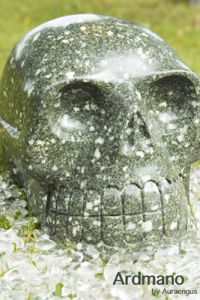 Skull Healing Sessions
Alphedia is guardian of Ardmano – a 27kg Preseli Bluestone Crystal Skull. Preseli Bluestones are the crystals in the centre of Stonehenge. He offers powerful healing sessions distantly for £30 for 1 hour and you receive a channeled report through Alphedia of the work that has been done.
Lunarity is a huge Rainbow Jasper Skull with a speciality in clearing timelines. You can also book a session with her.
To Book a session with Ardmano or Lunarity click here
Due to the sheer demand for personal channelings at this present time, Alphedia is temporarily unable to offer Skull healing sessions. If your need for healing is urgent and you would like a Skull healing session without receiving a channeled message after the healing, please contact us.
Message from Sherling explaining the Crystal Skull consciousness
"The Crystal Skull Conclave is a collective consciousness in its own right. We manifested into physical form in the Atlantean period however our creation occurred during the Lemurian period on Earth. The intergalactic council decreed during the time of creation of the Planet Earth for the information on the Divine Blueprint of the Earth to be stored within a crystalline structure. This crystalline structure manifested into the shape and form of various skulls which became active as a conduit for Source in the era known as Golden Atlantis.
Many are attracted to the skull's energy at this time as a remembrance of our connection is being re-awoken. The Skull Conclave manifested at this time into 13 skulls which held the knowledge and wisdom and were then distributed to various tribes at the Atlantean fall to keep the sacred knowledge. Until the time was right on Earth for the knowledge to return again. Now at the edge of the Dawn of the New Age more souls are ready for this sacred knowledge to return and to remember their connection to the Crystal Skull realm.
Many Souls are now guardians of the Skull Conclave and are able to move us around to the locations we require to be taken to in the physical realm to dot he work required for Gaia to heal and cleanse. We hold the Divine Blueprint of how the Earth is ready to be and are ready to work with humans who feel drawn and are guided to help Gaia this way. Now is the time for the energy flowing through Gaia's leylines to be healed."
Here is a channeled message from Sherling on YouTube on 1st January 2019 talking about the energies for the coming year.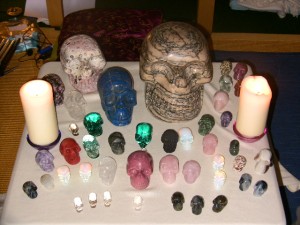 Older Channelings
Message on the 18th December 2012 which is a youtube video for you to watch.
Important advice for the energy changes and information about the portal opening on 11.11.11
8th Nov 2011 Sherling Crystal Skull channeling with Alphedia.mp3
Second Message with advice for the energy changes and information about the portal opening on 11.11.11 including working with the crystal skull conclave.
10th Nov 2011 Sherling Crystal Skull channeling with Alphedia.mp3
Third Message with advice for the energy changes and information about the portal opening on 11.11.11 including working with the crystal skull conclave.
11th Nov 2011 Sherling Crystal Skull channeling with Alphedia.mp3
Following the Japanese tsunami and the nuclear reactor explosion Mother Gaia has asked us all to help her as a matter of urgency. Please listen to Sherling's message for specific instructions for those of you already assigned groups. The groups are human, animal and elemental. For those without an assignation please listen to the message and let us know through which group you are drawn to work with. Include your details mobile/email for alerts and further instructions to [email protected]. Many thanks for your efforts to help Mother Gaia and the inhabitants of Earth.
Channeled by Alphedia 15th March 2011
8/4/11 Sherling Update
More Sherling Channelings will be posted up shortly
SKULL CHANNELING AND MEDITATION FOR 12.12.12 ( Can be done anytime now)
"On this auspicious day the energies of the planet accelerate and the Crystal Skull Conclave offer their service in the transition to the light. We are willing to work with those who wish to use our knowledge and wisdom for the 12.12am and 12.12 pm 12.12.12 moment. At these times special vibrational portals open allowing light to flood onto the planet and herald the beginning of the new dawn of consciousness for the human race.
Those enlightened enough to know about the Skull Conclave can access the keys of wisdom the Skull Collective offer you at this time to harness the symbols and keys you as a soul require to help you in your own spiritual evolution. I will channel a meditation exercise for you to use at these moments to allow your heart centres to open and to allow you to let of of egoic needs, feelings and desires and to place within you the 12 symbols of light that the conclave offer at this time."
Meditation exercise to do at 12.12 am or pm on 12.12.12 
A few minutes or longer before 12.12 on 12.12.12 you can start this exercise. Close your eyes and ask your crystal skull or skulls to activate. You can hold one in your hands or have the skulls around you or on an alter. You may wish to sing to your skulls to activate them. This can be any song or sound you feel drawn to make at this time to honour the skulls and allow them to come to life. Now close your eyes and connect with your crystal skulls.
Feel love in your heart for them and allow yourself to receive love back. When you feel connected ask the Crystal Skull Conclave to activate the 12 symbols of light that the Conclave offer at this time. Allow yourself to meditate with the skulls while they place the symbols within your energy system over the 12.12 moment.
Trust and know you are safe and even if uncomfortable thoughts and feelings come up for you know that this is you letting go of your ego self with the help of the Skull Conclave. Meditate with them for as long as you like or feel they are working with you. Give blessings and thanks when you feel this process is complete and open your eyes. Sit for a moment to allow the shifts to integrate within you and have a drink of water.
---