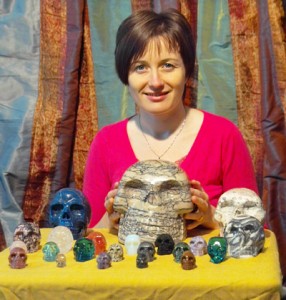 Sunday 21st July 2013
Cadzow Oaks, 
Chatelherault Country Park, Hamilton
, near Glasgow
Recording of gathering now available to download – Click Here
I was guided in May to visit Cadzow Oaks and ancient Oak Forest in Chatelherault Country Park. I channelled this message from the Oak tree.
"Greetings and thank you for visiting us today. We are some of the ancient oaken folk who are left in the Emerald Isles. The knowledge and wisdom that we are holding and anchoring for the earth is immense. For the trees are of great importance and we increase in our importance in the coming months and years.
Tree healing is to be powerful for those humans who are sensitive to energies and more information and wisdom will be released in due course. Many souls are sensitive to the trees and feel a deep connection with us for they have either been one of our clan or are one of the aspects of humanity that have agreed to incarnate to reconnect the web of light between humanity and the tree folk.
For as you described earlier the trees are a separate consciousness and we like humans are our own race. We perform a vital role on the planet and yet this role is rarely respected. Not only do we provide oxygen to allow humanity to breathe but we also through our roots connect deeper into Gaia and we bring up deeper wisdom and knowledge. For deep inside mother earth there are many, many realms and humanity is only now becoming able to access these realms once more. Those who are of an elevated enough consciousness will soon be given the keys to access the wisdom of the inner realms. Know that this is an honour and you have done well as a race to reach this point in time.
The oaken folk offer a hand to help those who feel lost, those who feel troubled and those who feel their light is diminished at this time. Visit an oak, even a young sapling will assist you but the older and wiser the oak, the more the oak will be able to unravel any problems and issues you have with adjusting to stepping out of the third dimensional duality. Know that the more that you work with the tree folk, the more rewards will be brought to you. We require healing and we wish for a skull gathering to take place here in July.
Once the skull conclave have rebalanced the energies in this locality portals will open into the tree world for those who attend. This course is to be offered to all and no limitation should be placed upon numbers. This is our gift to humanity and to those who hear the call. Know we are wise and you are wise and together our combined wisdom can bring forth the change in consciousness that is to occur in Scotland in 2014. I go now and hope that I have touched an aspect of your soul to enlighten you and assist you."
If you feel drawn to help the trees Alphedia will teach Skull guardians how to heal the land anomalies with their skulls and how to use the crystal skulls for earth healing. Alphedia will channel from the skulls and the trees on the day and find out any more work they wish to do. This will also be an opportunity to meet other skull guardians and allow your crystal skulls to swap knowledge.
If you wish to attend please email Alphedia on [email protected] with your name and contact details. You will then receive the meeting place information from Alphedia.