These gift vouchers are redeemable for any Elemental Beings product or service including retreats, workshops, soul channelings, animal communication crystals and other products.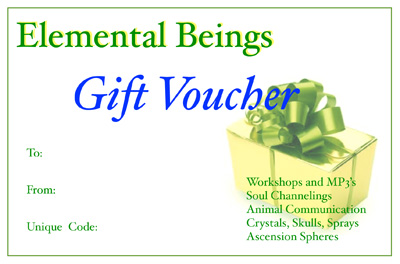 The voucher will be posted out to you firstclass and postage of £1 will be added to the value chosen.
The voucher is redeemable online at the checkout by entering the unique code on the voucher, it can only be used once and the goods total at the checkout must exceed the value of the voucher, in order for the transaction to go through Paypal. To redeem a voucher in part please contact us by email with your requirements, quoting your code number.