14th-18th October 2013
In October 2013, Scottish spiritual facilitator, author and channel Alphedia of Elemental Beings offered  the opportunity to spend a five day retreat on the sacred island of Iona. Iona is one of the heart centres of the earth and this island off the west coast of Mull has been a spiritual sanctuary for thousands of years due to it's peaceful, serene high vibration energy and seclusion. With its beautiful sandy-white beaches, stone-built abbey and fairy hill, Iona is a special place that allows one to escape from everyday life. To reconnect with your inner self and to experience the healing of one of the heart centres of Gaia, allowing you to bring yourself and the environment back into harmony and balance.

Alphedia was asked in September 2012 when visiting Iona to run a retreat here by Mary Magdalene. The island of Iona has a strong connection with her. As a representation of the sacred feminine energies, Mary was our guide along with the many energies of the elemental and nature spirit kingdom. In the evenings we connected with Mary to assist with our own soul growth and self healing. Participants received a Mary Magdalene Ascension Sphere attunement, personal messages from her and were initiated into her Temple of Light to continue their teaching in the higher realms. She  activated participants with her eternal flame and they had the opportunity to allow their heart centre to release any blocks and deep fears and pain so they as souls could grow and move onto the next level of their path. 
Many lightworkers signed up prior to incarnation to help Gaia (mother earth) with her healing process to raise the energy of the land as part of the ascension process. For a long time on the earth the sacred divine feminine energies have been repressed and at that moment the time was right for a gathering of lightworkers to help release the pain and suffering of humanity that is stored in Gaia's heart centre and to bring in the balance though the reactivation through the christ consciousness grid.
We worked with the dragon kingdom, the crystal skull conclave, the stone beings, the mermaids (who heal the emotional bodies of humans) as well as the whale and dolphin consciousness. The retreat was fieldwork based, visiting many sacred sites to anchor and receive symbols and codes and to reactivate their sacred energies. Meditations, spiritual development and self healing also formed a part of this sacred journey and Alphedia assisted and guided participants through their own inner spiritual journey with personal channelled messages and emotional healing.
Iona is an island that allows profound spiritual growth through the nature of it's vibration, extreme beauty and isolation. This life changing retreat offered you the opportunity to reconnect to the natural kingdom and to awaken dormant inner parts of yourself as well as assisting the earth's transformation and evolution and working with the many other realms that are part of her. Through the teachings and healings of Mary Magdalene we also balanced the divine feminine energies within us.
Each attendee received an Iona Ascension Sphere set to take home with them.
Monday 14 October – Friday 18 October. The retreat costed £550 and included accommodation, food, entrance fees as well as spiritual guidance and assistance. The accommodation was a mile's walk from the Ferry in the secluded Northern part of the island at the Iona Hostel. This is a 4 star eco hostel with a strong environmental working practice, situated on a working croft called Lagnadoraira near the white sand beach of Trough an Siudhe. www.ionahostel.co.uk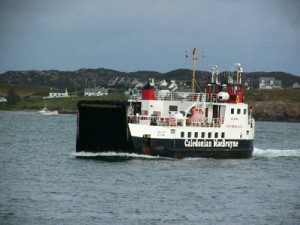 Ferry prices were not included as participants may have wished to arrive early or stay later on Mull or Iona. The ferry sails from Oban and Oban train station is beside the ferry so it is easy to get to from Glasgow by train or plane.  At Finnphort the ten minute ferry crossing leaves frequently. luggage was collected and taken to the hostel from the ferry port. No cars are allowed on the ferry to Iona without prior permission. There were only 20 places on this retreat.
Iona is an Inner Hebridean Scottish island which is 1.5 miles wide and 3 miles long with a population of around 120 permanent residents.
Sacred sites we visited included: Done One Hill, the highest hill on Iona The Well of Eternal Youth which is Bridget's well and it is believed that at midnight on the solstice she comes and blesses the well so that it can continue to be a healing spot.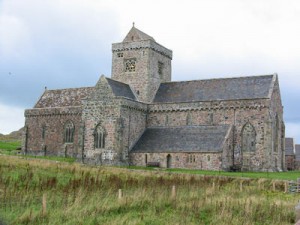 Iona Abbey which was founded in 563AD by St Columba Iona Abbey The Augustine Nunnery which was founded around 1000AD Glen of the Fairies The Hermit's Cell
Staffa (Boat Trip) was an optional extra.
** New ** Mary Magdalene Channeling through Alphedia on Iona in 2012 listen here MMiona54