Know that you are now masters of your own destiny, creators of your own reality and Arcan is offering to be of service to you on this journey.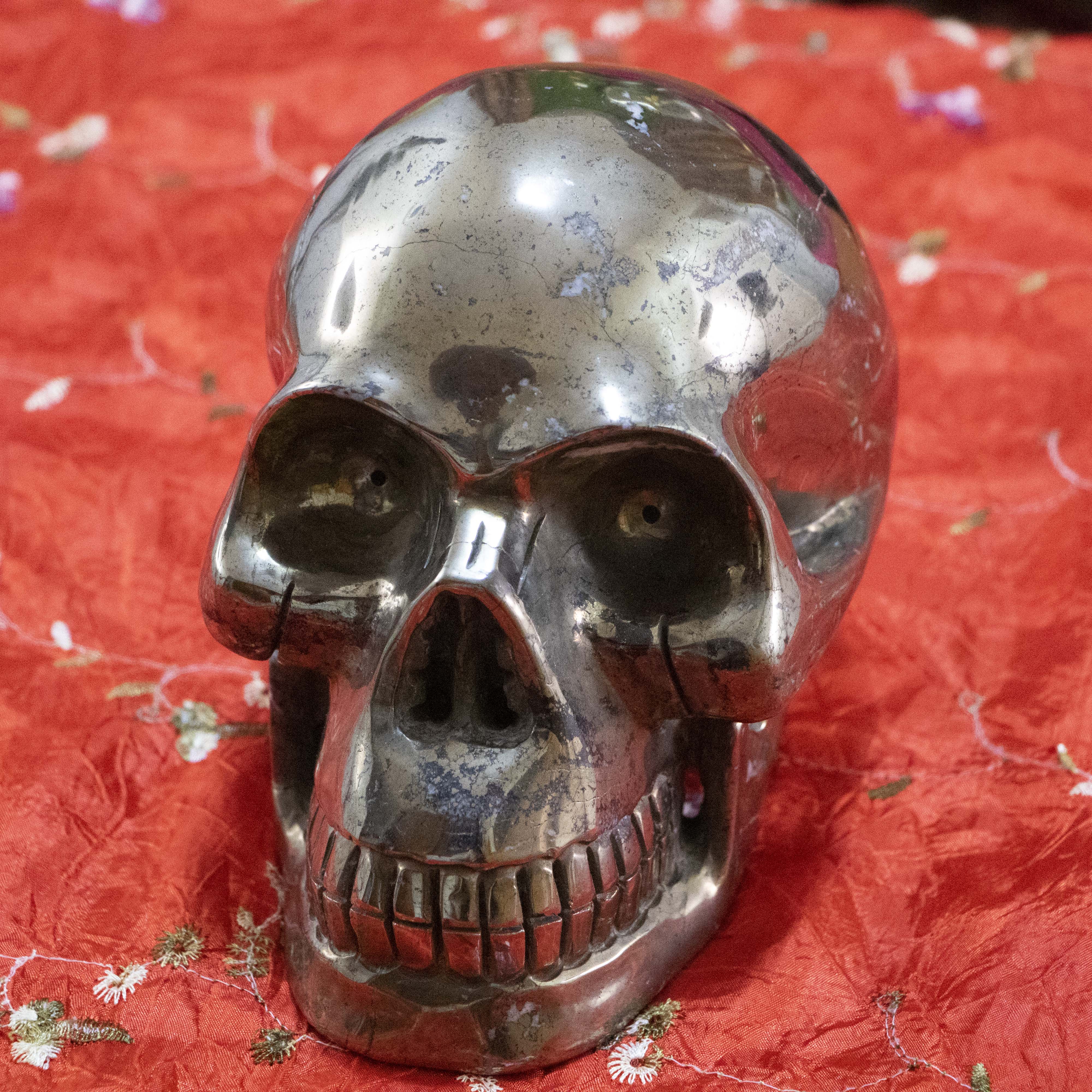 Saturday 16th January 2021
9:00pm – 10:00pm GMT
£10 (£12 for UK including vat)

(There is no video or recording of this distant healing session)
Alphedia Arara's stunning Iron Pyrite, 7kg, crystal skull Arcan is offering for the month of January to run a weekly series of healings to support us in deepening our unification process, to assist us in moving fully into the Fifth Dimension and into the Oneness with all.
Arcan is  embodies the Christed Light Code frequencies and brings through the codes in order to assist us with our alignment with the Golden Christed Light within.
He is made of Golden Iron Pyrite a crystal that is associated with aiding and integrating high frequency light into the physical body as well as assisting with creating abundance in one's life, supporting one in overcoming fears and being creative in taking action going forward.
This week Arcan is offering an hours group healing to clear inner trauma from our energy matrix.
The New Earth energies are bringing up to the surface deep held traumatic experiences not only from this life but from past lives also.
This crystal skull healing will be focussing on shifting traumatic events that you may be unconscious of but are holding you back at this time in experiencing full spiritual knowledge, health, wealth, as well as currently causing unhappiness or discord within your matrix.
The energies now are supporting us in digging deep within to fully embrace yourself in all your beautiful glory in your journey to returning to wholeness and oneness within.
This is a journey that all who incarnate onto the Earths cycle are now being given the opportunity to complete. Many are unconscious of this process.
In the first twenty minutes Arcan is wishing to work on clearing trauma from the current lifetime.
Then he will work on clearing out past life trauma and abuse that you may be unconscious of but it is affecting your current timeline reality.
In the last twenty minutes, he will work on aligning you to the highest aspect of yourself so that you can show up on Earth living your best life experience.
We are all in this process of burning down that which no longer serves as we prepare to rise like the beautiful Rainbow Phoenix at the Equinox Point.
This healing gives us the start opportunity for many to begin this journey so that you will be able to rebirth in all your glory when the astrological time comes.
Know that you are now masters of your own destiny, creators of your own reality and Arcan is offering to be of service to you on this journey.
Channelled Message from Arcan:
"Greetings dear ones, I am delighted that I have this opportunity again to support you on your rebirth process.
Many souls are waking up and are remembering that part of this mission is to release what no longer serves. You have been doing this work for years now many of you.
Now we enter the portal where the deeper layers are coming up to the surface where the anger, the fear, the rejection, the resentment, feelings of disempowerment, loneliness, loss perhaps, are being presented to you by your guides.
They are bringing up for you this opportunity for you to remember who you are in your purist divine form. I will be working on the further breaking down of the ego drivers through which you filter your conscious reality through.
I will work with you on clearing the layers from the past out of your physical, mental, emotional, and spiritual bodies of any abuse or trauma your soul has encountered on its Earth walk journeys.
For many of you this will be a massive shift and I also will be putting protective light around you and helping imbed within you the lessons so that your soul does not feel a requirement to experience these journeys once again.
The lessons have been learnt.
For all of Earth is an exploration, it is an exploration into the depths of your soul truths and it is an exploration into your uniqueness.
My offering through this transmission will further the journey in this way for you,
Namaste."
---
As always Alphedia Arara will be holding the space to connect in each and every one of you who wishes to part of this live transmission to the consciousness of Arcan.
There will be no live recording or video of this as this is a real time receiving transmission.
If you book at least an hour prior to this transmission your name will be placed under Arcan and called in by Alphedia Arara at the start of this transmission.
It is advised that you drink plenty of water after this transmission.
If you are active during it and unable to meditate, then take time when you are able to meditate to connect with Arcan and ask to integrate all the healing work that has been done on you and it will be so.
You may wish to print out a photograph of Arcan and place this under your pillow/chair whilst you meditate or carry it with you if you are going about your daily business at this time.
---
Healing Inner Trauma: Arcan Crystal Skull Healing
Saturday 16th January 9-10pm GMT
UK: £12 (inc Vat), Rest of World £10
Please book at least one hour prior to the transmission for Alphedia to place your name under Arcan.
There will be no audio, video or recording of this real time transmission.
It is happening in the multidimensional universal form of consciousness.
Book Arcan Crystal Skull Healing
---
Testimonials from Previous Healings
"Arcan did you proud, Alphedia. Was so powerful I wondered if I had ever handled high energy before. I was very quickly out of it. When I came to I felt almost ill. But such solidness and strength has been afforded me. I don't profess to really know. Just feel very fortunate to have had him work with me I look very much forward to working with him throughout the year. THANK YOU, ARCAN ❤" – Kate
"It was so good! Grateful. How wonderful that there will be more from him!" – Coleen
"It was very healing, I had very old stuff come up to and lots of dreams afterwards. Thank you Arcan✨" – Pauline
"Another great session. There were moments of, well, this could end NOW or a few minutes ago as I went to places that were clearly uncomfortable. But this is what I came away with with Arcan when I really tuned into him. He is an 'adept' that is not even breaking a sweat on the work he is doing for us. He could take on so many other souls and still not break a sweat. That skilled. That learn-ed. So capable. So many multiple things he is in charge of and seeing it all flows. Like seeing to a vast infrastructure added to a big city and that roads have their designated places of interflow and interchange. I remain a fan! ❤" – Kate
---