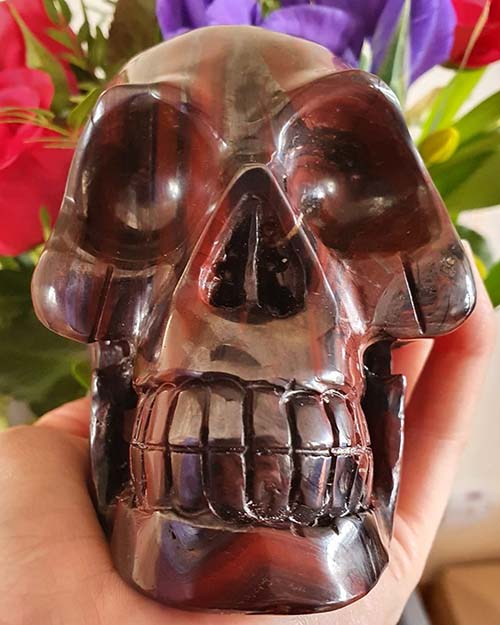 Sunday 18th April 2021

8:00pm – 9:00pm BST
£10 (£12 for UK including vat)

(There is no video or recording of this distant healing session)
Join Alphedia Arara with her 1.5 kg ancestralite crystal Skull, Zooranka, who offer their second group healing.
Ancestralite is a combination of Hematite and Red Jasper and carries the Codes of Humanities Ancestry.
Within our DNA we all carry ancestral inheritance through our birth father and birth mother's genetics.
Even if you did not have a physical relationship with your parents you are still carrying these Ancestral Codes.
In this hours healing, Zooranka will be assisting you in accessing the wisdom that you are carrying through your mother line lineage.
Not only will you be able to access the wisdom of your lineage you will also be able to heal any miasms you have inherited.
These miasms can be belief patterns, emotions, or even genetic physical dispositions.
This powerful healing will be very personal to you and will be divided into two sections.
For the first half an hour Zooranka will be working on healing any ancestors through your lineage whose past lives are affecting you in this current timeline. Removing from you any feelings of negativity that are holding you back. If you have a difficult relationship with your mother figure then set your own personal intentions at the start of this healing for that which you wish to be resolved.
The last half an hour Zooranka will be working with you to receive all the gifts and fully activate them from your female line ancestry. Going back to the beginning of humanities civilisation on the Planet Earth. This knowledge will be brought through for what is for your highest and best.
Zooranka is a very grounding powerful crystal skull and works slightly differently to the other skulls in that she/he would like you to set your own personal intentions for the healing prior to it beginning.
You can do this by writing it down on a piece of paper or just mentally connecting with Zooranka at 8pm BST telling Zooranka, who is androgynous, your intentions.

Channelled Message from Zooranka:
"Greetings, greetings, it is an honour for myself Zooranka to come forward and offer my services to you again.
This week we will balance up by doing the mother ancestral healing work.
You all were born from a womb of a mother and whilst you were in the womb you started to not only form your genetics but receive the downloads from her line.
Even if you were not brought up by your biological mother you will still be carrying her ancestral inheritance.
Now the mother line is all about the nurture, it is all about being able to nurture yourself, being able to love yourself for who you are and if you struggle with that identity know this is often imbalances within the mother line.
I will work on not only removing from you miasms and ancestral karma that is coming up for clearing in this portal but also in supporting you in understanding the great wisdom of the mother songlines from Mother Earth.
This will be a powerful transmission to nurture your soul, to open your heart more fully, to receive love from the Great Mother also.
This will support us as we move on to this next stage of movement into true authenticity without the barriers and blocks that have held generations back through the lineage,
Adoni."
---
As always Alphedia Arara will be holding the space to connect in each and every one of you who wishes to part of this transmission to the consciousness of Zooranka.
There will be no live recording or video of this, so no links to join, as this is a real time receiving transmission.
If you book at least an hour prior to this transmission your name will be placed under Zooranka and called in by Alphedia Arara at the start of this transmission.
It is advised that you drink plenty of water before and after this transmission.
If you are active during it and unable to meditate, then take time when you are able to meditate to connect with Zooranka and ask to integrate all the healing work that has been done on you and it will be so.
You may wish to print out a photograph of Zooranka and place this under your pillow/chair whilst you meditate or carry it with you if you are going about your daily business at this time.
---
Healing the Mother Ancestral Line – Zooranka Skull Healing
Sunday 18th April 2021 8 – 9pm BST
UK: £12 (inc Vat), Rest of World £10
Please book at least one hour prior to the transmission for Alphedia to place your name under Zooranka
There will be no audio, video or recording of this real time transmission.
It is happening in the multidimensional universal form of consciousness.
Book Zooranka Crystal Skull Healing
---
Testimonials from Previous Group Healings
"Wow! That was powerful!!! Thank you, Zooranka and Alphedia! ❤️🧡💛💚💙💜🤍" – Zooranka Group Healing
"That was very powerful Alphedia! Lots of healing happened, chakra healing, healing on the right side of my head and much more.. thank you Zooranka & Alphedia✨" – Zooranka Group Healing
"As it was very early here in Oz while the transmission took place I was still asleep. Had several confronting dreams where I am judged by others, highly unusual comparing to what my sleep has been of lately. Feel like it definitely had to do with the healing and those things which no longer serve me having been brought up to be transmuted. Was told by my guides this morning to take it easy and allow time for integration as the work that was done was one of the biggest. Thank you so much Zooranka and Alphedia, after the integration of last week's session I felt a world of difference, can only imagine the greater freedom that will come from this session!💛🌸🐲 Update: and my dad called me pretty much as soon as I got up, I mean of course 😂" – Zooranka Group Healing