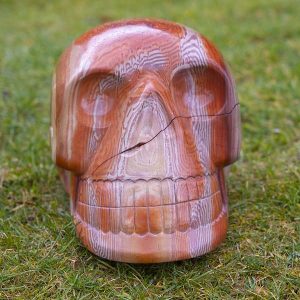 Sunday the 5th of September, 2021.
Remote healing session only (no Video /audio link or recording)
9.00pm till 10.00pm. BST
£10 (£12 in the UK with VAT)
Join Alphedia Arara for a powerful hours healing with Lunarity the 20kg Snakeskin Jasper crystal skull.
Lunarity is a skull who works with you on past life healing.
In this session Lunarity is offering us the opportunity to clear the memories, trauma and the miasms from our previous death exits from the Earth plane.
Many of us are carrying still the trauma from passing over from the physical realm and back to spirit.
It is one of the most difficult transitions for a soul to go through, which is to leave the physical body and return to source.
Often it involves illness or violence and very few are able to just slip out of body and move dimensions with ease.
These memories are stored within our cellar DNA.
As the high frequency light is coming further and stronger onto the Earth, these memories are coming up.
Many of us may be playing out carousel effects as thought forms or physical manifestations in our bodies, repeating these cycles.
Once you start to clear these cycles, clear these memories, clear these traumas, then life within the Earth plane becomes easier.
In this session
Lunarity is wishing to offer us the opportunity to have the most traumatic death memories, from our times on Earth to be released from us.
This she is offering through her powerful healing light and aims to really liberate us, to move us into being in a karma-less state.
This healing will take part as a direct healing transmission for you energetically.
For the first half an hour:
She will work on clearing the top most traumatic deaths that you are holding onto.
For the second half an hour:
She will work on the collective death issues, for example clearing miasms from murder, suicide, heart attacks, strokes, cancer, brain degeneration, viruses, bacterial infections, this will then allow for your free floating memories to be cleared for you.
This will be a powerful healing experience, that Lunarity will gently lead you through.
You will not have to relive the visions or the traumatic feelings.
All you have to do is be in the place of acceptance, giving permission for the healing to occur.
---
Channelled message from Lunarity.
"Greetings, greetings, greetings Dear Ones,
it is with honour and joy that I come forward.
I have wanted to do this healing for a long time but humanity was not ready.
Now the higher frequency light has descended onto the Planet.
Now you have cleared so much from your matrixes, now you are ready to tackle the death trauma.
This is not a topic that many of you will have thought of, or enjoy delving into, but this is so important, as it will really liberate you and free you beyond your comprehension.
Many of you may have worked on this before and therefore I will be able to delve into deeper realms for you.
But know that this will not only be a powerful healing for you as individuals, but for humanity at large.
You are all deeply, deeply loved and it is important that humanity starts to return to the love within.
Starts to remember they are love, starts to remember that they are powerful creators.
I am very honoured to liberate you out of any inner trauma that has been holding you back, and as you may have been unaware of it, know that this is an important portal opportunity for you to move forward and to deeply, deeply heal.
Adoni"
As always Alphedia Arara will be holding the space to connect in each and every one of you who wishes to part of this transmission to the consciousness of Lunarity.
There will be no recording or video of this, as this is a real time receiving transmission.
If you book at least an hour prior to this transmission your name will be placed under Lunarity and called in by Alphedia Arara at the start of this transmission.
It is advised that you drink plenty of water after this transmission.
If you are active during it and unable to meditate, then take time when you are able to meditate to connect with Lunarity and ask to integrate all the healing work that has been done on you and it will be so.
You may wish to print out a photograph of Lunarity and place this under your pillow/chair whilst you meditate or carry it with you if you are going about your daily business at this time.
Book Lunarity Healing Transmission
Testimonials from Previous Group Healings
"For a powerful healing for not only us but also for our ancestors and our descendants too. Feeling blessed to have experienced it ❤❤❤" Anne, Lunarity Group Healing
"Amazing, with lots of insights. At the very end Lunarity asked me to feel the love from my ancestors. Wow, so powerful! THANK YOU ALPHEDIA & LUNARITY!!! 💗🙏💗" – Amy, Lunarity Group Healing
"Wow, totally blasted away and still integrating. Became very tired approx 1 hour before the transmission. Started meditating and was off and gone immediately. If one of my cats hadn't started asking for attention after one hour I probably would have fallen into very deep sleep immediately after. Remember small bits of several recurring themes passing through my field. But not much detail. Will tune in again this evening and ask dear Ardmano if there is anything that I need to remember or integrate consciously. Feeling at ease and tired today. Decided to relax and take it very easy to allow further processing.
Thank you 🙏 so much dearest Alphedia and Ardmano! Feels like a major shift!! 😘🤩💝💖🌈" – Ardmano Group Healing
"Immediately felt lighter – much lighter – after the session – a lot of release continued from my night before – feminine energy blocks – and slept through the night. 3 cheers for me. And Ardmano " – Ardmano Group Healing