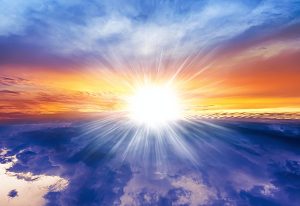 Every month Alphedia Arara channels Archangel Metatron who gives us a report on the energies for the month ahead.
Free to Listen and download MP3 Audio
Click to Listen
Transcript:
"Greetings, greetings, greetings, I am Archangel Metatron, known as the Angel of Ascension.
As always it is an honour and a joy for me to come forward.
This month is all about heralding in the change.
This month is all about activation and resetting.
The start of the month is building up to the partial Solar Eclipse at the new moon in Gemini.
This is bringing through the energies of freedom, the energies of liberation, and the ability to be who you came to Earth to be, your True Soul Truth.
Many on Earth are not living their soul truths and we have talked about this often.
Be it because of conditioning, be it because of inheritance, past life, or even just ego drivers.
Where one behaves a particular way that is not in a true alignment of the soul of who they are.
This Eclipse will be bringing up to the light the final parts for you to shed before you birth anew into the higher template fully at the Solstice Point on the 21st.
This Summer Solstice, Winter in the southern hemisphere, is all about removal of what has been cloaking the dark.
By this I mean what stops one seeing what is holding them back and what stops one taking action on healing, clearing, releasing.
For it is all an illusion if you have created the situation that you are too ill.
If you have created the situation that you are too poor.
If you have created the situation that you are too unawake.
It is all about ownership of your creations.
It is all about responsibility and it is all about freedom of choice.
That many of you on this ascension path, many of you as pioneers, are diligently working, are diligently awakening, and are diligently being and accepting the higher light frequencies.
But know now it is the time for this final cleanse.
This time to continue your rebirth.
And it is time for you to step through the Solstice Portal unburdened.
For this will stand you in good stead going forth, crowning you in the glory of Divine Consciousness of One and supporting you all to rise and shine like the bright stars in the sky.
It is time to embed within your matrix the highest frequency light and that is why the Solstice Point is the return of the Platinum Ray to Earth.
The anchoring of it into the matrixes of humanity who are ready to be the way-showers and the pioneers going forward.
And it is time to clear out the trauma that is stored within your body in its various guises.
This is a potent month for you all and by the time the Full Moon comes round in Capricorn, you will know how to take practical action and you will be ready to take practical action to stay stepping forward.

Prayer Invocation:
"I call upon the energies of Archangel Metatron.
Come forward and support me now.
I am ready to finalise my cleanse.
I am ready to rebirth anew.
I am ready to take action and for all blocks that stand in my way, through my thought forms and through my created reality, to be lovingly dissolved and released.
I am ready now to rise and shine my light and ask for all the gifts that this will bestow on humanity, myself, and all.
I am ready to step onto my calling,
Adoni, Namaste."
---
After you have said your invocation prayer you may wish to sit and meditate, or perhaps journal. This is a prayer you can say daily, weekly, or whatever you feel is appropriate for you.
---
Read previous Ascension reports by Metatron here.
---