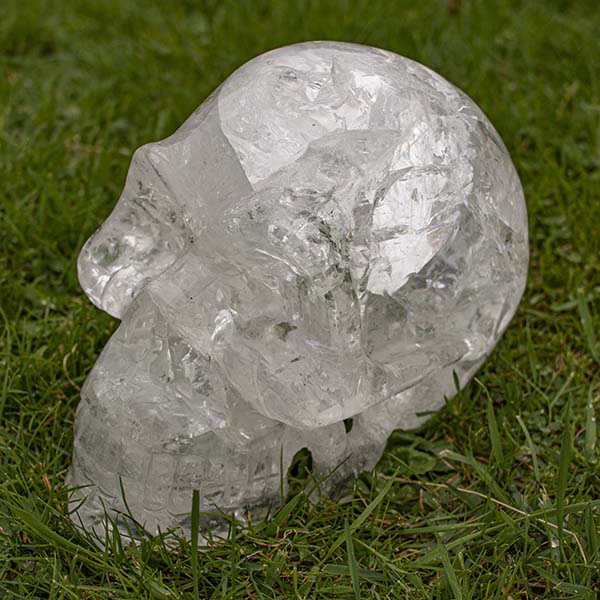 Thursday 3rd December 2020
9:00pm – 10:00pm GMT
EU: £12 (inc Vat), Rest of World: £10
(There is no video or recording of this distant healing session)
Karula, a clear quartz crystal skull containing the consciousness of the Third Skull of Atlantis, has come forward to offer a series of crystal skull healing transmissions.
These will be held weekly in the lead up to the Winter Solstice.
Karula weighs 5kg and holds within her crystal matrix of the Rainbow Template Light Code Frequencies.
She is giving us a seven week healing process to assist our energy systems for the great event, astrologically and energetically, occurring at the Solstice Point in December.
This week Karula will be bringing through a straight hours transmission of Atlantean healing energies.
This session will not be divided up into thirds as the previous session, it will be a straight hours energy transmission of whatever energy frequencies your soul is requiring to balance, heal, re-charge, and re-set it going forth.
Golden Atlantis was the time when humanity was at its height of spiritual powers, the healing was very advanced and many of the healing rays are now available to us again on earth.
Karula will be bringing forward this beautiful hours transmission to assist you with whatever your soul, body, and higher self, requires at this time of great intensity in the build up to the winter solstice.
As always Alphedia Arara will connect all your energies in with Karula and hold the space to allow for the maximum healing for you in this hour.
Channelled Message from Karula:
"Greetings, greetings, greetings, I am Karula, in this session this week I will be working on you each and individually, channelling through from my higher consciousness matrix whatever it is your soul is seeking at this time.
For some of you it may be healing energies. For some maybe Atlantean codes, frequencies and keys. For some of you it might be psychic knowledge and wisdom downloads. And for others it may be integration and alignment with the Earth Grid on the Galactic Cosmos.
This session will be individual to each of you and start the preparation for the intense energies in December going forth.
Know I am here to support you in all ways, namaste."
---
Testimonials from Previous Group Healings
"It was the first one I've been called to – and I have to say it was super powerful! Big shifts for me and some really interesting insight into my past lives. Thank you so much for holding the space for us x" – Aoise, Karula Group Healing Session Four
"I felt so much childhood clearing around mother and father dynamics. It was very deep clearing. Thank you Karula." – Zorah, Karula Group Healing Session One
"1st part was clearing past life abuse by a new contact person of an authoritative organisation, reclaiming back my power, acknowledging it and remember my soul purpose and sovereignty. I was guided to make lots of statements to do that. Fast, conscious work, beautiful, emotional and empowering.
Then went 'out' as per usual. Feeling clear and awake afterwards. Thank you
" Samalia, Karula Group Healing Session Two
"I could clearly feel her clear stuff from me while driving home from work. She is very business like but loving and soft" – Anne, Karula Group Healing Session One
---
As always Alphedia Arara will be holding the space to connect in each and every one of you who wishes to part of this live transmission to the consciousness of Karula.
There will be no live recording or video of this as this is a receiving transmission.
If you book at least an hour prior to this transmission your name will be placed under Karula and called in by Alphedia at the start of this transmission.
It is advised that you drink plenty of water after this transmission and if you are active during it and unable to meditate, then take time when you are able to meditate to connect with Karula and ask to integrate all the healing work that has been done on you and it will be so.
You may wish to print out a photograph of Karula and place this under your pillow/chair whilst you meditate or carry it with you if you are going about your daily business at this time.
Further details of the future transmissions will be released on a weekly basis up until the Solstice Point.
It is not necessary to partake in every transmission if you do not feel the soul call.
However note that this is an excellent opportunity for you to embrace deep soul healing through all times and dimensions, realms and space.