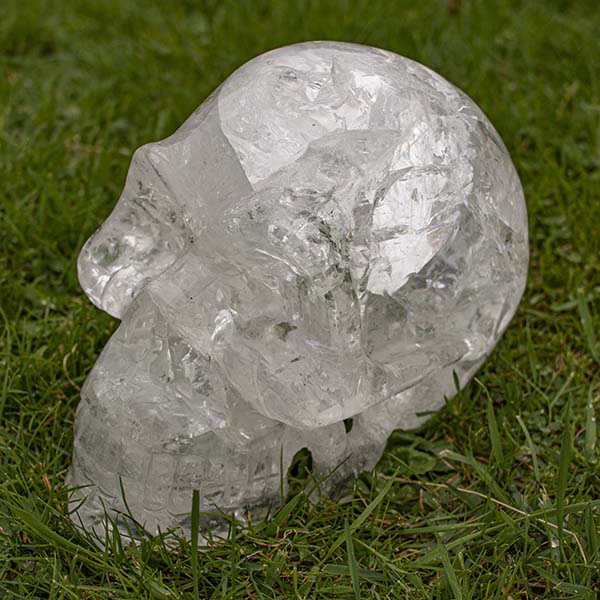 Saturday 26th September 2020
9:00pm – 10:00pm BST
EU: £12 (inc Vat), Rest of World: £10
(There is no video or recording of this distant healing session)
Alphedia Arara is the guardian of a 5kg Atlantean Clear Quartz Crystal Skull.
This beautiful skull called Karula holds the third consciousness, the consciousness of the Third Atlantean Crystal Skull.
The original skull was destroyed and when Alphedia was asked to become guardian of this beautiful skull it informed her of its intent to be available for healing the masses once again.
Karula has offered to come forward to bring us an hours healing transmission.
Through this Atlantean healing we will experience a further deactivation of the pain body and any inherited miasms which are manifesting painful experiences, relationships, situations and blocks in your life at this time.
Alphedia has been working with this crystal skull for nearly three years now, preparing her to begin her healing journey with humanity once again.
In this hours transmission Alphedia Arara will be holding the space after calling your energy into the sacred space.
Connecting you by name with Karula to receive an hours transmission of healing.
The first twenty minutes of the healing will be an Atlantean crystal skull healing for your soul to receive whatever Karula feels you require.
For the next twenty minutes she will work on your pain bodies, deactivating your attachment to this aspect of your shadow self, releasing you from any needs, desires, wishes, and wants on a subconscious level to experience pain whether that be through relationships, physically, mentally or spiritually, or may even manifest as blocks within your earth walk reality.
The final twenty minutes will involve a reclamation of dormant Atlantean healing wisdom that you are ready to remember and to bring to the fore again. Even if you are a newly incarnate star seed and were not present on the Earth Plane during the Atlantean epoch, within your cellular DNA of human form will be remembrance and knowledge down through your genetic line of Atlantean healing that you can harness.
This is a wonderful opportunity for us as the Sun moves into Libra, the sign of relationships and the sign of balance, in order to further your spiritual advancement and growth and Earth Mission at this time.
Channelled Message from Karula:
"Greetings, it is an honour for me to come forward and to offer my healing service for you.
I am ready to expand your consciousness.
I am ready to help you heal, to grow and to be set free, to be able to remember a time when humanities consciousness lived in balanced truth.
When healing was a natural art form and when those souls with gifts and talents in the healing arts were revered and honoured and respected.
So now dear ones it is time for you all to reclaim your spiritual healing power and wisdom and it is an honour and a joy for me to be able to anchor the frequencies and offer the healing,
Namaste."
---
It is advisable to be able to lie down and rest while the healing is taking place.
If you are unable to rest during the hour know that your higher multi dimensional self will be worked upon, and when you are able to meditate or during your dream time you will be able to access fully the affects of the healing.
There is no live recording of this transmission, it is a form akin to distance reiki where you lie down and receive through your multi dimensional self.
Crystal skull transmissions for healing are incredibly popular, booking at least an hour prior to the healing starting is recommended to allow time for you to be called into the sacred healing space.
---
Testimonials from Previous Group Healings
"Very powerful, direct energy to my back and to my heart then it radiated all over me. So loving and soothing. Helped erase mind worries. Then I radiated energy to peace in world.
Thank you! love to all. 💕 " – Beth, Ardmano Group Healing
"Amazing heart shift. Grateful 🙏🦋" – Caroline, Ardmano Group Healing
"A powerful healing for not only us but also for our ancestors and our descendants too. Feeling blessed to have experienced it. " – Anne, Lunarity Group Healing
"Great healing from Lunarity, felt the generational shift of beliefs regarding wealth. Have cleared this and those of my immediate family now also. So this will be an interesting future. 👏🌟❤️" – Pauline, Lunarity Group Healing
---
If you book at least an hour prior to this transmission your name will be placed under Karula and called in by Alphedia at the start of this transmission.
It is advised that you drink plenty of water after this transmission and if you are active during it and unable to meditate, then take time when you are able to meditate to connect with Karula and ask to integrate all the healing work that has been done on you and it will be so.
You may wish to print out a photograph of Karula and place this under your pillow/chair whilst you meditate or carry it with you if you are going about your daily business at this time.
Alphedia Arara will hold the space with Karula for this hour's healing transmission.
---
Karula Atlantean Crystal Skull Transmission Remote Healing
Saturday 26th September 9pm BST
EU: £12 (inc Vat), Rest of World £10
Please book at least one hour prior to the transmission for Alphedia to place your name under Karula.
There will be no audio, video or recording of this transmission as it is happening in the multidimensional universal form of consciousness.
Book Karula Crystal Skull Remote Healing