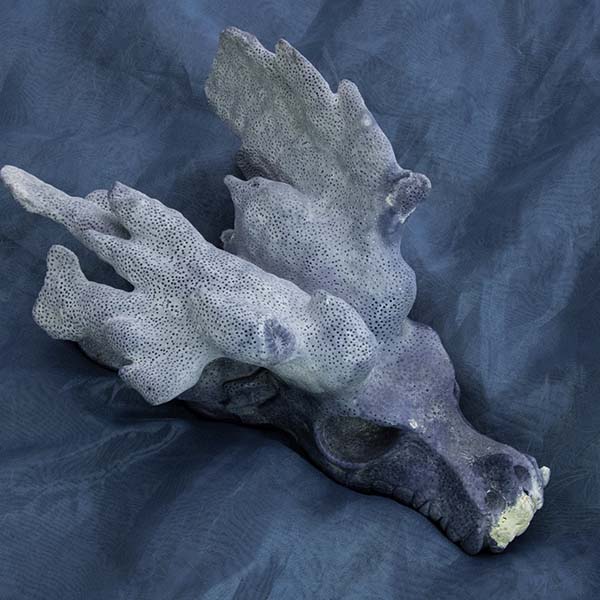 Thursday 10th March 2022
9:00pm – 10:00pm GMT
£10 (£12 for UK including vat)
This is an Energy Healing transmission
(There is no live video link or recording of this distant healing session)
This week Alphedia Arara's beautiful rare blue coral Lemurian dragon skull, Eshana, is offering us a one hour Lemurian Emotional Body healing.
Even if your soul was not present during the Lemurian Epoch on Earth, as part of the human matrix DNA we all are carriers of the ancient Lemurian wisdom.
Lemuria was a time of great heart consciousness.
We lived through our intuitive emotional hearts in 5th dimensional form.
People communicated with each other telepathically through the heart and emotional body resonance.
In this healing Eshana will be bringing the beautiful soothing Lemurian energy to support our emotional bodies through all the energy shifts occurring.
She will work also on disconnecting your emotional bodies from the human collective at this time of World turmoil and drama.
Particularly if you are a sensitive soul you may be aware of the emotional body upheaval occurring at this time within your own matrix even though you are not connected directly with it.
Her gentle soothing energy will highlight to you any emotions that are presenting for healing before the Equinox Portal.
She will work with you on transforming them with her Dragon Consciousness to loving light.
You will also receive a Lemurian light emotional body upgrade with new symbols and codes being put into your matrix to support your ascension.
In this remote one hour healing:
First twenty minutes Eshana will be working on the top most emotional issues presenting for you at this time to balance and heal vibrationally
The next twenty minutes she will be working disconnecting our emotional bodies from the human collective emotional body and return us to our centre within
The last twenty minutes will be a Lemurian light emotional body upgrade
This will be a very nurturing and soothing healing which will aid you on your journey to full remembrance and acceptance of who you as a soul are through the emotional body.
Channelled Message from Eshana:
"Greetings, greetings, greetings, I am Eshana.
It is with great delight I come forward with my Lemurian Dragon Light to support your emotional bodies at this time.
As a Blue Coral Lemurian Dragon I am a very powerful water Lemurian Dragon.
As you are immersed still in the Piscean energies and the water element is strong this will amplify our emotional healing.
This is a great time to let go of emotions that you have been holding onto for aeons, recycling them in future lives.
As we move to the rebirth Equinox Point the more you let go of now, the higher you can rise in vibration at the Rebirth Point.
Namaste"
---
As always Alphedia Arara will be holding the space to connect in each and every one of you who wishes to part of this transmission to the consciousness of Eshana.
There will be no live recording or video of this, as this is a real time receiving transmission.
If you book at least an hour prior to this transmission your name will be placed under Eshana and called in by Alphedia Arara at the start of this transmission.
It is advised that you drink plenty of water after this transmission.
If you are active during it and unable to meditate, then take time when you are able to meditate to connect with Eshana and ask to integrate all the healing work that has been done on you and it will be so.
You may wish to print out a photograph of Eshana and place this under your pillow/chair whilst you meditate or carry it with you if you are going about your daily business at this time.
---
Thursday 10th March 2022

9:00pm – 10:00pm GMT
UK: £12 (inc Vat), Rest of World £10
Please book at least one hour prior to the transmission for Alphedia to place your name under Eshana.
There will be no live audio, video or recording of this real time transmission.
It is happening in the multidimensional universal form of consciousness, meditate and enjoy.
Book Healing Transmission
---
Testimonials from Previous Group Healings
This was powerful …..the last ten minutes searing…..☺️ Eshana Dragon Group Healing
That was very powerful Alphedia! Lots of healing happened, chakra healing, healing on the right side of my head and much more.. thank you Zooranka & Alphedia✨ Zooranka Crystal skull group healing
Feel great! Very subtle to start with. My whole body felt like every part had been ultrasonically cleansed and then magnetically aligned leaving me neutral, peaceful and very present. ❤️🥰 Sherling Group Healing
"Very powerful, direct energy to my back and to my heart then it radiated all over me. So loving and soothing. Helped erase mind worries. Then I radiated energy to peace in world. Thank you! love to all." – Ardmano Group Healing
"It's awakened my own spiritual path again!! Been more focused xx🙏I love the skull healings think they are great." – Sherling Group Healing
"Thank you and Rafundus so much for this wonderful, profound healing!🐉✨🌟Incredible, honestly. " – Rafundus Dragon Group Healing