You are invited to join Alphedia Arara, the Mermaids and the Sirian Star Beings this Full Moon.  This special Full Moon is a penumbral lunar eclipse and in the star sign of Aquarius.
This moon and the eclipse is all about resetting the emotional body, releasing emotional baggage and healing your relationships. This can be the relationship with yourself, family, friends, colleagues, partners or Divine source itself.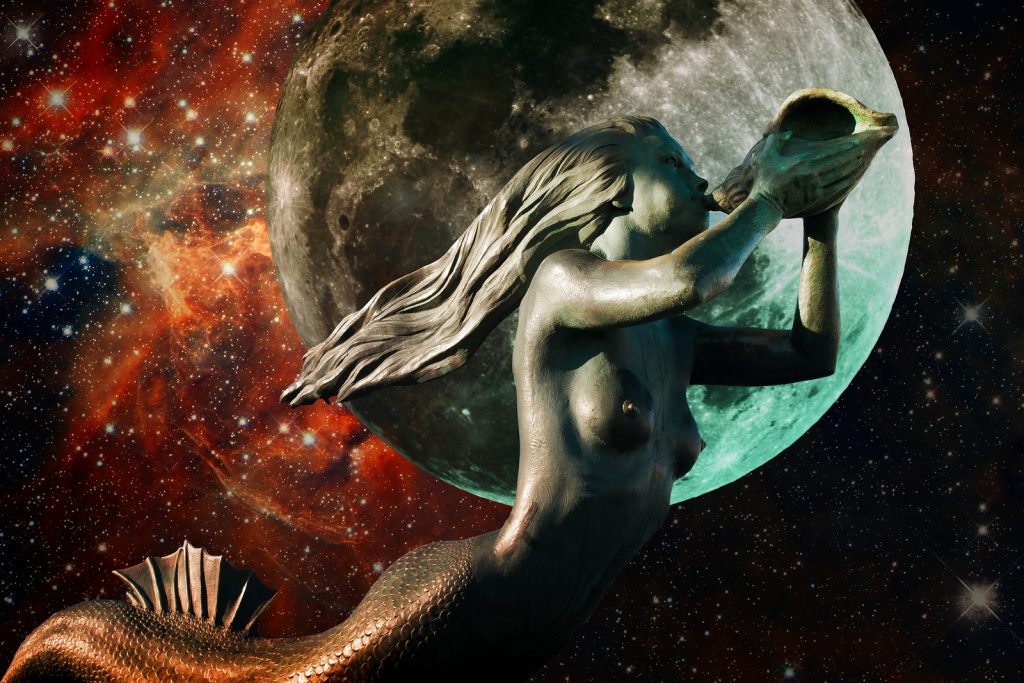 Monday 7th August 2017
7.30-9.30pm BST
The Fairy Yurt
Lindsaylands East, Biggar
ML12 6NR Scotland
In these Full Moon workshops Alphedia Arara channels live a message from the Deities. She then takes you on a self realisation exercise so that you can harness the wisdom offered by the energies of this time.
You'll then be lead on a channelled live healing guided meditation and you will receive personal messages for those in attendance from the Mermaids or the Sirians.
These full moon workshops are always very popular and allow you the opportunity to grow as a soul and be prepared for the energy shifts that are occurring in this next moon cycle.
---
Channelled message from the Sirians and the Mermaids
"Greetings we bring our consciousness together to deliver this message to you.

This eclipse is an important reset point on Earth.

As the energies have been challenging for many, many of you have been thrown out your comfort zones and have been asked to step to the next level.

Many of you have seen upheavals and change being presented and this is your choice how to deal with these changes that are coming up for you all.

You can go back to a cycle of drudgery and fear or choose to embrace the new, choose to elevate your consciousness, choose to be happiness, you can choose to be joy.
We are ready to help you with a deep cleansing of your emotional self.  To bring inner peace, balance and happiness as well as contentment to your daily life.

Know that you are always supported by the Creator, this Divine source energy that is within you.

When you balance your emotional body you are ready to manifest and harness your higher aspect who is all knowing, who is loving and you are ready to embody and embrace the Divine Light of Creator.

You are ready to be an expression of love and to bless every thing and every one that comes into being with you and as you do this many many more blessings come into your life. 
Now is the time at this eclipse to start to create the reality of this existence on Earth you wish to be.

And by cleansing and supporting your emotional body you are able to purge past life emotions, future life emotions and this life emotions which are holding you back in your soul growth.

It is our privilege to be of service this way, Namaste"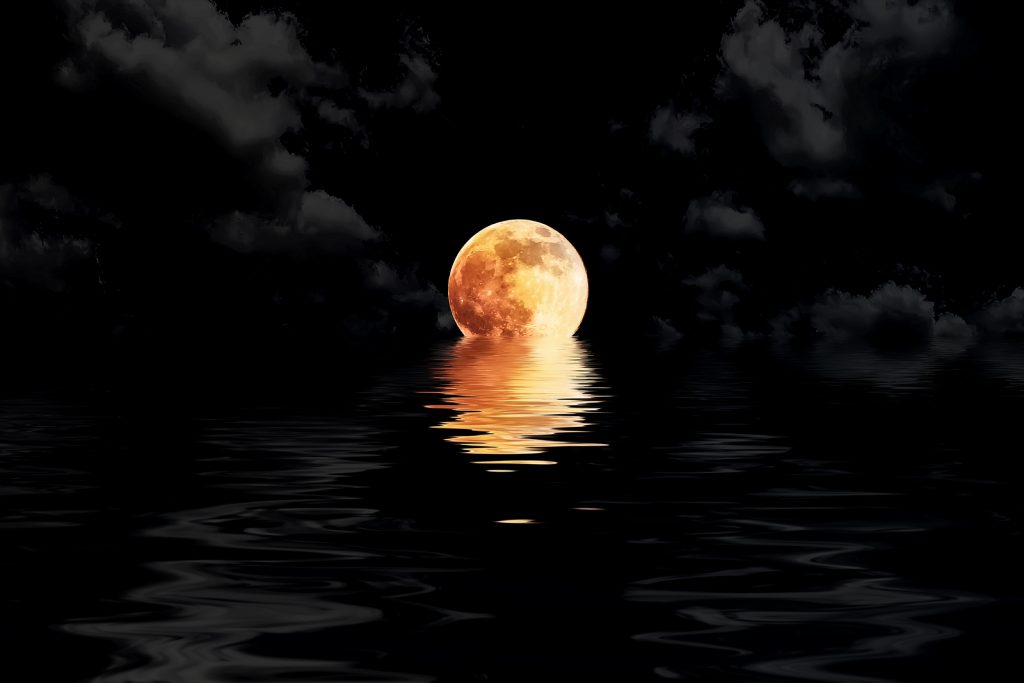 The Mermaids are powerful emotional healers. They are the guardians of the oceans and seas and they have come forth to support you with healing and clearing and balancing any emotions that you are struggling with from this life and passed lives also.

The Sirian Star Beings are an advanced race who are offering to be of service in assisting Earth with her Ascension.

The Sirians in this moon will be helping us anchor more fully to the Christed Light Consciousness Grid that is activating more powerfully on Earth in the latter part of this year.

The Sirians will be working on supporting the emotional body cleansing and purifying your channels of light which connect you with the Christ Consciousness Grid.

The Christ Consciousness Grid is all about self mastery.  It is about allowing yourself to be true to who you are, to be free of fear to be free of conditioning and dogma.

And to allow you to remember through the love codes that is carries the innate wisdom and power of the Creator that is in each and every one of us.

Eclipses are always reset points on the Earth and this is a good time to harness the changes, to allow your life to flow more smoothly in this next advanced stage.

Know that if you have been struggling with your emotions, if you've been hiding, if you've not been feeling like engaging in the spiritual process or you've been feeling like your unfulfilled emotionally these energies can shift for you now if you step forward and do the work.

And these great beings of light channelled through Alphedia Arara offer to support you on this auspicious day.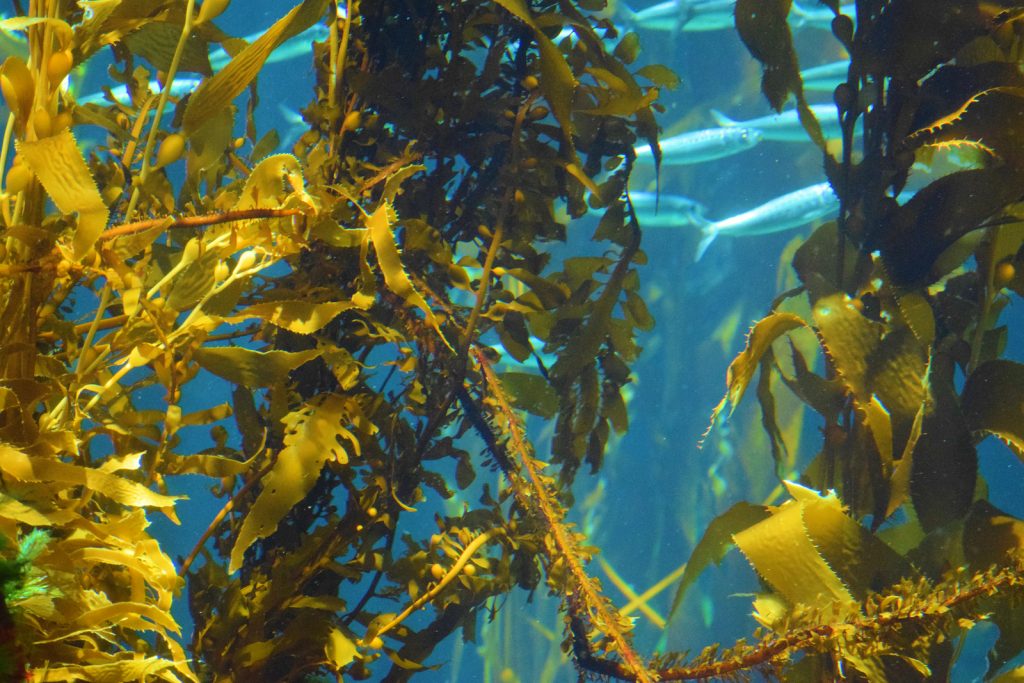 We hope that you are able to join us for this special full moon workshop, Alphedia Arara will be able to support your journey not only with her words and her powerful auric field but also through the codes and frequencies of the Tibetan singing bowls, the crystal singing bowls, percussion and the sacred drum.

Know that you are loved and blessed always.
---
Distance Option £20 includes name called into sacred space and MP3 recording
Buy Recorded Workshop
---
Sirius and Mermaid Ascension Spheres
We on earth have been given this meditation tool to assist in our own personal spiritual development and in working together with others, the raising of the collective consciousness.
By using the Ascension Spheres people can access and attune to the energy of Archangels, Gods & Goddesses, Star Systems, Planets, Elementals, Rays and other higher energies.
Ascension Spheres consist of 8 crystals or stones which contain a special energy portal, in a tin and satin pouch, with instruction sheet.
Each set contains a portal to connect you to the deity or energy you have chosen to work with. This is a connection to an intelligence that not only can raise your physical body vibration but allows you access into the realm you are being attuned to.
It strengthens your own connection to your higher self and allows you to connect with your soul and access knowledge you have carried and held for a long time.
Experiences include increased clairaudience, increased visions, insights, inter dimensional travelling, increased clairsentience, healing, and more.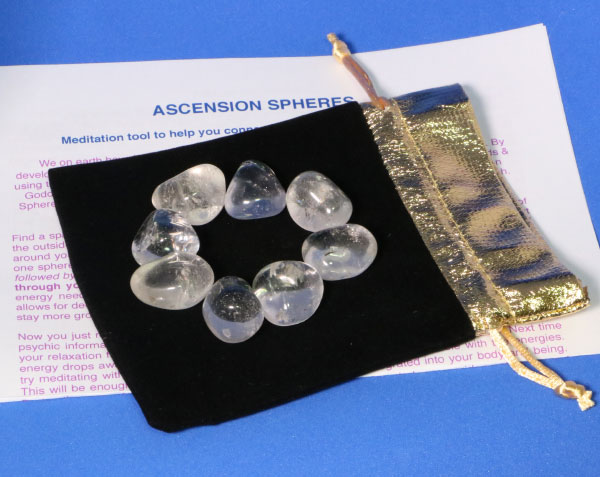 Buy Ascension Spheres