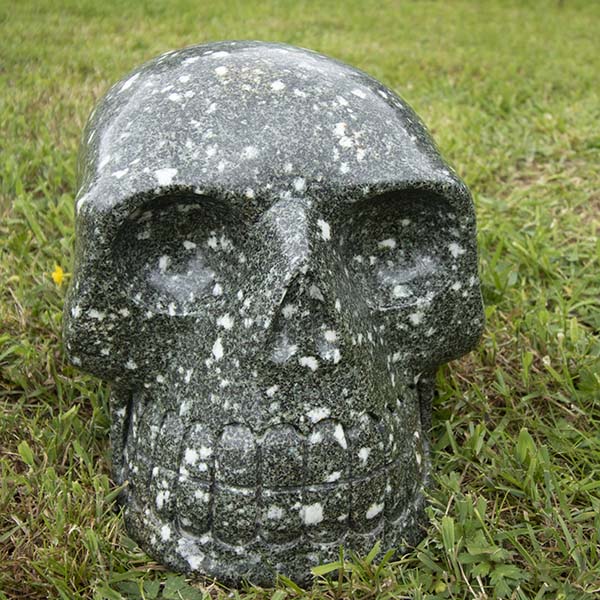 Sunday 15th November 2020
7:00pm – 8.00pm GMT
EU: £12 (inc Vat), Rest of World: £10
(There is no video or recording of this distant healing session)
Ardmano, a 28kg Preseli Bluestone Galatic Skull, has offered an hours healing transmission for you from 7-8pm this evening for the New Moon.
Unfortunately, Alphedia took unwell on Friday and although is much better than yesterday is unable to go ahead with the New Moon transmission that was originally planned. Instead Ardmano has offered a New Moon Galactic healing crystal skull transmission.
Channelled Message from Ardmano:
"It is an honour and joy for me to come forward now to assist with the integration of the energies of this New Moon in Scorpio. This is a Galactic Window through which high frequency light is flooding the planet. Some of you may be experiencing massive light body upgrades through this portal. This can cause tiredness, flu like symptoms, detoxing, headaches and other aches and pains in the physical body.
Know this is your energy system trying to integrate the high frequency light codes and get you to heal and purge vibrations that no longer serve your matrix.
In this healing I will be working with my Galactic Master codes to support you in remembering who you are as a galactic soul on Earth and what your mission is and healing anything that is presenting for resolution and integration through this new moon portal shift.
The healing will be different for each of you depending on your star origins but the main focus will be soul empowerment and realignment with your galactic self. I will run 10 minutes of integration on you at the end of the transmission. "
The Ardmano Transmission of healing will be received through your multidimensional self. If you are unable to do it live then when you can next meditate go back in time to the moment of 7pm GMT and ask to receive it consciously. The healing will already have happened for you energetically.
Invocation
"I ask to connect in now energetically with Ardmano Crystal skull.
I ask to receive a Galactic healing for my highest and best in this moment and new moon portal.
I ask for the most appropriate star being healing energy frequencies to be given to me now through Ardmano's consciousness. So mote it be"
---
If you book at least an hour prior to this transmission your name will be placed under Ardmano and called in by Alphedia at the start of this transmission.
There will be no audio, video or recording of this transmission as it is happening in the multidimensional universal form of consciousness.
It is advised that you drink plenty of water after this transmission and if you are active during it and unable to meditate, then take time when you are able to meditate to connect with Ardmano and ask to integrate all the healing work he has done on you and it will be so.
You may wish to print out a photograph of Ardmano and place this under your pillow/chair whilst you meditate or carry it with you if you are going about your daily business at this time.
Alphedia Arara will hold the space with Ardmano for this hour's healing transmission.
---
Ardmano Crystal Skull Transmission Remote Healing
Sunday 15th November 7pm GMT
EU: £12 (inc Vat), Rest of World £10
***Please note that if you have purchased the Galactic Federation of Light New Moon workshop then this Ardmano Healing is already included for you.***
Please book at least one hour prior to the transmission for Alphedia to place your name under Ardmano.
There will be no audio, video or recording of this transmission as it is happening in the multidimensional universal form of consciousness.
Book Ardmano Crystal Skull Remote Healing