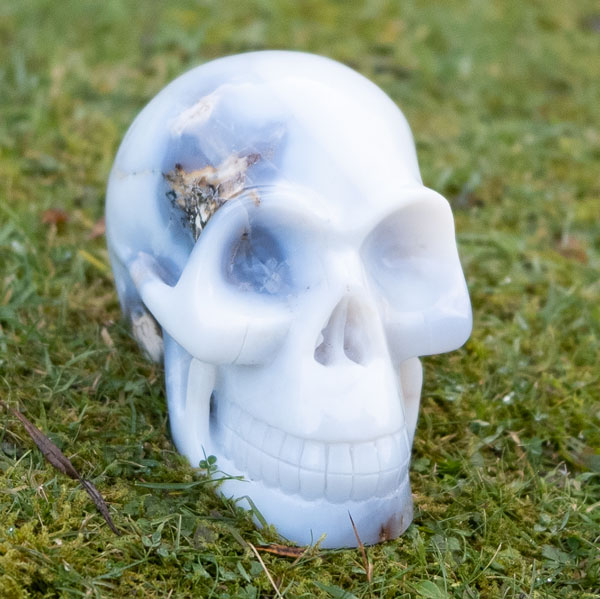 Introducing a New Skull to the Healing Sessions
Sunday 12th December 2021
10 -11pm GMT  (note time change for this week)
Cost £10 (£12 for UK including vat)
There is no link to join, as there is no video or audio recording with this transmission!
Meet Pulanta Alphedia's stunning new 5.3kg Blue Lace Agate Crystal skull!
Pulanta has been with Alphedia now for a few months and has now offered her first Crystal Skull group healing on the 12.12 Portal night.
Pulanta is a crystal skull of communication.
Specialising on clearing the throat chakra and aiding you in speaking your inner truths with ease.
We all at times find it difficult to communicate whether it is our own inner truths to ourselves, to others or family and friends.
For some of you it may be communications with our spiritual guides or Source.
Pulanta is offering in this healing to assist us in strengthening our channels of communication so we can lovingly express ourselves with ease.
Think of those you have difficult relationships with or difficulty at times communicating with.
Do you feel you are respected and listened to by others?
Do you wish to be more confident in your communications?
Pulanta will work with us in this powerful Portal of 12.12 to open up our telepathy and communication channels more fully.
Do you sometimes fear what others will think if you tell your truth if they have opposing views?
Are you able or unable to adequately express your side of a situation or viewpoint effectively in life?
Perhaps you get sore necks, throats, loose your voice as a physical manifestation of communication issues.
Pulanta has very soothing and calming energy.
She is a powerful skull who will aid you in healing your Throat Chakra.
In this 1 hour healing:
1st 20 minutes Pulanta will work on a general healing of your throat chakra
2nd 20 minutes Pulanta will start to clear and heal any communication blocks manifesting in your life
3rd 20 minutes Pulanta will work on clearing any neck, spine issues, any throat issues to allow your communication channels to be upgraded and healed with ease
Channelled Message from Pulanta
"Greetings, greetings dear ones,
I am so happy to have this opportunity to start my mission of healing in earnest.
I am ready now to start to assist you with communication from the heart.
The 12.12 Portal is all about the opening of the higher heart.
Humanity is to move to a place of heart centered communications.
For this to occur your communication channels must be cleared.
I am ready to support you in speaking your inner truths.
To find it easy to communication with others lovingly and be respected for your inner truths.
If you have difficulty in communication with anyone allow me to support you in shifting this.
It is an honour for me to have this opportunity to meet you all.
Namaste"
---
Channels of Communication – Pulanta Crystal Skull Healing
Rest of World £10 ; UK: £12 (inc vat)
Book Healing Transmission
There will be no recording, audio or video of this, as this is a real time receiving transmission.
This is done similarly to receiving a distant reiki healing where you lie down or sit down and rest to receive.
If you book at least an hour prior to this transmission your name will be placed under Pulanta and called in by Alphedia Arara at the start of this transmission.
It is advised that you drink plenty of water before and after this transmission.
If you are active during it and unable to meditate, then take time when you are able to meditate to connect with Pulanta and ask to integrate all the healing work that has been done on you and it will be so.
If you are unable to receive this transmission whilst resting or are asleep, part of you will still be actively receiving the healing and you can connect in with Pulanta when you are able to meditate to receive the information on the transmission.
You may wish to print out the photograph of Pulanta and place this under your pillow/chair whilst you meditate or carry it with you if you are going about your daily business at this time.
Testimonials from Previous Group Healings
"Very powerful, direct energy to my back and to my heart then it radiated all over me. So loving and soothing. Helped erase mind worries. Then I radiated energy to peace in world. Thank you! love to all." – Ardmano Group Healing
"I'm feeling lighter and a greater sense of clarity." – Ardmano Group Healing
"Wow, totally blasted away and still integrating. Became very tired approx 1 hour before the transmission. Started meditating and was off and gone immediately. If one of my cats hadn't started asking for attention after one hour I probably would have fallen into very deep sleep immediately after. Remember small bits of several recurring themes passing through my field. But not much detail. Will tune in again this evening and ask dear Ardmano if there is anything that I need to remember or integrate consciously. Feeling at ease and tired today. Decided to relax and take it very easy to allow further processing.Thank you🙏so much dearest Alphedia and Ardmano! Feels like a major shift!!😘🤩💝💖🌈" – Ardmano Group Healing
"Immediately felt lighter – much lighter – after the session – a lot of release continued from my night before – feminine energy blocks – and slept through the night. 3 cheers for me. And Ardmano
" – Ardmano Group Healing
"For a powerful healing for not only us but also for our ancestors and our descendants too. Feeling blessed to have experienced it ❤❤❤" Anne, Lunarity Group Healing
"Amazing, with lots of insights. At the very end Lunarity asked me to feel the love from my ancestors. Wow, so powerful! THANK YOU ALPHEDIA & LUNARITY!!! 💗🙏💗" – Amy, Lunarity Group Healing