In this new workshop the past life angels have come forth to tell us that we are ready now to heal past life trauma that is playing out to us in this incarnation.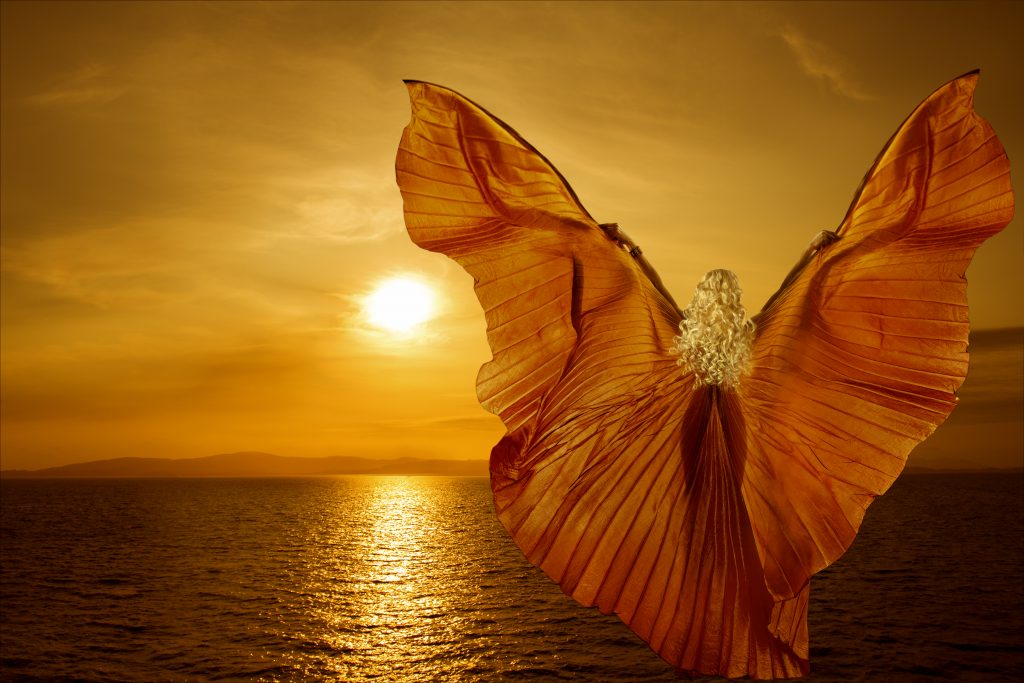 Sunday 29th October 2017
Before we incarnate on earth we all decide which karma and which trauma memories as well as which knowledge we wish to bring forth or heal in this current timeline incarnation. In this workshop the past life angels wish to assist you in finding your own truth.
What they mean by this instead of living out of programmed response because of what has happened in the past or in past lives you are now able to live your life as an expression of the real truth of who you are.
In this workshop you will learn new techniques of how to heal and clear your past lives. How to disentangle from past life memory energy that may be manifesting into physical, mental, emotional or spiritual ill health in this life time for you.
We will work on clearing any blocks or doubts which have been created in this lifetime and you will also work with the angels to access and gain positive wisdom from your past life experiences. We will not only be accessing past lives that have occurred on earth but in other galaxies and dimensions also.
This will be a powerful workshop for those who are ready to learn the tools and techniques to utilise in their life going forward as a spiritual seeker and light worker.
We no longer need to carry the karmic trauma and memories from the past.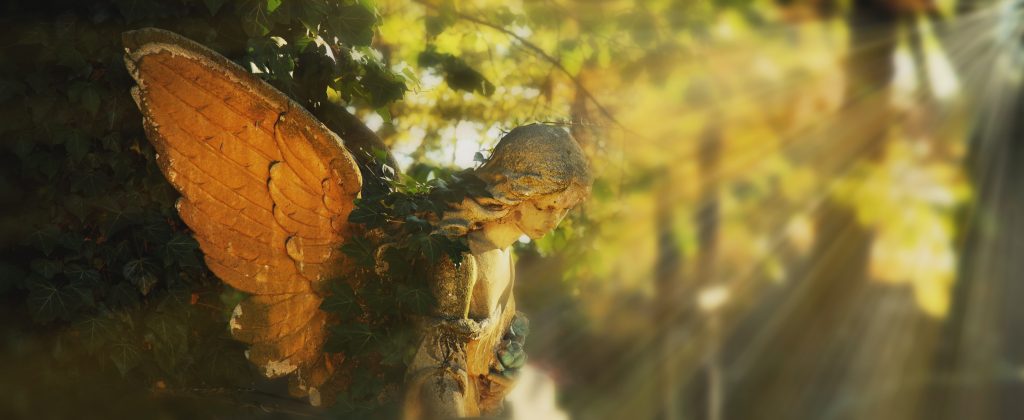 We will learn how to align your timelines, how to change lifetime endings and how to heal that aspect of yourself that is still dwelling in those timeline periods.
Alphedia will talk to you about her personal experiences using these techniques for physical health, and for clearing emotional traumas and fears.
You will receive through meditations, attunements and healings a reboot of your souls expression in human form.
Prior to the workshop you will receive healings from the Past Life Angels, through your dreams and meditations.
The Angels will do this work for you in preparation for the healing day.
Alphedia is an experienced workshop facilitator who can support you through past life healing and mediation journeys.
She has done extensive work on her own past lives and will help you to see your how past life experience is playing out in your own current reality.
With mantras you will also be able to shift past life blocks and also access the truth of you as a soul expressing itself in its purest intent.
This will be a life transforming workshop that is offered to all through the Love and Grace vibrations.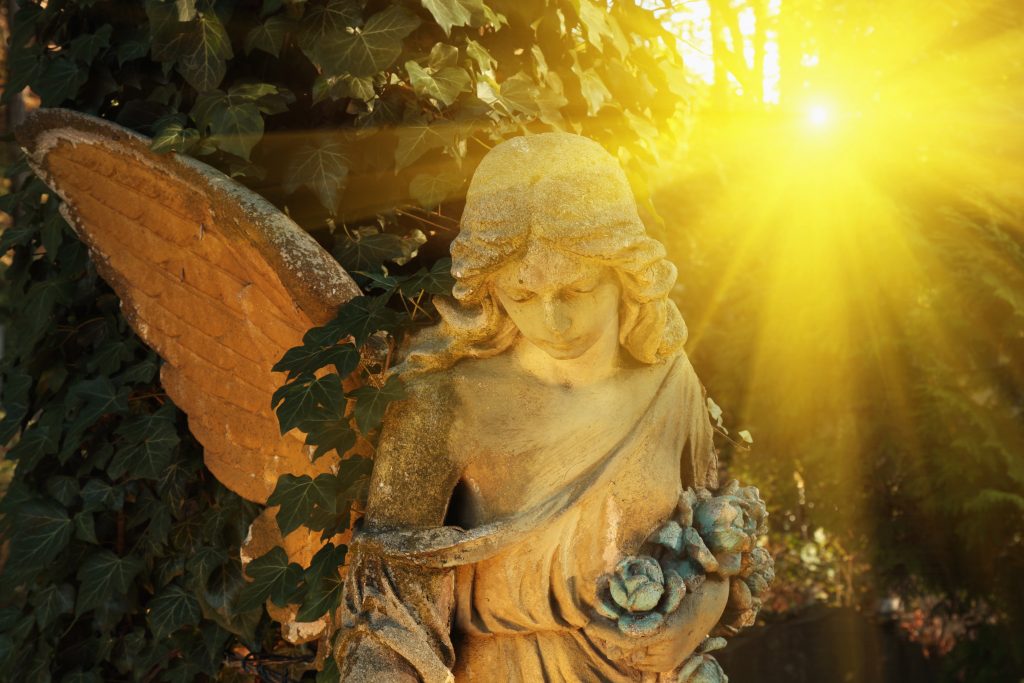 Channeled message from the Past Life Angels
"Greetings it is with great joy that we the Past Life Angels come forth.
In this workshop you will meet your own Past Life Angel who is a key guide for you in the healing journey that you are embarked upon.
You will go on past life meditations to be shown which life or lifetimes are affecting you most in this lifetime.
You will learn about:
the carousel affects of reincarnation
how to break timelines
how to heal down your past lifelines
how to transform your past life wisdom
how to mark past life experiences as complete in your soul growth chart.
You will also learn how to access ancient knowledge from your past lives which would be useful for you in this incarnation.
This is very much a teaching course to give you the tools in how to assist yourself and others in this great time of change in the Ascension Journey on Earth.
We Past Life Angels are very honoured to have this opportunity to support you on this journey.
You have all lived many lifetimes, you are all vast souls of infinite wisdom and knowledge.
It is time now to step into your power and take control of who you are and your journey in this time period.
We offer this opportunity to set you free from your past, to heal that that you require to heal in this incarnation and to allow you to go forward in your life journey unburdened from past experiences.
It is our privilege as always,
Namaste"
---
Recording Past Life Angels £65
The MP3 files of the entire workshop will be sent to you.
Past Life Angels Recording £65 Add to Basket
---
Past Life Angels Ascension Spheres
We on earth have been given this meditation tool to assist in our own personal spiritual development and in working together with others, the raising of the collective consciousness.
By using the Ascension Spheres people can access and attune to the energy of Archangels, Gods & Goddesses, Star Systems, Planets, Elementals, Rays and other higher energies.
Ascension Spheres consist of 8 crystals or stones which contain a special energy portal, in a tin and satin pouch, with instruction sheet.
Each set contains a portal to connect you to the deity or energy you have chosen to work with. This is a connection to an intelligence that not only can raise your physical body vibration but allows you access into the realm you are being attuned to.
It strengthens your own connection to your higher self and allows you to connect with your soul and access knowledge you have carried and held for a long time.
Experiences include increased clairaudience, increased visions, insights, inter dimensional travelling, increased clairsentience, healing, and more.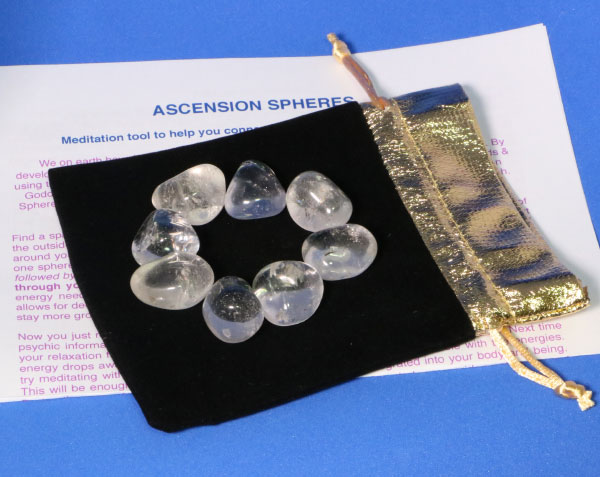 Past Life Angels Ascension Spheres £30 plus p&p Add to Basket