Message from Alphedia Arara 9th October 2017:
As many of you know, I just love crystal skulls, I love talking to them and receiving healing from them, and for years I have been manifesting getting some Raven skulls in stock, so finally, the day has arrived, we have a batch of black obsidian and clear quartz raven skulls, and one which my son Auriel has chosen to claim as his, so therefore it will be my one, is a ruby and zoisite skull!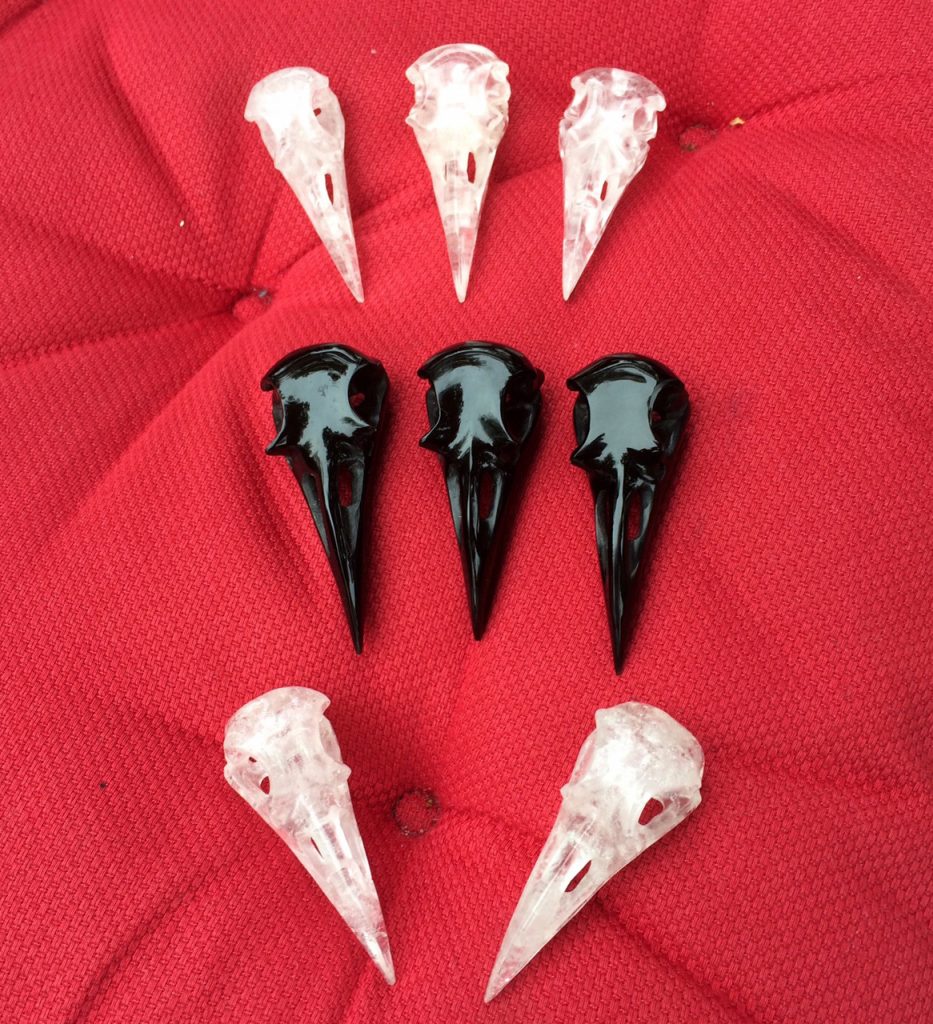 There has been lots written about the crystal skulls, people are getting very familiar with the Dragon skulls and the Unicorn skulls. The Raven skulls have a very interesting energy. Now the Raven is a bird and is very associated with this time of year, the sabbat Samhain, and the Raven energy. I channelled a workshop last year with the Raven energy for Samhain. For more details of it, please click here.
Raven will really help you see through the veils. honour the dark side of yourself, but remove away the veils of illusion is the way I would see Raven. But, it is a very powerful energy to work with, it is associated with Halloween, which is the Celtic new year. And of course, Ravens are steeped in folklore; birds of protection, but also sometimes known as omens of death.
But as we all know, we don't die, our soul doesn't die, our physical body dies, but not who we are: our soul.
When a Raven comes to you, it can be a sign of a shed, letting go of the past as well, so I don't think Raven energy is anything to be feared, as some people in the past did fear Raven energy. I think Raven is a great gift, a teacher.
So what I am going to do now, is channel, as nobody has really written much about Raven skulls, and what they can do and offer us, and why you may feel guided to become a guardian of a Raven skull.
I am holding the ruby and zoisite one, that Auriel has claimed, and I am going to let it speak through me now.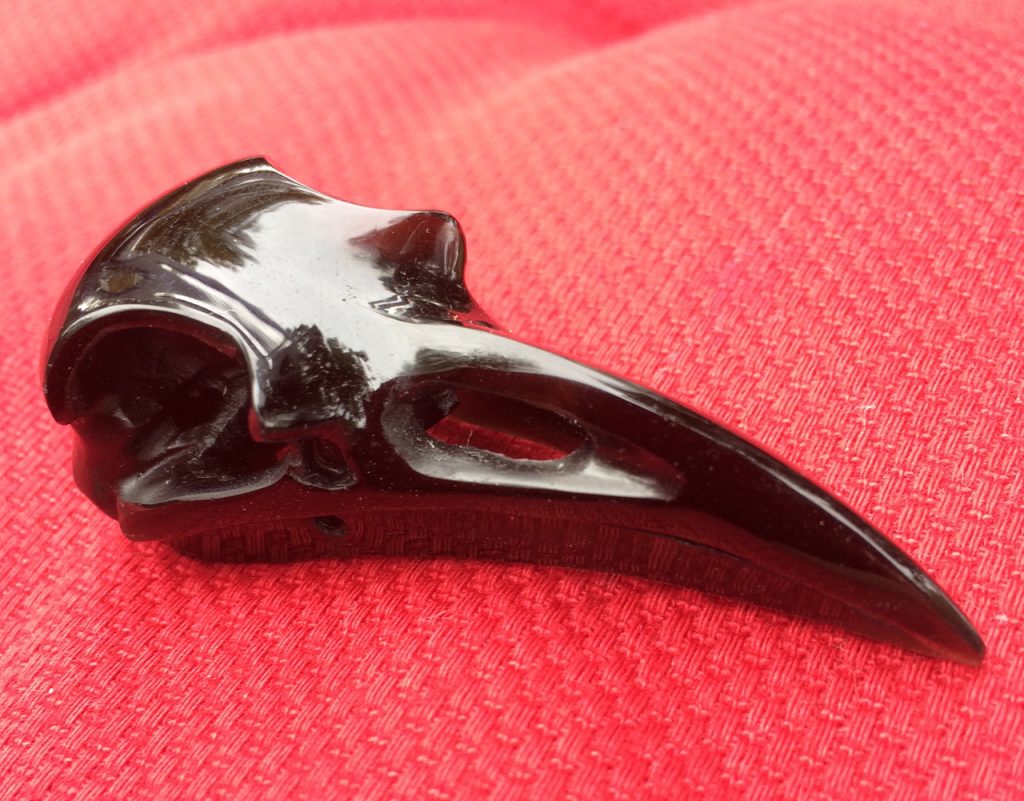 Channelled Message from the Raven Consciousness:
"Greetings, greetings, greetings, I am delighted and honoured to be your guardian Raven skull.
The Raven skulls were carved as a talisman, to help remind alchemists of the magical energy of the Raven consciousness.
Take a moment now to connect into the Raven consciousness. Start to see or sense our majestic black feathers wrapping around you.
Raven energy is very wise, very nurturing, and we have been carved into skull form to assist with protection, deepening understanding with the subtle realms of light, and to take our guardians on a journey to access the inner mysteries within your soul.
We are here for those high level initiates to really do the deep inner mystery work.
We are here to assist those who seek the unexplained. But we are here also to aid people in returning back to the light.
Skulls offer direction, and a focus. As you sit and meditate with us, you will journey, for all Raven skulls are journeying skulls. We are here to help you awaken your scrying ability, to help you awaken your alchemical knowledge.
And we are here to help you journey to the future realms and to gain understanding from there.
It is our privilege to place our consciousness into these stunning crystals.
Namaste."
Wow! This Raven skull really activated in my hands there! Wow, you are so powerful for being so little and fragile! Powerful!
Oh, it said: We are just like the birds that we represent.
So, even if you don't have the Raven skull, or aren't getting a Raven skull, you can still connect to the Raven consciousness and just allow the Raven energy to bring forth wisdom for you. But obviously the skulls bring their own unique knowledge.
I feel very grateful, I mean I hold a lot of skulls in my working day, and in my personal days as well! But I feel so grateful that this powerful being has come into my reality.
That is just some information for you about the Raven skulls, and they are absolutely beautiful.
Namaste.
Raven Workshops
Find out more about the recorded Raven workshops:
Faery Queen Morgana Le Fay & the Ravens Workshop
Lifting the Veils for You This Samhain