with Mary Magdalene, Lord Sananda and the Elementals
Scottish channel Alphedia Arara hosted a four night retreat on the sacred, magical island of Iona, which is one of the Heart Centres of the earth.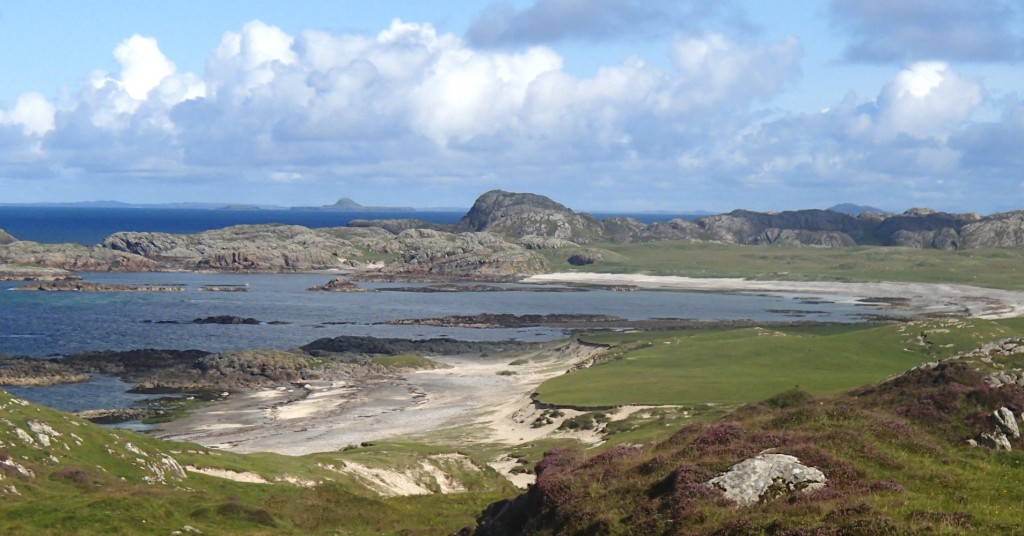 Saturday 15th April 2017 to Wednesday 19th April 2017
Iona is a small Hebridean island located off of the larger island of Mull on the west coast of Scotland. It was a powerful druid centre and later became the founding spot of Christianity in the UK.
Alphedia has run two previous Earth Healing retreats on this sacred Island and was asked again to bring together powerful light workers to assist in the rebirthing of the new energies on Mother Earth.
The retreat began at 2pm on Saturday the 15th of April and ran until 10.30am on Wednesday the 19th of April. This was over the Easter weekend period.
The retreat was held in the beautiful North Island this time, where views of Staffa and other Scottish islands are visible from the sitting room window. The venue is located a short walk from the stunning North beach and is a quiet, secluded location. All the retreat food was vegetarian, food allergies were catered for, as were vegan diets.
Alphedia is a powerful channel and her retreats always provide participants with the opportunity to receive personal messages, guidance and wisdom on their soul journey, as well as Earth healing work.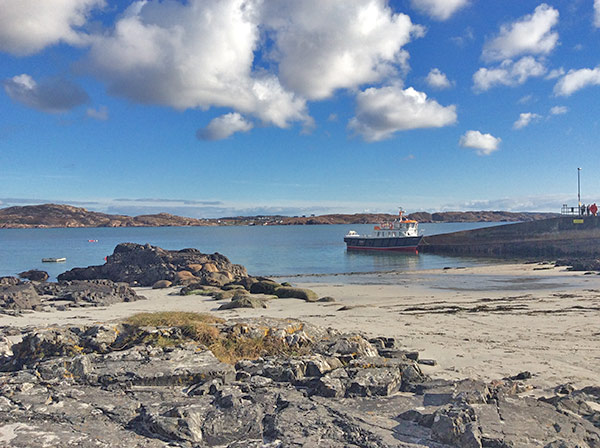 The full retreat schedule is available below. The retreats are always packed with valuable information and healing, and this is a wonderful time for you to escape from the hustle and bustle of daily life, surrounded by stunning nature, wonderful company and lovely food.
There were 21 spaces for this retreat at the lovely Iona Hostel. The Bothy was also available for a couple. Beds are single bunks in rooms of 4 and 6. The retreat was run during morning, afternoon and evening sessions. There is a spacious kitchen and seating area with stunning views out to the sea. The retreat included field trips and earth activations up Dun I and at beaches and the Mary Chapel.

Channelled message from Mary Magdalene:
"Greetings, it is an honour to call you to the sacred Island of Iona once again, for here I spent many years studying with the druids, seeking solace and respite.
As you enter through the portal of love that surrounds Iona, crossing the sea, your heart will start to open, and you will start to unravel layers of truth that have been hidden. Deep peace will descend upon you as you step onto the white sand and feel a deep connection to Mother Earth.
Iona is a space provided by Gaia to allow you to feel a deeper connection to her. To allow you to move more fully into Onenss and to open up remembrance of your soul's journey and reason for being here.
If you feel the call of Iona, myself and Lord Sananda, also known as Jesus, are offering you as Initiates, our wisdom into the subtle alchemies of energetic change that is required to happen on Gaia.
We wish to lead you in a deep connection to your heart, to aid you in releasing ego blocks that stop you loving yourself unconditionally and completely.
We will spend the first two days of the retreat doing deep heart healing, combined with connecting to the dolphins and the whale consciousness. In the latter part we will work with the Dragons to create an energetic Temple of Light on Dun I (the highest hill on Iona).
We will pilgrimage to St Colombus Bay on Easter Sunday and we will work on decoding the negative aspects of Christianity that have unfortunately been affecting the global consciousness. We will assist you in remembering your role in the order of Melchizedek and in the creation of a new global consciousness for humanity.
We will work through meditations and attunements to bring forth the creation of the New Dawn of Light; to create a world through Love. To bring forward templates of change for humanity but also for all the kingdoms of Gaia.
We will work with the crystal skull conclave to download new frequencies and patterns into your DNA structures and also into Gaia herself. We will work with the mermaids and the mermen, the fairies, the sylphs and the salamanders to bring the four elements back into balance.
Do not underestimate the significance that bringing together a strong team of powerful lightworkers can do to assist all of humanity and affect global processes.
We will attune you to ancient Egyptian rituals that are being held in the temples, energetic initiations which will help free you from karmic cycles, limiting beliefs and blocks in your path of light.
We will also be upgrading the Christ Consciousness codes that you are embodying. Christ Consciousness codes being codes of alchemy, transformation, to allow you to step fully into your self sovereign power.
Lord Sananda will be performing healing on you individually and also talking to you about his original mission to Earth and how he wishes to help humanity once again.
More information will come forward nearer the time as we put together the full schedule. Namaste."

Lord Sananda Channelled Message:
"Greetings, I am honoured indeed to have this opportunity to assist so many of you on this sacred land. When I was sent to earth as the soul you now know of as Jesus Christ, I was sent with a mission, to teach the way. The way really was fifth dimensional conscious understanding.
One of my greatest teachings was to forgive and still this is a teaching that is as relevant today as previously. 
I would like to offer you this opportunity to assist with the overlaying of another layer of consciousness. When myself and Mary Magdalene joined together our energies and divine alchemy, we were bringing through codes and frequencies which affected all of humanity.
Even though the religion that has been spawned from my lifetime has lost its way slightly, there is still value in many of the teachings. Although this course is non denominational, it is right that the work is done on this sacred island, for I wish to offer each participant a divine healing.
It was through divine healing that I was able to cure the sick, for I am a powerful alchemist, and so are you all who decide to take part. 
For you are ready to remember yourself, you are ready to remember how to manipulate the energy for the highest good.
You are ready to receive the purity of the love and the healing I can offer you. There will be many initiations that we will take you on, Mary will lead the women on a womb healing and I will lead the men on an activation for their seeds of light. For each man produces seeds of light and yet the knowledge of how to activate fully your seed of light is no longer taught, except in a few ancient tribes.
It is time once again for men to activate their seeds of light and for women to purify their chalice. 
The Dolphin Goddess also wishes to come forth to work with you as Initiates of her sacred knowledge. For the dolphins are of key importance for the anchoring and stabilisation of the earth grids and part of this retreat and the rebirthing of the earth is to create a new grid of light.
Many of you have been working on this on your own journeys, whether you've been aware of it consciously or unconsciously. We will do an activation to consolidate these changes, for Mother Gaia has decreed that in 2018 a powerful portal will open on the summer solstice and many of your souls have signed up to do this work. 
We will have an evening where Alphedia will channel wisdom from the star races so you can hear how they view the work we are doing. Know that if you are called to be present with us everything will fall into place as to how this occurs. Just ask and it shall be given, trust and know that the universe provides when you ask what will it take. I am Lord Sanada.
Namaste and Adoni."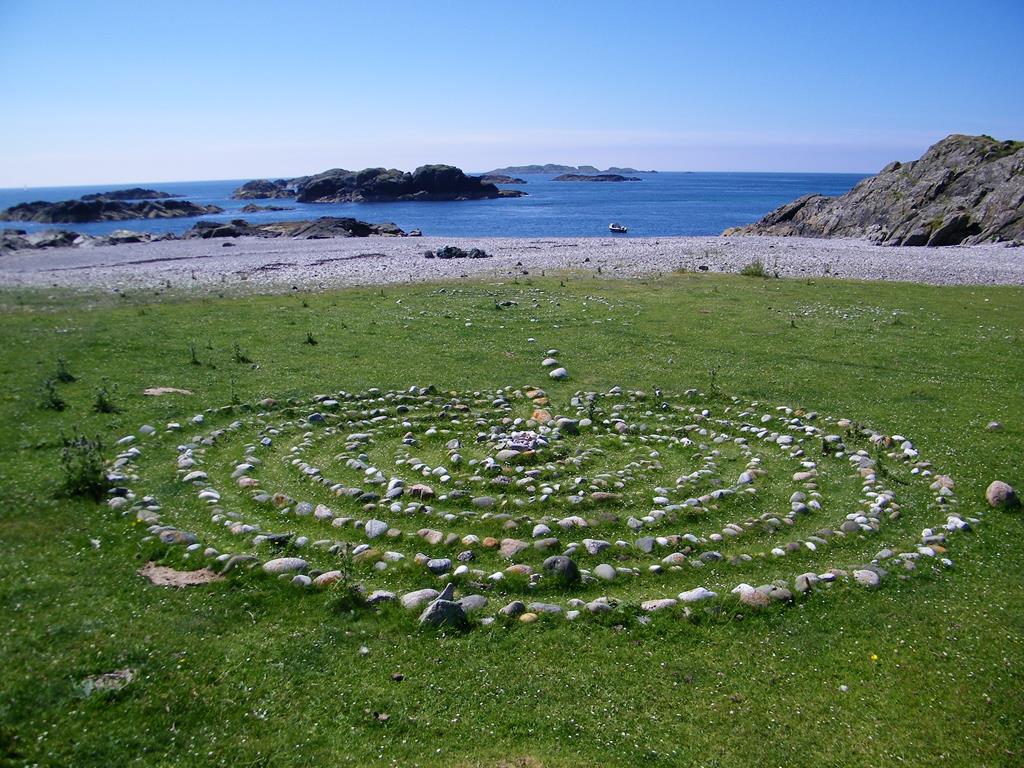 This retreat  included workshops, food and accommodation. Participants received a recording of the retreat, so that they could remember everything and  redo the meditations.
It included personal channelled messages through Alphedia Arara, gong baths and also participants were shown how to do powerful Earth healing work, guided as a group.
They received a free morning to explore the island or take a boat trip to Staffa (Staffa trip extra costs).
---
Travelling to Iona
Travel to Iona was not included in the retreat.
The Ferry to the Isle of Mull leaves from the port at Oban. This ferry takes about 45 minutes. Several sailings happen each day with Caledonian MacBrayne Ferries. The train from Glasgow goes directly to the Oban Ferry port.
Once on Mull a bus will take you from the ferry port at Craignure to the port at Fionnport where the Iona Ferry sails from. This ferry crossing is around 15 minute and runs every half hour roughly. You do not need to book the ferries to be a foot passenger.
Finalised prices and sailing times  will be listed here.
There are many hotels in Oban if anyone wishes to stay over night. There may also be extra spaces the night before the retreat and the night after if you are interested in this contact us.
The nearest Airport is Glasgow Airport where there are links to the city centre to get a train to Oban which takes around 3 hours.
For more information on Iona please visit the Iona Tourist information page. There are limited supplies on the island with only one small grocery shop but some nice gift shops.
Buy Recorded Retreat: £200
---
Previous Retreat Feedback:
"Alphedia's Retreats are just incredible! I have been on many of them and they go very deep indeed. So many transformations, enlightenments and wisdoms flow. Alphedia is multi-talented, she holds the space making those attending feel safe, channels many beings, brings in many energies, tone and allows those attending to find the answers too and so much more. Her Iona retreats are most blessed." Alilila, England
---
"I've attended two of Alphedia's Iona Retreats. I've found them to be potent personal journeys to advance myself and heal myself deeper. I've always learned something new via the live channellings, discussions and meditation exercises. Alphedia is a great personable facilitator of these kind of retreats and very experienced due to her own self-healing journey. I keep coming back for more. The opportunities she provides with either a retreat like an Iona or a workshop are exceptionally effective. She is a top notch spiritual facilitator." Beatrice, USA
---
"Working with Alphedia over the past year or so has been a deeply enriching experience, leading to unprecedented growth on many levels. I especially love her retreats which are dense with valuable challenging work and opportunities for soul growth, yet still full of fun, adventure and good will, with kindred spirits. Nothing quite like it on this planet. The Isle of Iona is balm to the soul, breathtakingly raw and beautiful. Definitely going back!" Gail, Canada
---
"I absolutely love the retreats which Alphedia runs! She makes you feel very welcome and included in everything. I find her channeling of the highest level and integrity and feel so lucky to be able to take part. She creates a sacred space for everyone to work in and the retreats usually include some kind of healing for Gaia and the land and also includes sacred ceremony and guided visualizations – depending on which being of light is directing the retreat.
Alphedia works with very powerful and wonderful beings and I have received some amazing channeled messages. As everything is recorded, you don't have to worry about writing every word down. You can listen to all of the sessions and meditations too when you're back home after the retreat.
Alphedia's husband Auraengus is also on hand to help and is the most wonderful chef (gong master, homeopath, vortex wizard and more!), preparing extremely delicious and healthy vegetarian meals for the group. They are both very welcoming hosts and generous with their time and advice.
The retreats are also really good fun too as Alphedia is very down to earth and likes a giggle! I always enjoy every bit and love sharing my time with everyone else taking part. I can't wait for the Iona retreat in 2017 :)" Lisa, England
---
"I really enjoy the Elemental Being retreats with Alphedia. Their great places to get to know like minded people, whilst expanding my insight of the unseen worlds. Auraengus' vegetarian soul food is always tasty and just what you need after a high vibrational workshop." Marcus, Scotland
---
"I went to an Earth Healing Retreat led by Alphedia at the Summer Solstice of 2016 in Fortingal, a Full Moon workshop and an additional one day workshop. The retreat and the two workshops were excellent. The sessions are jam packed full of information and the transmissions were deeply healing. I left feeling expanded. Alphedia was also very welcoming and the food was delicious. Highly recommended!" Fouzia, England
---
"Thanks again for a great weekend retreat in Scarborough, and for the lovely people it attracted. You are doing amazing work, I am very impressed.I look forward to meeting up again this year. Thanks and blessings." Chris, England
---