The Goddesses Aphrodite, Pallas Athena and Kwan Yin are coming forward to lead us on a sacred journey to heal the  collective Feminine wounding to open up a Sacred Womb Consciousness and to undo trauma that is stored within the collective Feminine on Earth.

Rise of the Sacred Feminine Within
Sunday 17th May
1:00 – 5:00pm BST
LIVE TRANSMISSION via Video Link
and
Distance Option
UK: £66 (inc Vat) Rest of World: £55
Alphedia Arara invites you to join her working with the energies of the Goddesses to support the rise of the Sacred Feminine energies within.
Whether you are Male or Female in this incarnation, you are all being affected by the rise of the Divine Feminine Codes of Light that are returning to Earth reactivating and awakening within us all in the build up to the Summer Solstice 2020, where at the Solstice point the Sacred Feminine Earth sites around the world will start to reopen.
The Goddesses Aphrodite, Pallas Athena and Kwan Yin are coming forward to lead us on a sacred journey to heal the Feminine collective wounding to open up a Sacred Womb Consciousness and to undo trauma that is stored within the collective Feminine on Earth.
We will be working through beautiful meditations, healing attunements and powerful activations as we honour the Sacred Feminine.
We will be finding out our roles in releasing the Feminine codes again on Earth and fully embodying the purity of the Sacred Feminine wisdom.
Many are feeling anger at this time towards the Feminine, unconsciously, and this however is coming to a head.
The representation of the Sacred Feminine for you whilst on Earth is of course Mother Earth, Gaia, and those who have had experiences in any incarnations of being un-nurtured, raped, abused, dis-empowered because of your Feminine form, now is the time to set yourself free from these limitations.
The three Goddesses will work with you to take you into deep healing space to help you return your memory of the purity of the Sacred Feminine codes within and to heal you from any traumas that you've experienced whilst in Feminine form and healing any imbalance towards the Masculine and the Feminine within.
This is an opportunity for you to be assigned a Goddess who your mission and your frequency is most akin to at this time, you will also meet the Dark Goddesses for these Goddesses offer powerful wisdom.
Many Goddesses take on the Dark and the Light role as a representation within the Sacred Feminine aspect within.
You will all have an opportunity to work with, in meditation, your Goddess of Light and a Goddess of Darkness that is coming forward to support you, bringing up the shadow aspect within so you know what your blocks are to fully embodying the Sacred Feminine.
You will experience a powerful rebirthing ceremony with Cobra medicine, for the snake represents inner transformation and also the kundalini life force within and you will also have an activation with the Goddess Shakti, who is referred to as the Great Divine Mother in Hinduism.
This will be a powerful transformative workshop which will offer you the opportunity to heal on a deep cellular level any aspects you have been struggling with regarding your Feminine wisdom.
Channeled Message from Goddess Aphrodite
"Greetings, greetings, greetings dear ones.
We honour and support you at this time as we hope you hear the call to activate the Sacred Feminine within to allow yourself to transform through these powerful initiations that will support you amplifying your healing capacity, but also honouring the Sacred Womb space.
This is an opportunity to shed, purge, release but to heal, nurture and support the Feminine aspect within all souls on Earth.
We will be working on you in your individualised form but we will also work upon you in healing the Collective Feminine from her wounding.
As we have moved into the Aquarian Age, the return of the Feminine power, the dismantling of the old Patriarchal structures is culminating together to bring forth this fast movement into the New Earth Template.
We Goddesses all come with our own inner wisdom, just as you as souls come to Earth with your own inner wisdom and it is time for you to all honour that inner wisdom now, to support you as you go through this process of profound change within.
This is a great opportunity not only for cellular rejuvenation, but also for reclaiming through your Ancestral lineage the Sacred Feminine truths.
We will do an Ancestral Feminine healing for you too, to heal your Ancestors of any brutality, pain that they suffered through the Female aspect but also we will support you to aid you in accessing with greater ease your Feminine Codes of Light.
It is with great honour, privilege and joy that we Goddesses come forth. Adoni."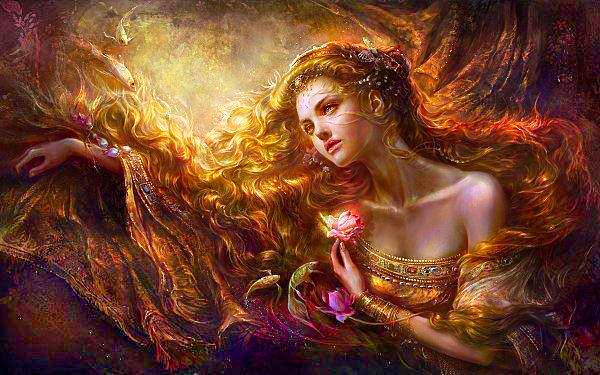 As always Alphedia Arara will support your healing experience through playing the sacred instruments, Tibetan singing bowls, crystal singing bowls, chimes and percussion as well as channeling any light language required for the activations.
Know this is a powerful opportunity for us all to ascend into claiming our Feminine Wisdom once again and to be set free.
---
The Rise Of The Sacred Feminine Within Workshop
Live via Video Link (Internet Connection required) : UK £66 inc Vat; Rest of World £55
You will receive the Video link and a password to join the workshop a few hours before the workshop starts (please book early to ensure you receive the Video Link). You will also be sent a link to the audio file after it has taken place.
If you are unable to make the hook up with Video at the time book the distance option below as per normal.
Book Attendance Live via Video Link
---
The Rise Of The Sacred Feminine Within Workshop
Distance Option : UK £66 inc Vat; Rest of World £55
Your name called into the sacred space at start (if you book at least an hour before the workshop starts).
The link to the audio MP3 file of the transmission will be sent as soon as complete.
Book Distance Option
---
Sacred Feminine Ascension Spheres
UK £36 plus carriage, Rest of World £30 plus carriage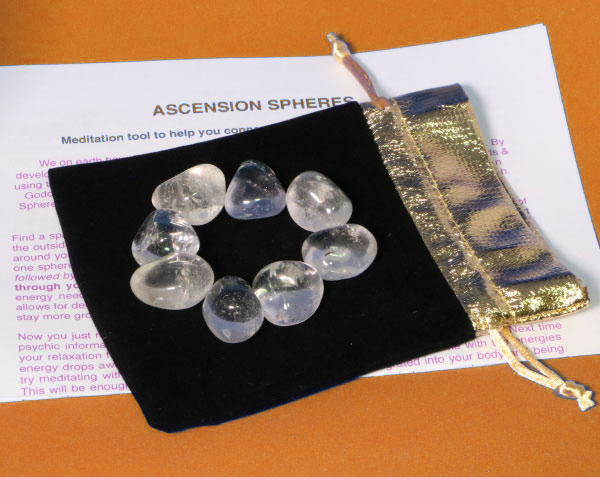 We on Earth have been given this meditation tool to assist in our own personal spiritual development and in working together with others, the raising of the collective consciousness. By using the Ascension Spheres people can access and attune to the energy of Archangels, Gods & Goddesses, Star Systems, Planets, Elementals, Rays and other higher energies. Ascension Spheres consist of 8 crystals or stones which contain a special energy portal, in a tin and satin pouch, with instruction sheet.
These sets are imbued with the essence and presence of the Sacred Feminine to enhance your growth and experience while engaged on the workshop, and at all other times.
Buy Sacred Feminine Ascension Spheres
---