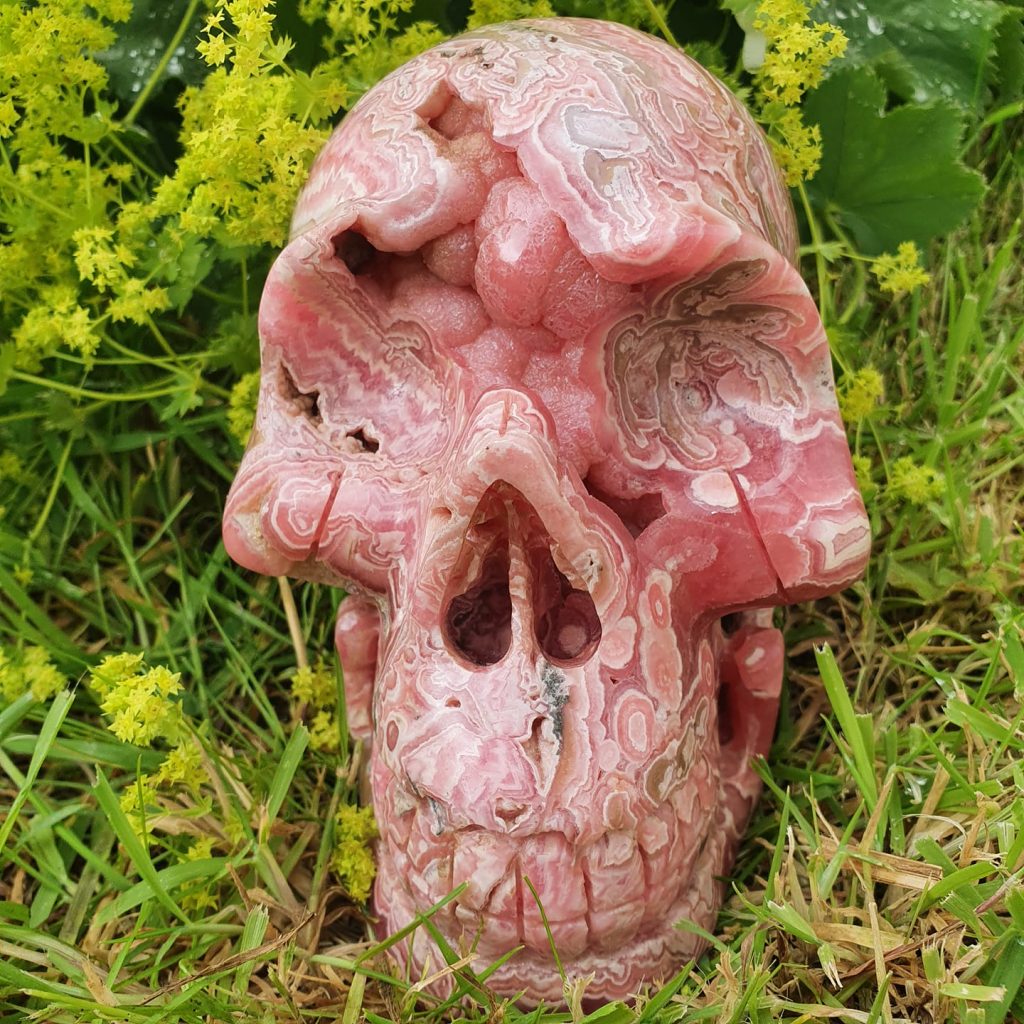 Rosina Heart Chakra Upgrade Healing Transmission
Sunday 25th October 2020
8:00pm – 9:00pm GMT
EU: £12 (inc Vat), Rest of World: £10
(There is no video or recording of this distant healing session)
Alphedia Arara is offering the opportunity of an hours Heart Healing with Rosina, her 2.5kg Rhodochrosite grade A skull.
Rosina is offering us a deep Heart Healing and Heart Chakra upgrade opportunity within her hours healing transmission.
Rhodochrosite carries the beautiful pink ray of source, the pink ray of unconditional love in crystalline form.
Rosina is offering the opportunity to assist us all as souls in journeying deeper into our heart centre truths.
This is the year of the heart codes being released by Mother Earth and and anything stored in your heart centre that is not serving you in the New Earth template portal is now coming up to the fore to be recognised, honoured and lovingly released.
In this hours transmission Rosina will:
In the first twenty minutes be working with your soul clearing out any heartache, trauma, pain, and fears that may have caused your heart centre to shut down or not be operating at its fullest capacity. This will include her working on past lives and ancestral patterning for you too.
In the second twenty minutes she will be working on bringing through the unconditional love codes to aid you in loving yourself fully, allowing you to heal any detrimental judgements and beliefs you have held about yourself. Helping you to see yourself through the loving eyes of Mother Gaia and divine source, identifying any frequencies and vibrations you have subconsciously been harbouring within your heart space.
The last twenty minutes of the transmission you will be receiving pink ray transmission which will upgrade your heart chakra frequency, allowing you to attract loving experiences, partners, friends and relationships into your life with greater ease. She will assist you in seeing through the love of the heart in all circumstances going forth.
As always Alphedia Arara will call the names of those who are taking part in this transmission into Rosina to connect you up, she will then hold the space with the crystal skull to aid you in maximising the healing experience.
This transmission is performed upon your multidimensional self. If you are unable to meditate over the allotted time know that your higher self will be receiving the healing and you can tune in to Rafundus in meditation at a later date or before you go to sleep in the evening.
There is no recording or video link of this healing.
If you wish to book for a friend or family member please just place their name in the comments box when booking and their energy will be connected into this healing transmission.
Testimonials from Previous Group Healings
"Very powerful, direct energy to my back and to my heart then it radiated all over me. So loving and soothing. Helped erase mind worries. Then I radiated energy to peace in world. Thank you! love to all. 💕 " – Beth, Ardmano Group Healing
"It's awakened my own spiritual path again!! Been more focused xx 🙏 I love the skull healings think their great." – Kirsty, Sherling Group Healing
"Thank you and Rafundus so much for this wonderful, profound healing! 🐉✨🌟Incredible, honestly." – Andrea, Rafundus Group Healing
"Great healing from Lunarity, felt the generational shift of beliefs regarding wealth. Have cleared this and those of my immediate family now also. So this will be an interesting future. 👏🌟❤️" – Pauline, Lunarity Group Healing
---
Please note if you are taking part in the One Heart Retreat it is unnecessary to book this healing as you will be receiving this as part of the retreat.
---
If you book at least an hour prior to this transmission your name will be placed under Rosina and called in by Alphedia Arara at the start of this transmission.
It is advised that you drink plenty of water before and after this transmission, and if you are active during it and unable to meditate then take time when you are able to meditate to connect with Rosina and ask to integrate all the healing work she has done on you and it will be so.
You may wish to print out a photograph of Rosina and place this under your pillow/chair whilst you meditate or carry it with you if you are going about your daily business at this time.
Alphedia Arara will hold the space with Rosina for this hour's healing transmission.
---
Rosina Crystal Skull Transmission Remote Healing
Sunday 25th October 8pm GMT
EU: £12 (inc Vat), Rest of World £10
Please book at least one hour prior to the transmission for Alphedia to place your name under Rosina.
There will be no audio, video or recording of this transmission as it is happening in the multidimensional universal form of consciousness.
(This transmission is live only and will not be recorded)
Please note if you are taking part in the One Heart Retreat it is unnecessary to book this healing as you will be receiving this as part of the retreat.
Book Rosina Crystal Skull Remote Healing