The Key of Inner Peace will aid you in feeling less stressed, more aligned and balanced and more secure on the Earth walk. It will support you in overcoming fears, worries, anxieties and help you have a clearer mastery of your ego shadow side.

Live Video Opportunity:
Third Key of Ascension, Inner Peace, Lady Sarah Workshop
Saturday 7th March 2020
2.30 – 4.30 PM GMT
Join Alphedia Arara Live via Zoom

UK £30 inc vat, Rest of World £25.00
Alphedia Aara is delighted to offer you the Third Key of Ascension channeling Ascended Master Lady Sarah who has already brought through the Keys of Forgiveness and Gratitude to help us all on our Ascension path.
The third key is the Key of Inner Peace.
Before we can reach the stage of inner peace we must first be able to forgive and then feel grateful for our life experiences and soul growth lessons the first two keys offer us.
Now the third key, the Key of Inner Peace, assists us all in our movement into the heart.
It aids us in becoming One with Divinity and our Divine Light.
Lady Sarah lovingly will guide us through the activation and the preparation work to embody the Third Key of Ascension.
Alphedia Arara will channel Lady Sarah live on the day to bring through wisdom to help us all understand and remember the importance of this key to be activated and lived through at this time.
The Key of Inner Peace will aid you in feeling less stressed, more aligned and balanced and more secure on the Earth walk.
If things have been a struggle for you with the integration of the new Earth templates this will support you in overcoming fears, worries, anxieties and help you have a clearer mastery of your ego shadow side.
She will help us to understand that when one activates peace codes within, one is able to navigate the Earth walk with greater ease and flow.
Alphedia will lead you through a self realisation exercise to look at where you are finding it difficult to be peaceful in your life at this time.
Is it family, career, finances, health, spirituality that you feel is lacking in an inner contentment and an inner peace?
You will receive an Ascension Sphere attunement with Lady Sarah to tune into the inner peace codes
You will be led on a powerful live guided meditation to activate the third key of Ascension within you.
Lady Sarah will bring through guidance, wisdom and deep soul healing, working on any past life timelines and ancestral karma patterning and programming that is presenting itself to be healed at this time. In this she will also bring through the activation as well as healing guidance and messages.
After the meditation, she will lead you on physical healing using the peace codes to remove stress and tension manifesting physically in the body.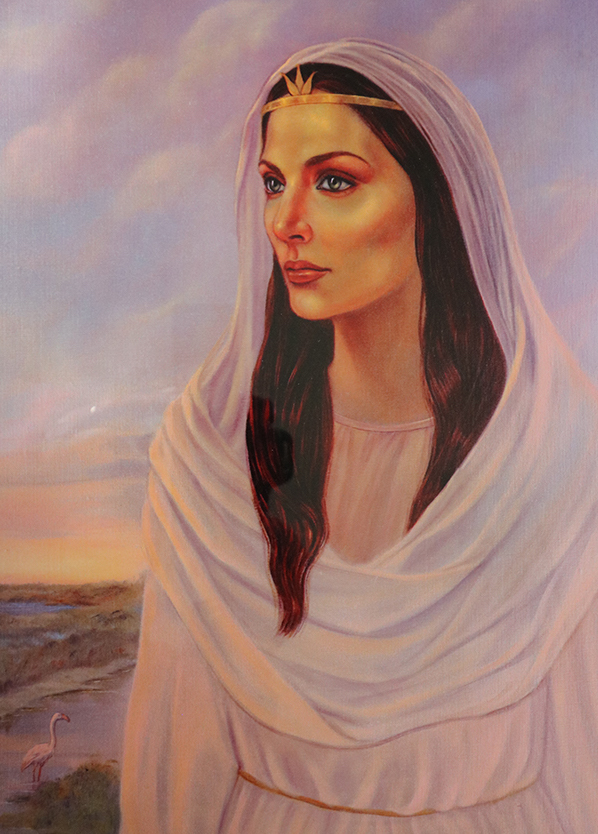 Lady Sarah – Cheryl Yambrach Rose
Channeled Message from Lady Sarah
"Greetings dear ones, it is with excitement, honour and joy that I come forward to support you as you move through this process of alignment to the Third Key of Ascension.
Gaia is releasing this now to support all on Earth as you journey deeper and deeper into the heart process.
I will work to highlight for you any unconscious beliefs and thought forms that are limiting you, causing distress on your Earth walk at this time.
Often we see souls are so patterned in the old way of being that they unable, unwilling, to change.
The fear body has such a strong grip to keep you in your mental minds, to keep you in anger, to keep you in fear, to keep you in pain.
That unless you are consciousness and diligent and willing to do this work you will stay trapped in third dimensional conscious reality.
The Ascension process is a journey, but know there is lots of support and help on the journey.
When I incarnated onto Earth I came in with my keys fully activated.
Some of you will come with them activated, but they may require amplification but the majority of you require them to be turned on again and this is a process that Gaia is supporting through her Earth resonance frequency.
You are being guided dear ones, to come to this place of awakened consciousness.
Feel within your heart if you are ready to take this further step into fifth dimensional awareness, further step in the surrender of the ego drivers and the further step on the ladder of inner Ascension.
You are all Divine souls of Light, you are all carriers of the codes, but it is your own free will that will determine the choices that you make whilst on Earth.
Believe that you are important enough to go through this process to be healed, to be peace and from this place of inner peace, let all illusions strip away, one can clearly see the path ahead and respond peacefully to any situations that arise.
Know you are all loved, protected and guided always. Namaste."
---
Lady Sarah was the daughter of Lord Sananda, when he incarnated onto Earth as Jesus, and Mary Magdalene.
She was the Holy Grail, carrying the balance of the masculine and the feminine, anchoring the Holy Grail codes onto the Earth.
Again she is playing this role at this time.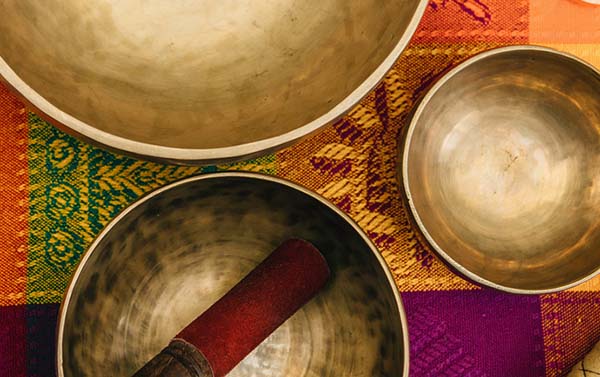 As always Alphedia Arara will support your healing journey and activation process through channeling of the sacred instruments, Tibetan singing bowls, crystal singing bowls, Koshi chimes, percussion and toning light language.
If you wish to catch up on the First and Second Keys of Ascension they are available in a package now with a 25% discount:
First Key of Ascension – Forgiveness, Lady Sarah Workshop
Second Key of Ascension – Gratitude, Lady Sarah Workshop
---
Third Key of Ascension – Inner Peace, Lady Sarah Workshop
Distance Option : UK £30 inc Vat; Rest of World £25
Your name called into the sacred space at start. Video available to view on a private link after editing and uploading is complete.
The link to the audio MP3 file of the transmission will be sent as soon as complete.
Book Distance Option
---
Lady Sarah Ascension Spheres
UK £36 plus carriage, Rest of World £30 plus carriage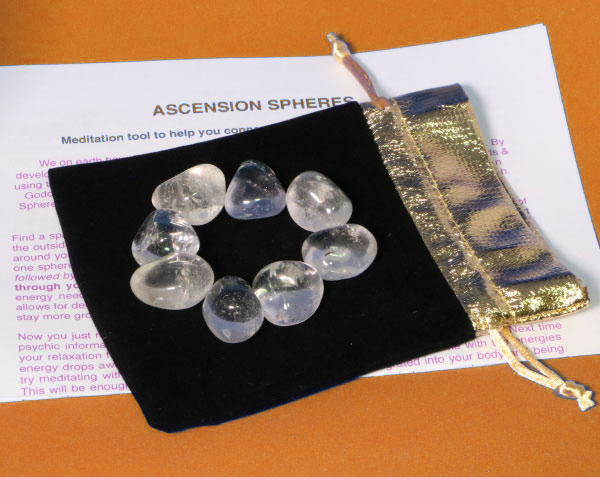 We on Earth have been given this meditation tool to assist in our own personal spiritual development and in working together with others, the raising of the collective consciousness. By using the Ascension Spheres people can access and attune to the energy of Archangels, Gods & Goddesses, Star Systems, Planets, Elementals, Rays and other higher energies. Ascension Spheres consist of 8 crystals or stones which contain a special energy portal, in a tin and satin pouch, with instruction sheet.
These sets are imbued with the essence, presence and blessing of Ascended Master Lady Sarah to enhance your growth and experience while engaged on the workshop, and at all other times.
Buy Lady Sarah Ascension Spheres
---