22nd November 2015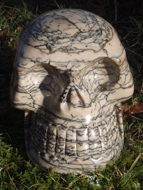 Sherling our Grand Master skull he wishes to speak in preparation of World Crystal Skull Day this year, 2015.
'Greetings it is an honour and a privilege to be able to communicate with you all this way.  I am a master of the crystal skull conclave and my main mission here on earth is to assist with earth healing projects. I have requested a gathering of souls and skulls to take place on Sunday at Arthurs Seat the extinct volcano at Edinburgh.'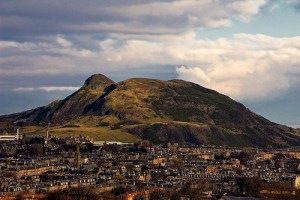 Arthurs Seat
'The reason that I have asked for this gathering to occur is that running through Arthurs seat are 3 key important leylines and the Rose Line which has been made famous known as the Mary Magdalene line which runs through Rosslyn Chapel also runs through here as do another two energy lines and they cross, not as people who have dowsed think but they wiggle around and they spiral around similarly to how the energy vortex happens at Glastonbury Tor. 
This is a new phenomenon that has only occurred in the last 3 years and I wish for this skull gathering to occur in order to help balance the male and the female energy lines that are connecting through here.  It is not necessary for you to climb to the top in order for this energy work to be done for the vortex of energy is the portal that you will create with your skulls, will cover the whole of Holyrood Park.'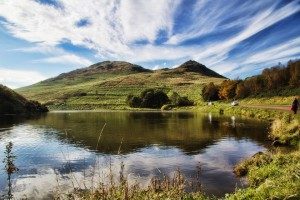 Upper lake at Arthurs Seat
'You may decide where you wish to gather so that all who wish to come can take part on they day. We will open up this vortex of light to radiate love down through the leylines and also across the whole of Scotland. 
I will also bring through personal healing for all those who wish to take part whether that is energetically or physically.  Those who are unable to attend can place a picture of Arthurs Seat under their own skull grids and help bring through this transmission of light on the day. 
I will hold the energy portal open for 3 hours for those taking part distantly and for those who are gathering to bring their soul love and their skulls together. 
We will meet at 1pm to open the portal to bring through this new cascade of love and to honour within our souls how wonderful an opportunity and experience it is to be here present on planet earth at this time. Namaste dear ones, Adoni.'
That was Sherling's message, your all welcome to join, your all welcome to take part.  If you wish to take part distantly I'll call your energy into the sacred space that we create on Arthurs Seat as well so please email me [email protected] or send me a message in response to this post and I'll put it up on the Elemental Beings group on Facebook that you're welcome to join if you're not a member already.  If you wish to attend please also send email so I know your coming and I can give you the details of where we're going to gather .  Many blessings to you and have a wonderful World Crystal Skulls Day, Namaste.'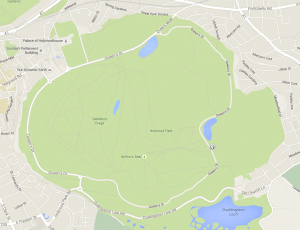 Map or Arthurs Seat
Click here for Google Maps Link https://www.google.co.uk/maps/@55.9472724,-3.1616148,15z