Elemental Beings is run by Scottish author, channel and spiritual facilitator Alphedia Arara, who can hear and communicate with beings in many different realms.  Alphedia teaches others how to do so also, as we all have spiritual gifts and talents waiting to be awakened. She regularly runs popular workshops on a variety of topics and her audience is international, with people taking part via the distance options available for each course.
She also offers a variety of Channellings to aid people in their soul growth as well as running life changing retreats in sacred places. Elemental Beings focuses on Earth Healing, communications with the other realms and spiritual development. We sell Crystal Skulls, Dragon Skulls, Unicorn Skulls and a variety of crystals. Please enquire at [email protected]
Elemental Beings is  based just outside the beautiful Scottish rural town of Biggar, which is only half an hour's drive from Rossyln Chapel and one of the sacred sun discs of the world. Most workshops are run in the Fairy Yurt in Alphedia Arara's garden which is situated beside two old oak trees and a running stream. In 2014 Elemental Beings established an elemental garden with a crystal Dragon portal. Alphedia also runs the Scottish Dragon Wisdom School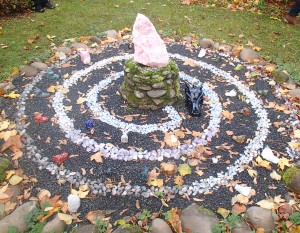 Join us on Facebook in our group Elemental Beings or become friends with Alphedia Arara for the most up to date information or sign up to our newsletter here
Messages from Nature's Guardians
'Messages Natures Guardians' – Fiona Murray (Alphedia's maiden name)
To buy the book £15 plus carriage Add to Basket
Alphedia Arara is the author of the popular book Messages from Nature's Guardian's written under her maiden name as Fiona Murray. The book is about her journey of discovery with the elemental realms and her spiritual awakening.  In the book she brings through messages from the nature spirits about the environment and their role on Earth.   She channels through messages, meditations and spiritual guidance in a variety of formats including books, soul channellings, workshops, talks, retreats and newsletters.
At this time on Planet Earth more and more people are remembering their spiritual connection to source and the Oneness of all. Take a magical journey through this site to explore and learn about communicating with Mother Earth, her nature guardians, the crystal and animal kingdoms, the Angelic realm and the other beings of light that surround us with their loving healing energy everyday. Welcome to their world. Love Alphedia Arara xx
 Feedback on Alphedia Arara and Elemental Beings
Your message touched me deeply and watered my eyes. Thank you what a lovely and amazing gift. I'm overwhelmed. Specially today as I have faced difficult issues. Lovely you and dragons! Dragon Healing Workshop. Katri, Finland
I loved the Iona Workshop Order of Magdalene…thank you so much! What a blessing.I'm really grateful for your gift, and the possibility to grow, expand and BE what I Am in all aspects of my life…you opened a big door for me! All my love. Sara, Portugal
Just wanted to say how much I loved the Iona retreat. Every aspect of it was of the highest quality. Both you and Auraengus were so generous with your time and gifts.
I felt totally supported at every moment. Gail, Canada Iona retreat
OMG that was an incredibly powerful meditation!! I can't believe how deeply I went and the layers and levels of sacred geometry, colors, beings, and of course Metatron and my Metatronic personal guide. Has been going on for me the whole rest of the day. My number is 23 and feels VERY powerful to me. You are really doing fabulous powerful work and I am onboard for everything coming up. Much Gratitude for all of it, Kristin, USA. Metatron Angel Meditation Workshop
All my love to you and I absolutely treasure your work it has empowered me beyond what I could ever express in words and brought me so much joy especially the info that has explored my Walkin status. It all rings true to my soul and I appreciate you. Musinda, Canada
The courses are all wonderful and the distance option is terrific for folk like me. I have really healed so much through doing them and love going back to work with the recordings and meditations as I hear something different every time.  Arounka, Glasgow
I heard you on Kim Wilborn's Telesummit a while back, and was so impressed. You were awesome! The channelling was sooo beautiful!
Peace and Love! Nancy Walker
Wow, I have transcribed your personal message from my skull Orion a couple of days ago. It was great to hear that practically all I thought and felt is true. So amazing and comforting. Thank you very much. Ingrid Hohl, Germany – Crystal skull workshop
Unbelievably beautiful and powerful. Thank you so very much for this and your great gifts. Much love, Kristin USA – Soul Channeling
Your work is quite an inspiration! Jane – Italy
Thank you so so much for my soul channelling.  It was beautiful and I cried when I listened to it the first time. I just had to email you straight away to thank you . It really is a wonderful gift you have. Thank you so much.  It is going to help me greatly and then I can help my children. Many many thanks. Love Sharyn UK -Soul Channelling
Thank you for the work you do that helped me facilitate this much needed "supreme" healing. Kaya, USA – Lemurian Angels Workshop
I have once again been listening to your last soul channeling for me. I don't think I have said that more than any it has affected me at a deep, deep level. It is very beautiful and I wanted thank you for your gifts and to say how grateful I am that you have them to share. Sue, Edinburgh
Your one talented lady. Truly…x Its true. Your an inspiration too many. X Lisa, Perth, Scotland
A beautiful and powerful workshop! I'm still detoxing from it but doing much better today. Lisa, USA – Lemurian Angels Workshop
Thanks for all the spiritual work you do for us. You really are amazing! Love Barbara, East Lothian Scotland