Alphedia Arara is an author and a writer who communicates and channels beings in the other realms.  She has written for numerous magazines and is currently working on three new books.  Here you can find information on the books she is published in so far.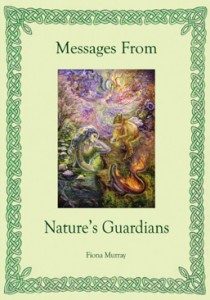 'Messages Natures Guardians' – Fiona Murray (Alphedia's maiden name)
To buy the book £15 plus carriage Add to Basket
This much anticipated first book from popular, Scottish 'Elemental' communicator, Fiona Murray is both an enchanting and educational journey into a world of natural wonder. It is a book about inter realm communications between the Elemental, Angelic and Human realms, providing a unique insight into our current environmental dilemma. The reader is led along Fiona's spiritual journey in discovering the existence of the nature guardians with the help of Goddesses and Ascended Masters, as her sixth sense opens up allowing her to hear their important environmental messages about the state of the planet at this time.
In the book we travel with her through magical Scotland, meeting the different nature guardians, finding out about how to connect with them, where they dwell and how no matter where you are in the world, you can access their ancient healing powers and wisdom to help you in your life.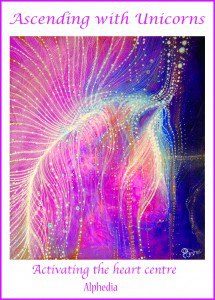 Ascending With Unicorns E-Book by Alphedia Arara
In this exciting new e-book by Alphedia, journey into the magical realm of the Unicorns and discover their healing role in the Ascension process. Allow the Unicorns to transport you into a state of heart centered consciousness; through teaching you their new healing modality called Divine Unicorn Healing.
Using Alphedia as their channel they explain who they are, their many realms and their role on the planet in the 21.12.12 energy shift and beyond. Connecting through meditation to your own Guardian Unicorn guide and with the help of the crystals and other spiritual tools learn how to establish a relationship with these majestic beings of light who are flocking onto the planet to aid us in our own spiritual evolution.
Ascending with Unicorns is enhanced by beautiful artwork and photography throughout. This is the ideal e-book for those out there looking to heal and open their heart centre, those looking to learn more about Unicorns or simply to broaden your spiritual horizons.

Twenty Five Intrigueing Contributers – Edited By Dave Patrick
Alphedia Arara channeled Mary Magdalane for this chapter – 'The Cathars, Mary Magdalene and the Truth'
The Cather View offerrs the perspectives of 25 very different contributors.  Exceptionally in this book they range from the academic to the alternative and esoteric.  The chapters bring us into the contact with the birth of neo-Catharism, and particularly in the 1930's, and with some of the occultists who have been fascinated by the Cathar inheritance, such as the myserious Polaires.  Relaxing, the book takes a lving look at the landscape of the Languedoc and what it holds for walkers and mystics alike.  The Cathar View does more than satisfy curiosity, it my just change your life.
Alphedia Arara contributed a section on reading angel feather signs and angel experiences.
This book provides a personalized, practical and direct experience of the profound healing that can be yours when you connect with your angels. Going far beyond a reference guide, The Angel Experience is more like a personal tutor, leading you through key ideas and concepts via inspirational and holistic hands-on exercises and rituals. Interactive exercises help you to tailor the book to your needs Journaling sections allow you to write your own experiences directly into the book The step-by-step learning programme guides you to revision work and more advanced exercises An exclusive CD featuring meditations and inspirational music will bring you into a receptive state for deeper workFeaturing case studies throughout that allow you to gauge your experience against those of others, this holistic, integrated and practical guide is your personal angel workshop in a book.
Alphedia Arara contributed an interview on how to communicate with the fairy realm.
Your inner faerie is unique. She's that bright, glittery, passionate, energetic, positive, enthusiastic side of you the side that often lies hidden for fear of ridicule, failure, criticism, or lack of love. This book will help you connect with her, awaken your wild-woman and become the whole person you were born to be.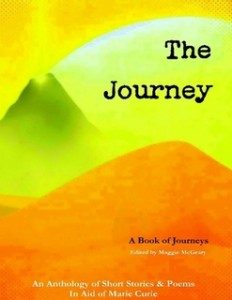 Maggie Mcgeary
Alphedia Arara contributed a short piece about a joureny to the magical Island of Staffa
A book of journeys, literal and metaphorical, this anthology of short stories and poems is a fundraising project for Marie Curie. Proceeds from sale will go to help terminally ill patients and their families. All material has been freely donated by a variety of authors, including some already well-published writers and some new talent.