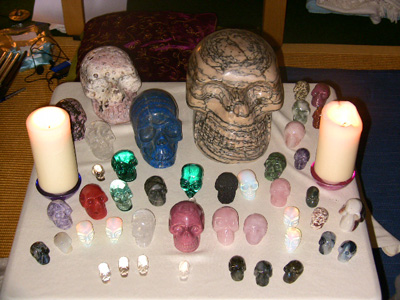 The Fairy Yurt, East Lindsaylands Lodge, Biggar ML12 6NR
15th April 2013
This workshop was asked to be run by Sherling (the Merlinite skull). In this workshop we gathered the skulls on the land and allowed their collective energy to assist Gaia in her awakening dormant energy lines and increase the energy flow through the lines. Participants learned how to do crystal skull overlays so they can take their skulls to where they are guided to help Gaia heal the energy lines in that locality. Sherling channelled on the day to tell us how to do this and other information for skull guardians.
Brief outline of the Sherling message:
"On the 15th April Gaia cranks up the leylines energies. More earth energy will be brought up from the core tot he surface level to allow lightworkers to hold higher frequency light descending in June. Many of the leylines are still choked so the skulls offer Gaia further assistance with this process. A gathering of the skulls is required to anchor the energies and to overlay and heal earth energy fractures and anomalies. Teams will be decided on the day to take their skulls to certain localities to strengthen the leyline energy systems.
The Gathering that occurs on the 15th April will allow knowledge sharing and also I will bring through the teachings of how to work with the skulls for the skull overlays in the localities that require to be healed.
This work is important for Gaia and the souls who step up to do it will receive extra keys and codes in acknowledgement of the work they have volunteered to do. These keys and codes will access the fountain of abundance but the keys and codes will only be given if those who attend do so for altruistic reasons.
Know that this work is of great importance and we call out for your assistance on behalf of Gaia, the planet and humanity."
Buy Recording Crystal Skull Gathering £25
---