The Crystal Skull Conclave is a consciousness that resides within crystal skulls. This consciousness is willing to work with humanity again at this time in the Earth's evolution and many are now drawn to be the guardians of crystal skulls.
In June 2010 Alphedia became the guardian of Sherling, an 11kg Crystal Skull made of Merlinite. Sherling is a speaking skull and channels through Alphedia often messages about planetary changes. Sherling is a Grand Master of the Crystal Skull Conclave – who is here now to assist us with the passage through the turbulent times on Planet Earth as we pass through the ascension process and dealing with man's disruptive and destructive influence on his environment.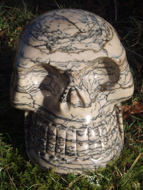 Alphedia is also now the guardian of many crystal skulls that channel important information through her and she has run numerous workshops which are now available to purchase and download from the Shop.
Crystal Skull Healing Sessions
Alphedia is guardian of Ardmano, a 27kg Preseli Bluestone Crystal Skull, which is the crystal in the centre of Stonehenge. Ardmano was the first skull to start offering powerful remote healing sessions.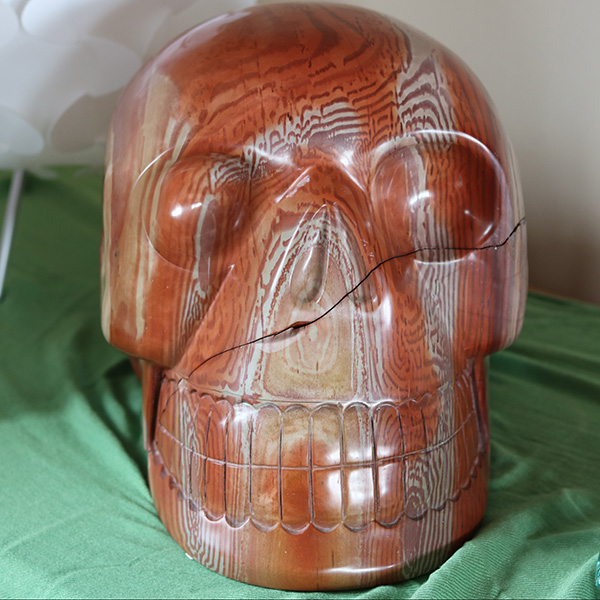 She also has Lunarity which is a huge Rainbow Jasper crystal skull who specialises in clearing timelines.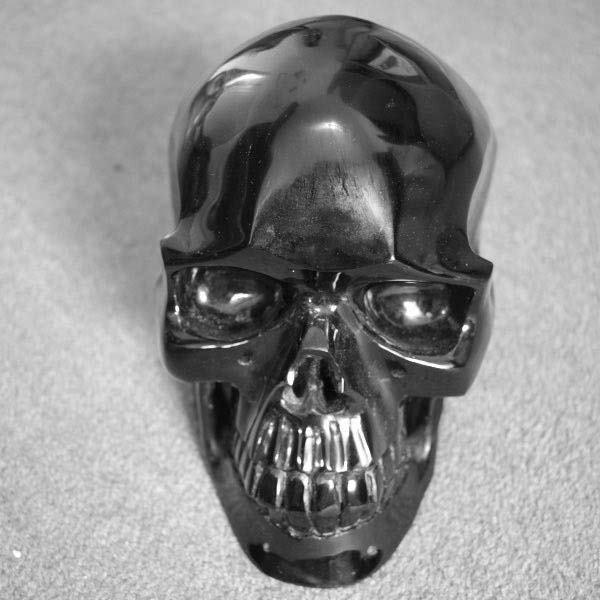 Siron is a very large black obsidian crystal skull who is a Master Skull and works with the void energies. He is also offering healing sessions now.
These amazing crystal skulls offer powerful healing sessions which are done distantly, the options are as follows:
1 hour remote healing session with a skull of your choice, cost £30 including Vat for UK, £25 rest of World.
AND
1 hour remote healing session with a skull of your choice, plus a short channeled message from the Skull via Alphedia Arara. The message will explain what was worked on, any progress and possibly suggestions for further action. Cost £54 including Vat for UK, £45 rest of World.
Click here for more information and to book
Message from Sherling explaining the Crystal Skull consciousness:
"The Crystal Skull Conclave is a collective consciousness in its own right. We manifested into physical form in the Atlantean period however our creation occurred during the Lemurian period on Earth.
The intergalactic council decreed during the time of creation of the Planet Earth for the information on the Divine Blueprint of the Earth to be stored within a crystalline structure. This crystalline structure manifested into the shape and form of various skulls which became active as a conduit for Source in the era known as Golden Atlantis.
Many are attracted to the skull's energy at this time as a remembrance of our connection is being re-awoken. The Skull Conclave manifested at this time into 13 skulls which held the knowledge and wisdom and were then distributed to various tribes at the Atlantean fall to keep the sacred knowledge. Until the time was right on Earth for the knowledge to return again.
Now at the edge of the Dawn of the New Age more souls are ready for this sacred knowledge to return and to remember their connection to the Crystal Skull realm. Many Souls are now guardians of the Skull Conclave and are able to move us around to the locations we require to be taken to in the physical realm to do the work required for Gaia to heal and cleanse.
We hold the Divine Blueprint of how the Earth is ready to be and are ready to work with humans who feel drawn and are guided to help Gaia this way. Now is the time for the energy flowing through Gaia's leylines to be healed."
Here is a message from Sherling on 1st January 2019 talking about the energies for the coming year.
Listen to Sherling's message for the new year
Personal Crystal Skull Channeled Messages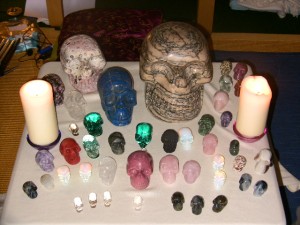 Alphedia also does channelings from your own crystal skulls through a photograph and costs £120 (plus VAT in the UK). Your own crystal skull will have come to you for a reason and may wish to help you in various ways in your life and may wish to be taken to certain localities to collect knowledge, wisdom and keys for you.
Due to the demand for personal channelings at this present time please allow up to one month to receive your Crystal Skull Channeling from Alphedia.

Book Crystal Skull Channeling
Endorsements:
'Dear Alphedia, Thank you so VERY much, it was fascinating and entertaining.' Joanna, Salisbury
'Wow, I have transcripted your personal message from my crystal skull Orion a couple of days ago but just recognized that you said something about him afterwards as well. It was great to hear that practically all I thought and felt is true. So amazing and comforting. Thank you very much.'  ~ Ingrid Germany
Crystal Skulls For Sale
Alphedia always has a large selection of Crystal Skulls for sale in our Shop.
Earth Healing with the Skulls
Alphedia's mission with the skulls is to take them, and other Earth healers, to sites often in remote Scottish locations to clear the land of trauma, rebalance earth energy anomalies and reopen stargate portals.
She works intuitively with the skulls and is able to hear their requests about the work they wish to do and their purpose for being on Earth. Sherling and some of her other skulls have collected codes and performed skull activations at sacred sites such as The Callanish Stones on the Isle of Lewis, inside Mendelsson's cave on the Isle of Staffa, Lindisfarne Priory, Avebury Stone Circle, Stonehenge, the Machrie stones on Isle of Arran, Loch Bui stone circle on Mull and the stone circles at Kilmartin, the largest complex in UK.
Alphedia Arara has also taken groups to locations such as Mount Schiehallion on 21.12.12 to work with the skulls to reactivate a leyline that travels from there in the centre of Scottish Highlands to the great pyramid in Eygpt.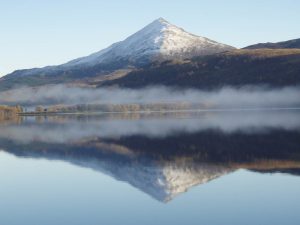 In 2013 she ran a retreat to clear the land trauma of the Viking raids on the sacred holy isle of Iona, off the West Coast of Scotland, and in particular the massacre of the monks on the beach.
She has also taken the skulls to Glastonbury Abbey, Winchester Hill, Old Saram at Salisbury as well as doing activations with the Dragon Skulls in Yorkminster to clear blocked energy in the leylines running through the old capital of England. She lives 30 mins from Roslin Chapel and works with the skulls at the Sun Disk and on the rose line that runs through the magical glen there.
Alphedia Arara has channeled various crystal skull grid layouts for Earth healing. She also uses knowledge Edwin Courtney brought through from his skulls, in particular the sacred Lemurian chant Lem, to activate them. The skulls respond to this chant being repeated over and over.
As a skull guardian you require to be grounded and be holding your awareness in your heart centre, thus allowing the highest healing possible while chanting The skulls contain energetic blueprint templates. They are able to overlay these templates to bring an area back into balance. Ask the skulls to correct any earth energy anomalies and to bring the area you are working on back into harmony.
You may feel the Earth shake beneath your feet at this point, depending on how much correction is required. After you feel this is complete, you can ask the skulls to overlay an etheric temple of light or the new divine blueprint Gaia, Mother Earth, wishes to be held in this area.
You can also ask your skulls to collect any wisdom or Earth codes that would be of benefit for the skull's work on Earth and your own. You can do this work with just one skull however Alphedia has found it is more powerful with lots of skulls being present and with their guardians also holding the space and working intuitively.
At each site the skulls have been asked to be laid out differently so go with intuition. After the healing you will feel the land energy has changed, you may see visions or symbols as you do the activation.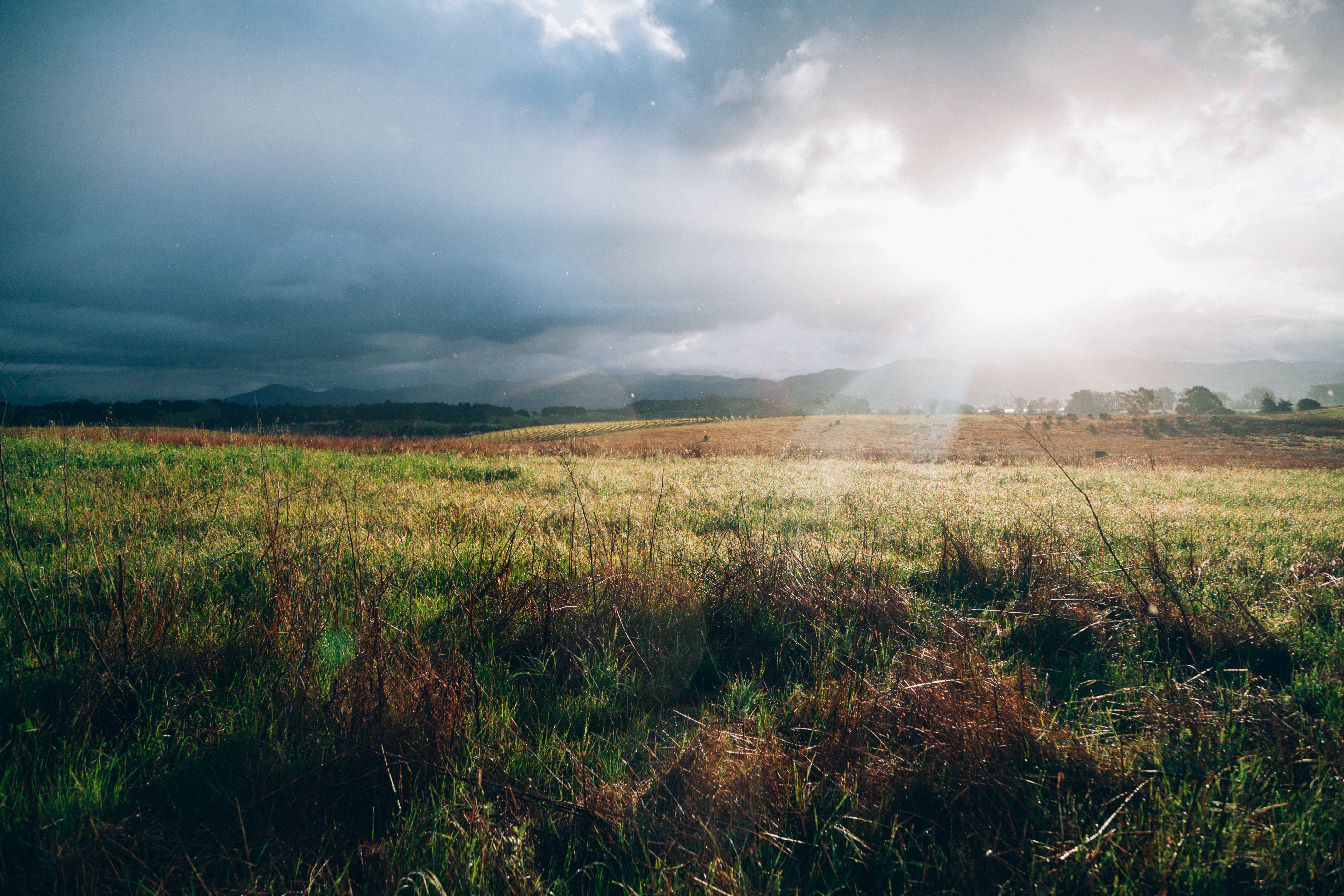 Skulls also see no physical barriers to their work and will ask to be taken up mountains, out on boats and often to locations where one has to walk miles through peat bogs! By clearing the land energy this allows it to increase in vibration allowing the people who live on it or connect with it to increase in consciousness even if subconsciously. Alphedia believes the skulls are reconnecting webs of light with this work.
Older Channelings
Important advice for the energy changes and information about the portal which opened on 11.11.11
8th Nov 2011 Sherling Crystal Skull channeling with Alphedia.mp3
Second Message with advice for the energy changes and information about the portal which opened on 11.11.11 including working with the crystal skull conclave.
10th Nov 2011 Sherling Crystal Skull channeling with Alphedia.mp3
Third Message with advice for the energy changes and information about the portal which opened on 11.11.11 including working with the crystal skull conclave.
11th Nov 2011 Sherling Crystal Skull channeling with Alphedia.mp3
Channeled by Alphedia 15th March 2011
8/4/11 Sherling Update

---