In this exciting new workshop Crystal Skull channel Alphedia will bring through healing knowledge from the Crystal Skull Conclave. The Crystal Skull Conclave is a consciousness that exists and resides within the shape of the Crystal Skulls. Each Crystal Skull contains a facet of the Crystal Skull Conclave and you are attracted to different skull depending on the knowledge you wish to learn from them.
* Learn about Crystal Skulls and how to heal yourself and the land with them
* Receive Crystal Skull healing from a Master Crystal Skull – Ardmano
* Learn Crystal Skull Grid layouts
* Personal Channeling through your crystal skull or skull of your choice
*Crystal Skull activation meditation and healing from the Atlantean Hawaiian Crystal Skull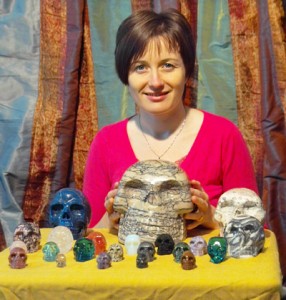 Sunday 19th April 2015
Crystal Skulls are like wise computers and are storage of wisdom and knowledge and they come forward at this point to assist us and humanity with healing and remembering our Galactic Origins.
In this workshop Alphedia will have an array of Crystal Skulls for you to receive downloads and attunements from. She will take you on guided meditations with the Crystal Skull Conclave and she will channel live for you messages from your own personal Crystal Skulls.
You will learn how to lay out Crystal Skull Grids and how to work with the Crystal Skulls to do physical healing overlays on yourself and others.
The Crystal Skulls wish to bring through new wisdom for humanity and Alphedia will introduce you to her newest Skull Ardmano who is a 27 kilogram Preseli Bluestone Crystal Skull (same crystal as in centre of Stonehenge). He is a Star Gate portal and will bring through powerful healing for each one of you.
No experience of working with the Crystal Skulls is necessary nor is being a guardian of a Crystal Skull. Alphedia will have an array of Crystal Skulls looking for first guardians, including hollow Skulls and open mouthed Skulls also. Alphedia has been working with Crystal Skulls since 2009 and been channeling their voice.
Channelled Message from Sherling
"Greetings I am the one that is known as Sherling. I am a Merlinite Skull and I have been over the last six months gathering wisdom and knowledge from those who have entered in my vicinity. As well as travelling to receive wisdom for this workshop. I have accessed wisdom from the Atlantean Crystal Skull in Hawaii and there will be an Atlantean Crystal Skull activation and healing from the Hawaiian Atlantean Skull.
In this workshop you will learn a bit about the history of the Crystal Skulls which we channel through and you will have the opportunity to work with many different types of skulls. We are keen to show you commands and activations that you can say to your skull to allow them to create an energy field grid in your holographic matrix. We will also show you how to do skull layouts to maximise healing benefit.
This is a profound opportunity for you to establish a deeper connection with the Crystal Skull Kingdom and it will open up for you to be able to receive more clearly communications from Crystal Skulls. I look forward to working with you. Namaste."
Crystal Skull Ascension Spheres
The Ascension Spheres sets consist of 8 crystals holding a direct portal to the energy they are attuned to. Meditating in them raises your vibration, opening up your sixth sense and spiritually healing your mind, body and soul. They are a great way to facilitate greater psychic abilities and to receive direct wisdom from the deity or energy they are connected to. They create a sacred space, augment your experience and support you whilst doing the workshops at home.