"We Fairies love to connect with humans. We wish more believed in our existence for we are here! We love to assist those who are pure of heart, who love the environment and animals and who wish to work with us to bring more joy, abundance and light to Earth. We are your friends."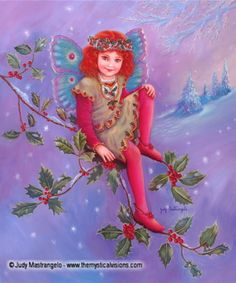 Artwork by Judy Mastrangelo
Saturday 19th December 1-2.30pm £10
Fairy Yurt, East Lindsaylands Lodge, Biggar, ML12 6NR
Enjoy a magical afternoon workshop with the Fairies! Alphedia will help you connect to Fairy energy to work with them on increasing your abundance vibration and aiding you in making your manifestations and wishes come true. The Fairies are powerful creators and manifestors and Alphedia will teach you their secrets, how to clear the blocks in your thinking about creating the life you want and how to bring the Fairies more into your life.
You will go on a guided meditation with the Fairies which will be channeled live to clear your chakras and energy field of blocks to abundance. You will write a letter to the Fairies from the heart about your wishes and the areas of your life you wish to change by connecting with them.
You will experience an Abundance Fairy attunement and a Fairy healing. You will awaken your playful inner Fairy with some fairy dust and learn which way the Fairies give you messages.
The proceeds from this workshop will go to the Farmhouse Nursery which is an Outdoor alternative nursery for young incarnate Elementals which her young son attends.
Elemental Beings will also be holding a Yule crystal sale that day with 5% discount off all crystals and 10% discount if spending over £150 (cash, cheque or bank transfer payments) 3.5% will have to be added to cover Paypal charge if paying by card.
---