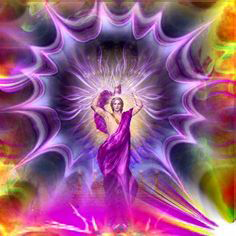 Wednesday 23rd September 2015
In this hour long Angel meditation led by experienced Angel channel Alphedia Arara, Archangel Metatron, Angel of Ascension will assist you in your soul growth and healing.
Channelled Message from Archangel Metatron:
"Greetings. It is I, Archangel Metatron and I come forward to bring wisdom to you Lightworkers on Planet Earth at this time.
For great change is afoot astrologically as you know with the various conjunctions that are occurring and with the culmination of the Full Blood Moon on the 28th of September 2015 but I wish to offer a meditation workshop on the 23rd of September when an influx of new light is coming onto the Planet.
I wish to prepare Lightworkers for honing their energy structure built within their DNA to harness this greater light. In the meditation I wish to open you up to the 33rd chakra. For those who are ready to access this work, this will allow a more swift and easy alignment with divine source and an ability to harness the changes that are occurring after the 28th.
It will allow your energy field, your physical, mental, spiritual and emotional bodies to come into alignment and configuration with the shifts that are occurring in frequency.
What are these shifts that are to occur? Astrologically speaking they are bringing forward inner truths. They are allowing greater expression of light that you stored within each molecule of your DNA to be more fully activated. It is like turning on a tap for spiritual wisdom and knowledge however as this tap turns on the light – putting this in simple terms so that you can all understand – the shadow aspect within yourself are brought up to the surface.
This may mean that you will be engulfed extreme emotions unexpectedly.
You may be erratic in behaviour, engulfed with depression, judgement of self and releasing explosive anger. This is the culmination of a decree you made prior to incarnation, whereby you were willing to release karmic wheel cycles at this point. Past life experiences will be brought up to the surface and unless you are prepared they may feel real to you once again, they may come unexpectedly.
This meditation and healing that I offer you will help smooth your path through this and will help you to turn on the tap which will happen regardless of wither you are conscious of it or not but to ameliorate any extreme reactions to this. It will be to assist you in bringing more balance into being and to reactivate that dormant part within your brain that allows you to forget your divine purpose, your true soul essence and who you are.
I offer to get you back to your true soul essence and when you experience this connection great bliss comes into be being. You see pathways and doors opening for you and what once were blocks before will easily drop away.
I wish for this meditation to occur on this Autumnal Equinox or Spring Equinox depending where you are in the world so that you are able to harness to the fullest the supportive energies.
A great triad of light often known as the Holy Trinity is being returned to the Planet in 2018. This is the start of preparation for this consciousness to return. This Triad has occurred on Earth many times and is foremost famously 2000 years ago but the archetypal energies are being brought once again to bring the triangle triad geometric patterning back into activation on Planet Earth.
I wish to commend you all for your commitment to the path of light for if you are reading this message you are already on your way and I wish to support you on your journey further. Namaste. Namaste."
Alphedia will channel Archangel Metatron and then lead you on a deep soul healing meditation.
Take a deep breath and connect to Metatron now and feel your soul connection to the truth in the words that he is offering you. Although great change is occurring on Earth know that you are supported by the Angelic Realm. Alphedia will support the meditation which she will channel live through the playing of sacred instruments, Tibetan singing bowls and percussion.
No experience of working with Angels is necessary as Alphedia, powerful healer incarnate High Priestess will hold your energy supportively through this healing journey be you joining physically or through the Ether.
Buy Recorded Workshop: £10
---