In June 2014, the Hawaiian Fire Goddess Pele has come forward to lead the moon workshop. Pele is a goddess of volcanoes, empowerment, passion, goal setting, relationships and purpose. This full moon was in the earth sign ships of Capricorn and Pele offerred to assist us in being honest about our true heart desires to ourselves and others.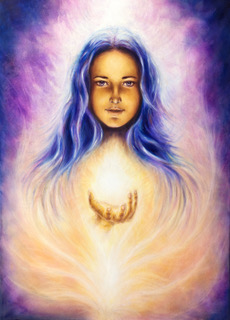 Saturday 12th July 2014
Many of us struggle in relationships, including the relationship with self to be honest, especially when feelings of hurt and anger surface. Pele wishes to assist us in releasing latent unexpressed emotions, passions and feelings, allowing us to speak and be our truths in all relationships.
The energy of this next moon cycle is a cleansing of the emotional body and is a time to consolidate, nurture and hear clearly the call of the soul.
In the workshop, Alphedia channelled Pele live, allowing Pele to bring through her teachings for us. You will be attuned in the ascension spheres to Pele's energy and wisdom. Go on a self realisation exercise to express your soul truth and be led on a guided channelled meditation with Pele. You will work with the lava crystal skulls and lava from the Hawaiin islands that Pele blessed last year to be brought to Scotland.
Pele Channelled Message 7/7/14
"Beautiful ones I see your light and wish to assist you in clearing that which is in the way of your true light. This moon energy allows the opportunity for you to release the next layer of ego emotions that lower your vibrationary rate, stopping you being in your true divine I AM PRESENCE at all times.
Allow yourself to surrender and release the vibrations within you that hold you trapped in a cycle of the past. Now is time to let your soul flourish and see beyond the societal illusion veils. I work with my creative fire to burn through that wish serves no more allowing deep healing and peace to enter at a soul level. It is my honour to bring you the healing vibration of my lava and to anchor your deep into the bowels of the mother and feel the love and support she offers all."
Buy Recorded Workshop: £15
Buy GoddessPele Ascension Spheres