The Crystal Skull Conclave is a consciousness that resides within crystal skulls. This consciousness is willing to work with humanity again at this time in the Earth's evolution and many are now drawn to be the guardians of crystal skulls.
Crystal Skull Remote Healing Sessions
Alphedia has a vast collection of amazing crystal skulls who offer powerful remote healing sessions. Sessions last 1 hour at a time and date which you choose at the point of booking.
We require you to upload a photo of yourself for the healing, which we place under the Crystal Skull at the start of your healing session. We also read out any requests you add to your booking form at the start of the session. We recommend keeping the requests to no more than three things to ensure all the work can be done in the hour.
The following skulls are currently offering healing:
Ardmano is a 27kg Preseli Bluestone Crystal Skull (the same crystal in the centre of Stonehendge) who was the first to offer his services as a remote healer for individuals. Ardmano sessions are powerful and profound.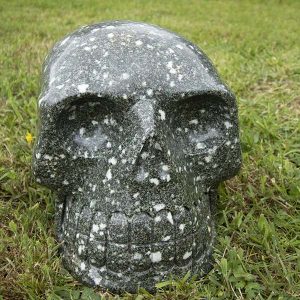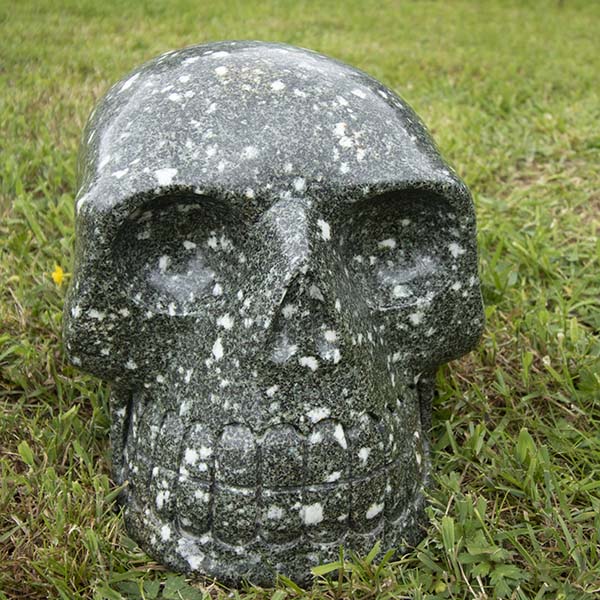 Anka is a massive Serpentine Dragon Skull, with a speciality in emotional and heart healing.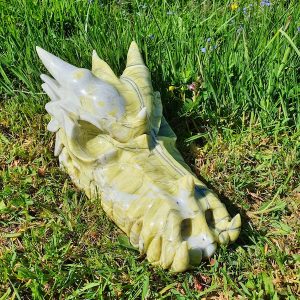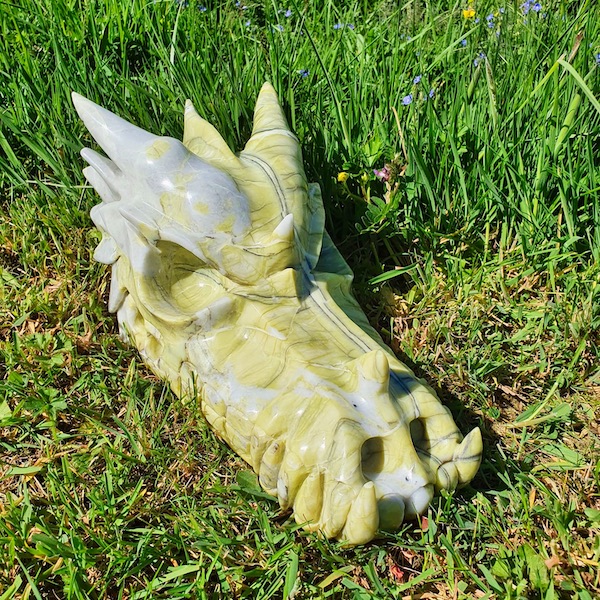 Lunarity is a massive Rainbow Jasper Skull with a speciality in clearing timelines, past life experiences which are causing you issues in this lifetime that you are ready to release.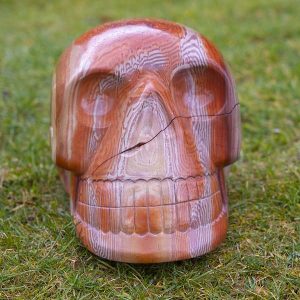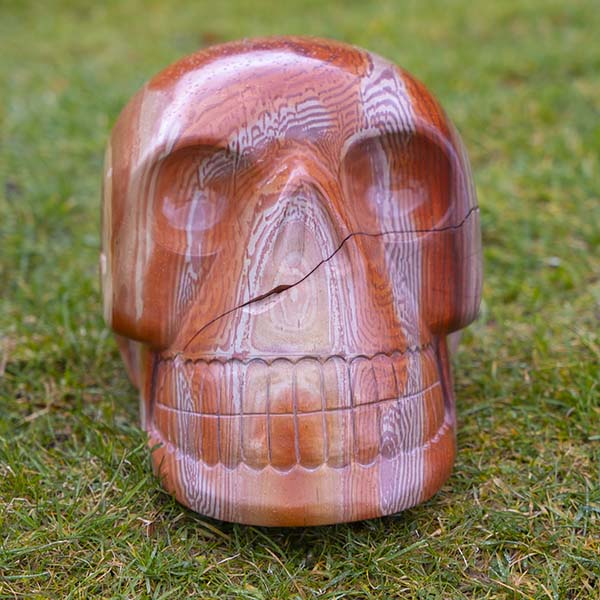 Siron is a huge Black Obsidian Master Crystal Skull, who works with the powerful Void energies of creation.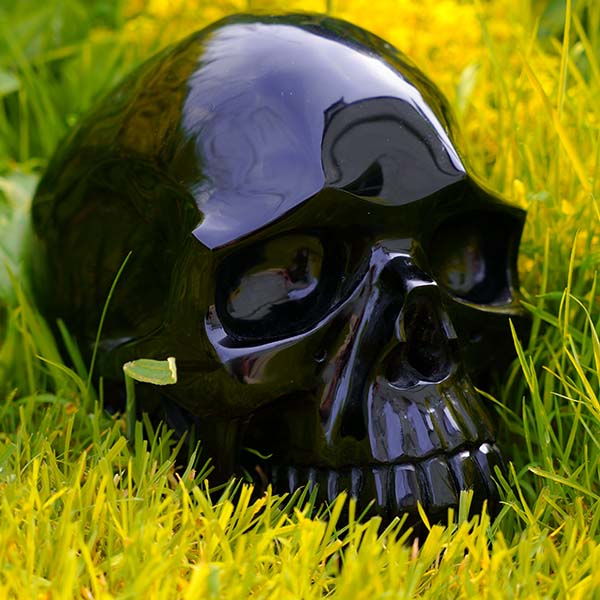 Eshana is a beautiful blue coral Lemurian dragon skull, who has a nurturing, calm energy.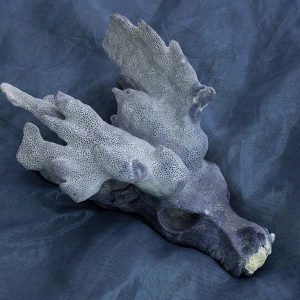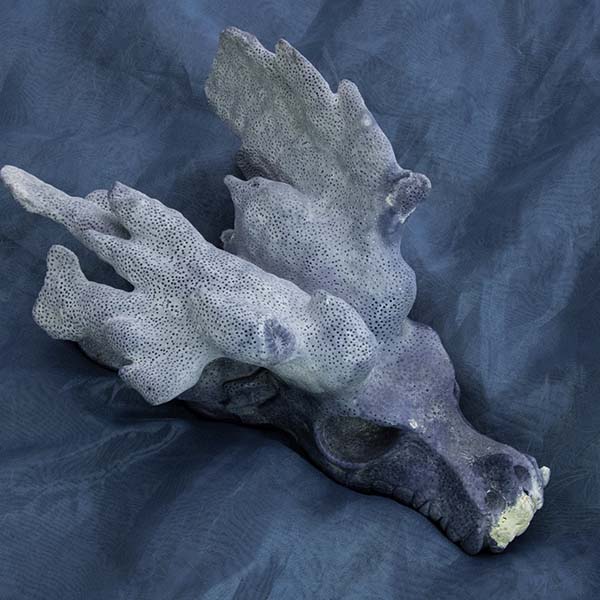 Arcan who embodies the Christed Light Code frequencies and brings through the codes in order to assist us with our alignment with the Golden Christed Light within.
He is made of Golden Iron Pyrite, a crystal that is associated with aiding and integrating high frequency light into the physical body as well as assisting with creating abundance in one's life, supporting one in overcoming fears and being creative in taking action going forward.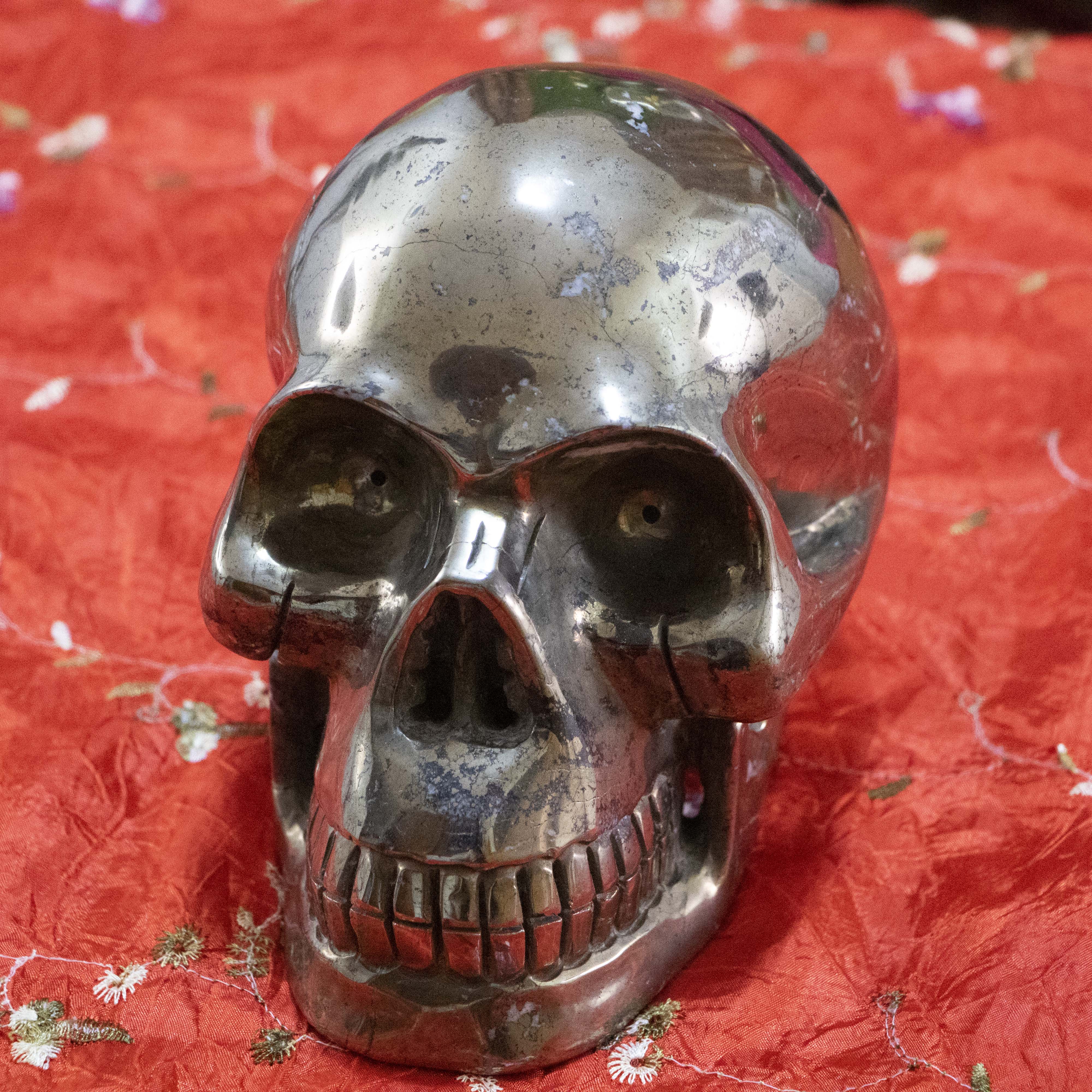 Your healing session with one of the Crystal Skulls costs £30 including Vat for UK, £25 Rest of World.
Please be at rest and without distraction at the time of the session. Refrain from driving or operating machinery. Drink plenty of quality water and be aware you may detox, be kind to yourself, allow time for integration and grounding.
Feel free to contact [email protected] for any health support or advice post session.
Book Crystal Skull Healing
At certain times Alphedia also offers to provide a channelled message after your healing. This costs £54 including Vat for UK, £45 Rest of World. The message will explain what was worked on, any progress and possibly suggestions for further action. This is then emailed to you as an MP3 audio once it is ready.
---
Personal Crystal Skull Channeled Messages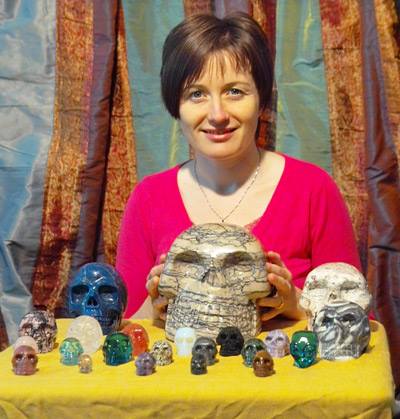 Personal Channellings are unavailable at the moment due to Alphedia's busy schedule.
Alphedia can channel your own crystal skulls through a photograph. Your crystal skulls come to you for a reason and may wish to help you in various ways in your life and may wish to be taken to certain localities to collect knowledge, wisdom and keys for you. These channellings cost £125 (plus VAT in the UK).
Due to the demand for personal channelings at this present time please allow one month to receive your Crystal Skull Channeling from Alphedia. If there are any delays to this timeframe you will be informed by email.
Book Crystal Skull Channeling
---
In June 2010 Alphedia became the guardian of Sherling a Crystal Skull made of Merlinite. Sherling is a speaking skull and channels through Alphedia often messages about planetary changes. Sherling is a Grand Master of the Crystal Skull Conclave – who is here now to assist us with the passage through the turbulent times on Planet Earth as we pass through the ascension process and dealing with man's disruptive and destructive influence on his environment.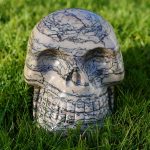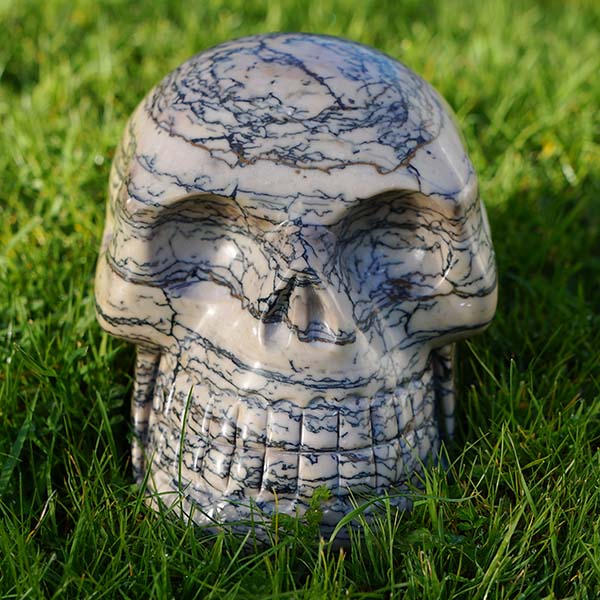 Sherling, Merlinite Skull
Message from Sherling explaining the Crystal Skull consciousness
"The Crystal Skull Conclave is a collective consciousness in its own right. We manifested into physical form in the Atlantean period however our creation occurred during the Lemurian period on Earth. The intergalactic council decreed during the time of creation of the Planet Earth for the information on the Divine Blueprint of the Earth to be stored within a crystalline structure. This crystalline structure manifested into the shape and form of various skulls which became active as a conduit for Source in the era known as Golden Atlantis.
Many are attracted to the skull's energy at this time as a remembrance of our connection is being re-awoken. The Skull Conclave manifested at this time into 13 skulls which held the knowledge and wisdom and were then distributed to various tribes at the Atlantean fall to keep the sacred knowledge. Until the time was right on Earth for the knowledge to return again. Now at the edge of the Dawn of the New Age more souls are ready for this sacred knowledge to return and to remember their connection to the Crystal Skull realm.
Many Souls are now guardians of the Skull Conclave and are able to move us around to the locations we require to be taken to in the physical realm to dot he work required for Gaia to heal and cleanse. We hold the Divine Blueprint of how the Earth is ready to be and are ready to work with humans who feel drawn and are guided to help Gaia this way. Now is the time for the energy flowing through Gaia's leylines to be healed."
Grand Master Sherling 2020 Forecast, channeled by Alphedia on 13th January 2020
Listen to Sherling's message here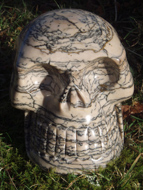 Sherling Crystal Skull Message Channeled 13th January 2020
"Welcome and greetings all. I am the consciousness of Sherling.
I am delighted to have this opportunity now to express my wisdom to support you all through the energy change and shifts of 2020. This year of 2020 starts with the eclipse season.
These eclipses you have experienced have catapulted you into the next level of responsibility. Now this responsibility frequency is not only for yourself and others you care for, but responsibility in your choices and your decisions.
Many walk blindly along this Earth path thinking of no-one but themselves. But now as move more into the altruistic consciousness you are all becoming aware of your commonality. You are all becoming aware of the affects that actions in one part of the globe have on the rest of the globe.
The Earth is a living, breathing, conscious being with her intricate cycles and rhythms. The Gaia Hypothesis was downloaded into the consciousness of Dr Lovelock in order to bring this awareness to Humanity that the World was more than just the physical experience. Although as a scientist his consciousness was limited in taking forward fully the fullness of the hypothesis he devised.
Those of you who are Lightworkers and Earth Healers are fully aware of the intricacies of the delicate balance and the homeostasis of Mother Earth and this is the year where it will be graphically highlighted to you.
Not only is it a year of more natural disasters, but it is a year where people rise up to take action, where people feel empowered to bring in change in their political demonstrations and their purchasing choices, so it is the year to become responsible.
It is the year to become aware of your choices daily in the foods you eat, packaging you purchase, the fuels you consume and the journeys you choose to take.
Know dear ones that to navigate this year with grace and ease requires you to enter into your heart portal, requires you to fully understand living through heart consciousness and to work on inner surrender. This is not to say you will lose your free will, it is to say that you will no longer seek paths of destruction, you will have it more graphically and sooner highlighted to you once you have stepped off your path.
But by the same token it will be more graphically demonstrated how to return, everything is instant and accessible now, not only in your technology but in your manifestation abilities.
This year heralds in great change for all, it heralds in this chance to fully embody your soul and the responsibility that comes with this.
The current full moon cycle, the first full moon cycle of 2020 rings in the limitlessness codes, brings in the opportunity for you all to be aware of this year's potential for your soul.
Those who are still trapped in the third dimensional consciousness matrix of greed, materialism, service to self, will have more challenges presented to them. This is why you are listening to my words, you are ready to hear the truth which resonates in the heart within.
This year is not about playing with your spirituality, this year is about stepping up fully into embodiment of your spirituality. Yes this work is tiring, yes it is relentless but the next three years are the crucial years for your soul's ascension, for the planetary ascension and to be able to embody the frequencies and codes that have not been accessible on Earth ever before.
You are pioneers, you are way showers, it is time for you to acknowledge this. It is time for you to honour this and that which is within you. This is a year of action, but action through the heart. It is a four year, a feminine year, the year of the Moon. It is a year to soften, it is a year to rest, it is a year to allow the guidance to be followed.
It is a year to understand who you truly are and be prepared for the next stage of your missions ahead. Are you a carer, a nurturer, a teacher, an organiser, a pioneer, an inventor, a creator, a healer or are you now avoiding who you are, avoiding making the changes, avoiding the responsibility.
Know you cannot hide, karma is instant now and your souls are all being fine tuned, fine tuned into harmonic chord. Any unwilling to step into the harmonic chord move further away from their souls' ascension at this time.
Many of you are keen and ready and racing to have these experiences. But I throw caution to this, for in all the excitement it is important to be in the heart knowing when to act, what action to take, when to be the anchor, when to be the stabiliser, when to be the carer. For it is caring for your own souls that are of upmost importance, for when you know how to care for yourself then that travels towards others and your planet.
Tension will brew again in certain areas of the Earth. The Middle East is being destabilised at this time by negative vortexes of light. These vortexes switch positive – negative not in the positive – negative way in which you may think emotionally but energetically, physics wise. This is when the wars come, when the negative vortex is at play and this is what is occurring at this time just now.
Help the Earth to stabilise its negative vortex and it will switch to positive again but until the greed and the lies, dishonesty, materialism entities are released from the oil fields this story will continue to play out.
Are you feeding into this? do you source ethically? do you receive your electricity from renewable sources? These are the choices I speak of that are up to you to take. So this beginning year starts with a bang, time to deal with your lifestyles but also time to set the manifestations into action.
What is your soul manifesting? what is it longing to experience or have? 2020 is also this year of awareness, awareness of choice, but an awareness of instant manifestation.
Daily check in with your soul, see what it is wishing to experience this day and then allow yourselves to bring this into being.
Many of you are still scared to come out of your comfort zones, to make choices, to make changes and this is the year of change. A year of heart change.
It is a year of community also, it is a year of Oneness returning so whether your community is a virtual one online or whether it is within the vicinity you live it is about giving back, it is about working with joy to support others too. 2020 will see great changes politically and energetically on the Earth.
But as I say, it is the year of responsibility, the year to ask what am I able to do? what can I offer? and you know this deep in your heart, the path of the heart.
I Sherling, wish to support you in letting go of disbelief, moving into acceptance, for energetically this is what is to come.
I give you a blessing now, entered into your third eye chakra, at the centre of your forehead is your portal in here.
[listen to the audio for light language code blessing]
This aligns you to the frequency of the 2020 energies.
My words are not all you have to hear but encoded within them, imbued within them, is light language activations for your soul. Know that you are ready for these light language activations and may you go forward in peace.
Keep the magic, remember the game.
Let life be fun, let it be joy! but without the harm to others.
Adoni."
 
Older Channelings
Message on 1st January 2019 on YouTube
Sherling talks about the energies of 2019
Message on the 18th December 2012 which is a youtube video for you to watch.
Important advice for the energy changes and information about the portal opening on 11.11.11
8th Nov 2011 Sherling Crystal Skull channeling with Alphedia.mp3
Second Message with advice for the energy changes and information about the portal opening on 11.11.11 including working with the crystal skull conclave.
10th Nov 2011 Sherling Crystal Skull channeling with Alphedia.mp3
Third Message with advice for the energy changes and information about the portal opening on 11.11.11 including working with the crystal skull conclave.
11th Nov 2011 Sherling Crystal Skull channeling with Alphedia.mp3
Following the Japanese tsunami and the nuclear reactor explosion Mother Gaia has asked us all to help her as a matter of urgency. Please listen to Sherling's message for specific instructions for those of you already assigned groups. The groups are human, animal and elemental. For those without an assignation please listen to the message and let us know through which group you are drawn to work with. Include your details mobile/email for alerts and further instructions to [email protected]. Many thanks for your efforts to help Mother Gaia and the inhabitants of Earth.
Channeled by Alphedia 15th March 2011
8/4/11 Sherling Update
More Sherling Channelings will be posted up shortly
SKULL CHANNELING AND MEDITATION FOR 12.12.12 ( Can be done anytime now)
"On this auspicious day the energies of the planet accelerate and the Crystal Skull Conclave offer their service in the transition to the light. We are willing to work with those who wish to use our knowledge and wisdom for the 12.12am and 12.12 pm 12.12.12 moment. At these times special vibrational portals open allowing light to flood onto the planet and herald the beginning of the new dawn of consciousness for the human race.
Those enlightened enough to know about the Skull Conclave can access the keys of wisdom the Skull Collective offer you at this time to harness the symbols and keys you as a soul require to help you in your own spiritual evolution. I will channel a meditation exercise for you to use at these moments to allow your heart centres to open and to allow you to let of of egoic needs, feelings and desires and to place within you the 12 symbols of light that the conclave offer at this time."
Meditation exercise to do at 12.12 am or pm on 12.12.12 
A few minutes or longer before 12.12 on 12.12.12 you can start this exercise. Close your eyes and ask your crystal skull or skulls to activate. You can hold one in your hands or have the skulls around you or on an alter. You may wish to sing to your skulls to activate them. This can be any song or sound you feel drawn to make at this time to honour the skulls and allow them to come to life. Now close your eyes and connect with your crystal skulls.
Feel love in your heart for them and allow yourself to receive love back. When you feel connected ask the Crystal Skull Conclave to activate the 12 symbols of light that the Conclave offer at this time. Allow yourself to meditate with the skulls while they place the symbols within your energy system over the 12.12 moment.
Trust and know you are safe and even if uncomfortable thoughts and feelings come up for you know that this is you letting go of your ego self with the help of the Skull Conclave. Meditate with them for as long as you like or feel they are working with you. Give blessings and thanks when you feel this process is complete and open your eyes. Sit for a moment to allow the shifts to integrate within you and have a drink of water.
---