In this exciting new workshop the Dragons have brought forward Alphedia Arara will channel live the Dragon Realm. She will throughout the day embody the energies of the Dragon known as Rachan who resides at Merlindale at Merlin's Castle in Scottish Borders. Rachan is known as Merlin's Dragon and is an Earth Dragon.
Sunday 30th August 2015
He will lead this Dragon healing opportunity for you through guided channellings, meditations, working with the crystal Dragon skulls and also through initiations the Dragons will bring through on the day, depending on those taking part.
Through this course you have the opportunity to rebirth, to be born anew, to jump timelines onto the timeline you wish as a soul to be on and to bring yourself your life all into harmony and balance. Giving you strength, energy, vitality and health for your path of light ahead.
This is an exciting opportunity the Dragons offer you and no previous experience of Dragons or their energy is necessary to take part in this workshop. Alphedia Arara is an experienced and adept Dragon Channel and will be able to guide you through each step of your healing journey. She will work with Tibetan singing bowls, chimes, sacred drums and voice work.
You will learn how to call Dragons into healing sessions and use their energy to assist the healing of yourself, others, your home, the land and sacred sites. Dragons are powerful transformational allies and increasing in presence and availability to work with lightworkers.
Now is their time to return and for you to remember your connection with them.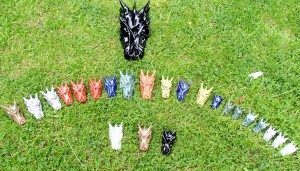 Channelled Message from the Dragons:
"Greetings. We Dragons come forward now to offer a Dragon Healing Workshop. We wish to be of service to humanity and to assist you with your inner transformation work. This workshop will be to facilitate great changes within your holographic matrix, your energetic structure.
To allow you to communicate more deeply with the Dragon Realm and to call us into your own healing work. As well as to assist you in the healing of any areas of your life, any areas of your physical, mental, emotional and spiritual bodies that are requiring healing assistance just now.
We Dragons are very powerful healers and we are able to shift energetic blockages and release you from the current paradigm of thinking you are stuck in as souls. You are all here as part of the ascension process. You are here to hold the highest vibration available to you at any given time. Yet many veils of illusion and many blocks keep you limited.
We are offering you expansion potential. We are offering you change. We are offering you the energies of rebirth and the Dragons of all the different elements Earth, Air, Fire, Water and Ether will come forward to perform healing initiations on you. To help balance each divine aspect of self to help you be who you truly are.
To help you let go of fear conditioning, low self-worth, guilt and any other blocks to you truly embodying your divine gifts, to truly embodying who you truly are. And you will learn how to work with the Dragons to perform healings on others. This is our gift we offer you. Adoni. Adoni."
---
To Buy a Recording of this Workshop:
Buy Recorded Workshop: £65
---
Dragon Ascension Spheres
We on earth have been given this meditation tool to assist in our own personal spiritual development and in working together with others, the raising of the collective consciousness. By using the Ascension Spheres people can access and attune to the energy of Archangels, Gods & Goddesses, Dragons, Star Systems, Planets, Elementals, Rays and other higher energies. Ascension Spheres consist of 8 crystals or stones which contain a special energy portal, in a tin and satin pouch, with instruction sheet.
Each set contains a portal to connect you to the deity or energy you have chosen to work with. This is a connection to an intelligence that not only can raise your physical body vibration but allows you access into the realm you are being attuned to. It strengthens your own connection to your higher self and allows you to connect with your soul and access knowledge you have carried and held for a long time.
Experiences include increased clairaudience, increased visions, insights, inter dimensional travelling, increased clairsentience, healing, and more.
Buy Dragon Ascension Spheres
---