Imbolc is one of the Greater Sabbats in the Celtic Wheel. Goddess Brigid, who is known as a Triple Goddess, meaning she represents all stages of the cycle from maiden to mother to crone, can be called upon and welcomed into homes at this time.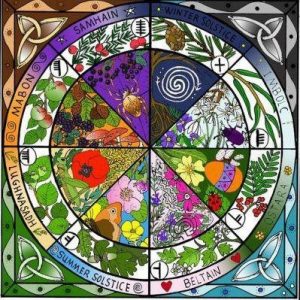 The theme of Imbolc is Mother Earth coming back to life after the dark winter months. The God was reborn at Yule and the sun is now a young man. Traditionally Imbolc is celebrated as a fire festival, representing the light returning to the world. Imbolc, meaning 'milk of the ewes', is a return to abundance and life after the long dark winter months. Lambs are born in the fields and animals emerge from their winter dwellings.
At this time Goddess Brigid is welcomed into homes by making a corn dolly of her from the harvest sheafs cut down the previous year. The dolly is dressed in white by the ladies and decorated with ribbons and jewels. A bed is prepared for her near the fire and the dolly is placed in it beside a wand representing the male fallus of the young god (the sun) who represents fertility and prosperity.
Offerings would be placed around the bed to invite Brigid to stay the night. The ashes of the fire the next day were examined to see any signs from Brigid. Also Brigid crosses would be made known in Ireland as Bride's cross and were to encourage the sun to increase aiding an abundant harvest.
Central to this Sabbat is the lighting of the fires and nowadays the lighting of candles is central to this Sabbat. This symbolises the light penetrating through the darkness of winter allowing plants to regrow, one of the first being the snowdrop which is a simple of this Sabbat.
In the past all light would be extinguished so all the villages would be in darkness, then the fire of Brigid would be light and a piece of kindling taken home to light the fires and candles in the homes to celebrate the return of light and life to the land.
In the 5th century Brigid and her sabbat were adopted by the Catholic Church and this day is known by Catholics as Candlemas. Goddess Brigid became Saint Brigid and in Ireland where she was particularly revered the town of Kildare erected a shrine in her honour and a continual flame burned. She also has a sacred well just outside Kildare in Ireland and is often known as Brigid of Kildare.
You can have a look at the different Sabbat Workshops which Alphedia has run in the Shop.