15th-17th April, 2016
Nature Spirit Author and Channel Alphedia Arara of Elemental Beings hosted a wonderful weekend retreat on the beautiful north England coast in Scarborough.
On the weekend retreat participants were connected to the Fairies, Elementals and Nature Spirits and partook in Earth Healing with the crystal skulls. Participants aided the setting up of energetic Elemental Temples and establish a deeper connection with the Nature Spirit realm.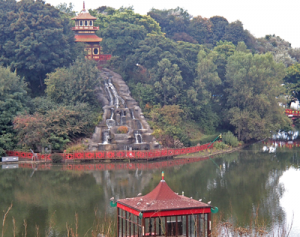 The retreat was called to re-establish fully the Elemental Grid around Earth. The Elemental Grid is the matrix that hold the elemental energy on the planet. As Atlantis declined in energy vibration many of the Elementals left Earth to return to the inner planes.
Now as the energy rises again on Earth they are calling out to Lightworkers to help them reestablish and activate fully the Elemental Grid to bring balance and harmony back to the environment on Earth. The re-establishment of this full Grid will allow humanity to awaken more fully to the vibration of the Green Ray, the importance of the role of the Elementals and Nature Spirits and bring a recalibration of balance between the human and the elemental realms.
Alphedia channels live powerful meditations to open your chakras, to participants in thier own healing with the green ray of nature, to connect them deeply to their personal guardian elementals to aid them in finding out their missions for assisting Mother Earth at this time and roles in the establishment of the Elemental Grid. This was predetermined before their incarnation.
Participants were taken on  Ascension Sphere attunements, guided meditations, vizualisations to prepare them for their personal role and  received personal channeled messages for Alphedia to aid them in remembering their mission.  Alphedia channeled the codes that they as a soul required to have reestablished within them and what their work for the Elementals is in this incarnation.
Alphedia worked with participants to clear their blocks to clearer communication with the nature spirits and worked with aura sprays and homeopathic vibrational essences to aid them with grounding and hearing Mother Earth's call more easily. They worked with the sea god Poseidon and the sea Goddess Sedna and the Mermaid realm to bring onto Earth a new ray that was last present in Atlantis before the energy dropped to low. This new ray that they anchored into their bodies allowed them to project healing to the oceans, seas and sea creatures. It stablised their emotional body and connected them with the dolphin realm wisdom.
The retreat involved healings in the stunning Peasholm Park and the North Beach at Scarborough.  Held at the Fountain's Court Holistic hotel all the food was included and vegetarian for lunch and evening meal. Accommodation and breakfast was included and an opportunity to enjoy the zen garden and the infra red sauna.
Buy Ascension Spheres