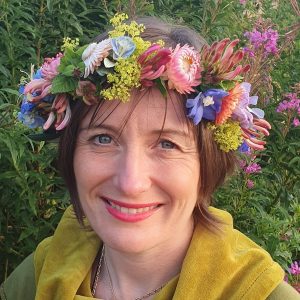 Friday 15th January 2021
7.00 – 8.30pm GMT
Tickets: £10
Join Alphedia Arara Live on Video
and / or
Audio MP3 download shortly after the event
Join International Author and Mind, Body and Spirit Workshop Facilitator Alphedia Arara live from her home in Glenholm, Broughton for an evening of relaxation and wellness during lockdown.
Alphedia will be teaching and leading us through exercises and techniques to de-stress and relax us; these will be suitable for all ages and abilities.
With her vast experience in working with people all over the world via Video, she has created a class for us with bite size chunks of exercises you could incorporate into your daily routine to support you and your children during these challenging times.
So whether you would like an hour and half to yourself or to gather the whole family for this online class, all are welcome.
Alphedia will lead us through a range of short experiences to help you feel calmer, less stressed and more relaxed.
Alphedia will first lead you through some gentle Qi Gong, Tai Chi exercises with breathing to help increase the life force energy flow through your body.
You will be guided in visualisation techniques to help you feel more grounded, centred and focused within yourself; more able to cope with life.
You will also experience a beautiful sound healing from the Tibetan and crystal singing bowls, chimes and percussion which are deeply relaxing and support in calming the mental body from over thinking and worrying.
You will then be lead through a colour healing visualisation so you can find out which colours would be healing for you and then incorporate them into your clothing, jewellery and decor to bring that colour frequency into your life if you wish.
We will go on a guided wellness meditation that you can repeat any time to bring inner peace and calmness.
Stunning, powerful crystals will be present in the class space which will be supporting us all in our inner relaxation journey.
There will be time at the end for questions and answers with Alphedia.
No previous experience is required of meditation or tai chi for this class.
Alphedia will lead you all through, catering for all abilities, the focus being on relaxation.
Please wear comfortable clothing and have a blanket and glass of water with you. Children may wish to make a bed of cushions to lie on.
---
Ticket price:
£10 per household / Video Internet connection required.
Collection of money is being taken through the Primary School website.
Please click here to be redirected to the payment page:
Book Wellness with Alphedia Workshop
How will the funds be used?
Alphedia is kindly running this session as a fundraiser for Broughton Primary School Parent Council.
The school is building a new outdoor pavilion as part of its outdoor learning programme and funds raised from this event will be used for furniture and equipment for this.
Thank you for supporting this fundraiser for our school.
---
Following confirmation of your payment, we'll send you the Video link by email at 4pm GMT on Friday 15th January (3 hours before the class starts).
Your email address will be deleted from our database once recordings of the workshop have been sent out.
Please note your audio and video will be muted in this class so you will not be seen or heard on camera.
You will be able to make comments in the chat box  and ask questions through the chat box at the end.

The audio quality will be better if listened to on a laptop or desktop computer (especially if through an external sound output) but a phone will still work.
A recording of the class will be sent out to you by email a few days after the event.
---