"Know that this moons energy is powerful in the opportunity it offers you to open yourself up creatively, to experience soul joy, bliss, satisfaction."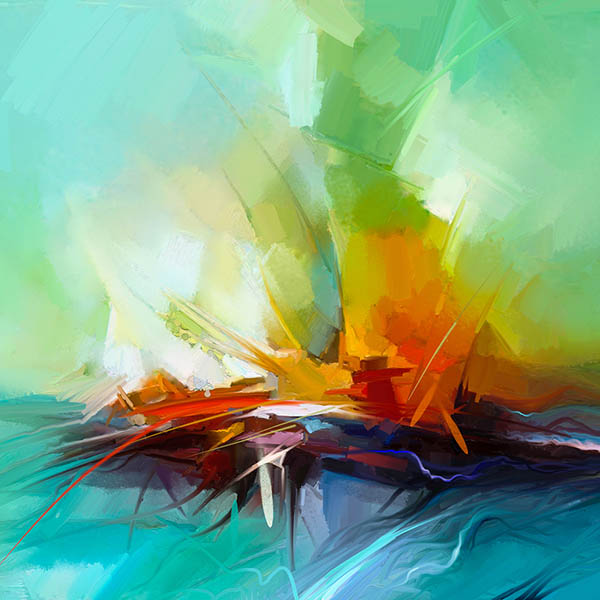 Tuesday 25 September 2018
Glenholm Spiritual Centre
Broughton by Biggar
ML12 6JF Scotland
7.30 to 10pm BST
Channeled Message from the Ascended Masters Djwhal Khul and Paul the Venetian
"Greeting, Greetings, Greetings
We come forth at this time to speak to you in unity. We have been on Earth.
We know the power of soul expression in aiding you in changing humanities consciousness as well as the consciousness of your soul.
Know that this moons energy is powerful in the opportunity it offers you to open yourself up creatively, to experience soul joy, bliss, satisfaction.
We see that many of you are unable to express your self in your true creative power for various reasons.
We wish to offer you the opportunity to rectify this and to enable you to come into this place of deep harmony, inner peace and bliss.
We will take you to an Ashram in the Fourth Ray. This Ray we will work with you clearing your energy matrix of that negativity in whatever way it expresses itself for you at this time.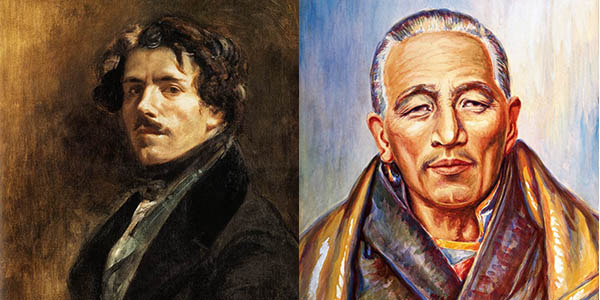 Djwhal Khul Is an expert at assisting souls to step out of the fear matrix. Paul the Venetian is an expert in knowing the importance of the creative fire held within to bring about changes for positivity, soul growth and benefit of many.
This opportunity offered to you by us, the Ascended Masters, is to further develop your soul mastery to a deeper level to help you experience an expression of your soul creativity in every way. And to allow you the opportunity to exist in a place of harmonic bliss.
This will be a soothing healing journey as this moons allows you to move out of any areas of stuckness.
We will work on activating within your chakras a remembrance of the Fourth Ray of Consciousness.
We will assist you in unlocking dormant knowledge of how your soul wishes to express the Divine Love of the Creator through your talents and gifts.
We see many souls are lost at this time as to their purpose, or feel anxious or fearful even about their path.
We will eliminate this for you to aid you to moving more fully into the truth of your soul expression.
It is a great privilege, honour and joy for us to come forth
Adonai"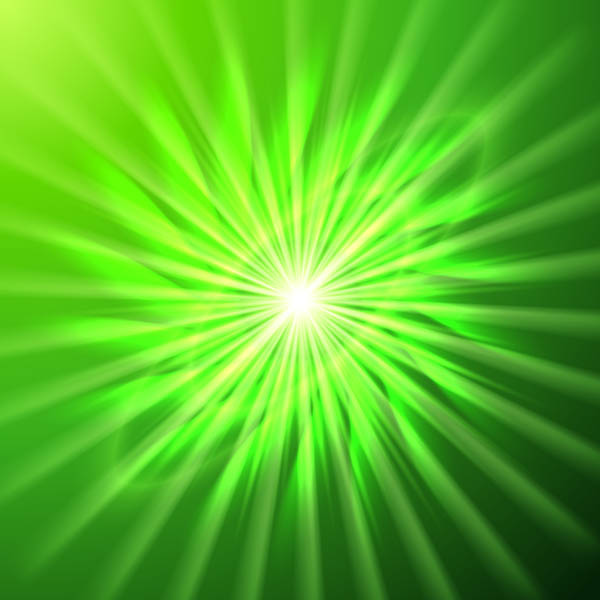 Alphedia Arara and the Ascended Masters Djwhal Khul and Paul the Venetian welcome you to celebrate the Full Moon in Aries with them on the 25th of September 2018.
These Ascended Masters wish to assist you in further growing and healing and expressing yourself and your soul truth on Earth at this time.
The Ascended master Djwhal Khul is assisting humanity at this time with their soul growth Ascension.
Ascended Master Paul the Venetian, Paul of Venus as he is often known is the Chohan of the Green Fourth Ray of Creativity.
In this Full Moon Alphedia Arara will channel the Ascended Masters live.
They will lead you on a healing self realisation exercise.
You will then be attuned to the Fourth Ray of Light through the Ascension Spheres.
And then be led on a channeled live healing guided meditation.
After this those in attendance will receive personal channeled message.
This moons energy is all about moving into soul harmony after the intense period of the eclipses and the emotional healing of the Full Moon in August.
Through the Fourth Ray of Light and the power of master Djwhal Khul you will be able to release negative energies, fears and stagnation that is hindering your souls harmony, balance.
This moon give you the opportunity to recalibrate and harmonise all areas of your life as well as your energy body.
From a place of harmony you can then create.
Master Paul ,the Venetian helps open souls up to their creativity, allowing you to express your creative talents and being able to fulfil your Divine mission and purpose through your inner creativity.
He will work with you to show you where you are being creatively blocked and what your creative talents are to offer at this time.
As always Alphedia Arara will support your journey with channeling tones and frequencies with her voice, through singing bowls, drum work and percussion.
So you will receive a soul sound healing during this beautiful experience also.
Full Moons are great time to do deep inner reflection and work and soul healing.
---
Book Distance Option Unleashing Creativity Full Moon £25
Buy Recorded Workshop
---
Green Ray Ascension Spheres
We on earth have been given this meditation tool to assist in our own personal spiritual development and in working together with others, the raising of the collective consciousness.
By using the Ascension Spheres people can access and attune to the energy of Archangels, Gods & Goddesses, Star Systems, Planets, Elementals, Rays and other higher energies.
Ascension Spheres consist of 8 crystals or stones which contain a special energy portal, in a tin and satin pouch, with instruction sheet.
Each set contains a portal to connect you to the deity or energy you have chosen to work with. This is a connection to an intelligence that not only can raise your physical body vibration but allows you access into the realm you are being attuned to.
It strengthens your own connection to your higher self and allows you to connect with your soul and access knowledge you have carried and held for a long time.
Experiences include increased clairaudience, increased visions, insights, inter dimensional travelling, increased clairsentience, healing, and more.
Eight Crystals specially programmed to create a portal direct to the Green Ray and the user, to facilitate communication, healing and the transference of wisdom and advice. Full instructions included.
Buy Ascension Spheres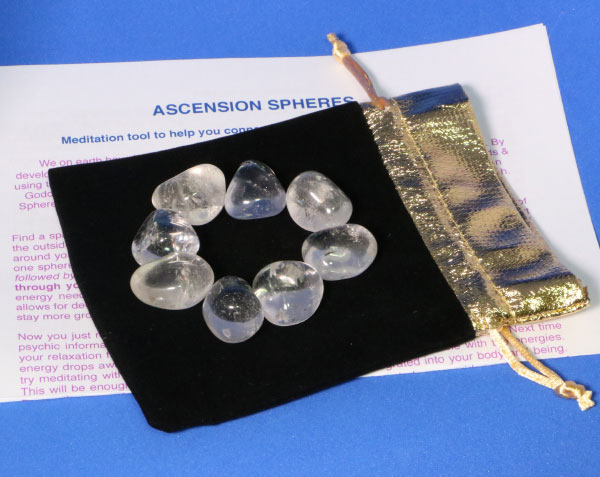 ---